In his 1984 essay, "The art of completing the city," French architect and theorist Antoine Grumbach penned a piercing critique of modernist urban tendencies. "That planned utopia of pure forms floating in the ether of abstract location unscathed and unperturbed by any pressures from reality can only lead to a panopticon, where, in all directions, the eye regulates the gestures of everyday life." I was reminded of Grumbach the other evening, when I attended a presentation of the current proposal for Barangaroo. There, among a series of infantile cartoon diagrams masquerading as urban analysis, was the panopticon eye – inexplicably radiating light through the Barangaroo towers from some undefined, yet presumably critical urban viewpoint in the vicinity of Wynyard Park. Noting, of course, that Barangaroo is only visible from this part of the city if you happen to be skydiving.
My bias, as a member of the original competition-winning team, must be disclosed at the outset. But setting aside my personal and professional disappointments, it is mystifying to me that modern picturesque townscape is, once again, centre stage in urban Sydney. Perhaps it is a symptom of contemporary architecture's ongoing predisposition towards formalism. Perhaps, in Sydney, it is heightened by a cultural obsession with the utopian individualism of suburban settlement patterns and the overwhelming desire for a "view of one's own." The extraordinary parts of Sydney's urban history are ignored: our beautiful and gritty urban places are cherished for their historic charm, but too few people value the subtlety of their urban geometries, their finely calibrated street hierarchies, their intelligent cadastral grain, concomitant diversity and the generous and layered way they form an inclusive public realm. It is no mistake that places such as Redfern, Darlinghurst and Millers Point are among the few parts of metropolitan Sydney that remain truly socioeconomically diverse.
Perhaps you could argue that a quintessential Sydney scheme is now on offer – brash and commercial – fetishizing "exclamation marks," "fans," "urban verandahs," a new/old headland and "an additional 400 metres of waterfront experience," while reducing the public realm to a retail interlude between intrusive compositional moments. We are told "programmed cultural events will make this a living part of the city" – an admission of failure, if ever I have heard one.
It isn't the quality of the architecture or landscape architecture that will see this project succeed or fail; it simply isn't possible to develop an open urban condition through this blunt procurement mechanism and monopolistic ownership pattern. If you are in any doubt, take a walk through Sydney's last failed urban experiment, Darling Harbour. To work as successful parts of the city, places need an integrated, intelligent, responsive and clear urban structure. They need multiple and diverse ownerships, uses and plot sizes. Then architecture is liberated in perpetuity to respond to changes in use, density, typology and theory that we cannot yet predict. At Barangaroo, without these foundational elements, architecture will always be enslaved to the demands of its overarching and static urban imagery. There isn't any number of "activated retail streets," "metres of waterfront experience" or "programmed cultural events" that can alter that – nor make Barangaroo feel anything like "a living part of the city."
Source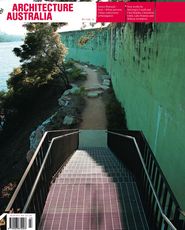 Issue
Architecture Australia, May 2010
Related topics