'A loving ode' to Coburg: photography book to celebrate Melbourne suburb's vernacular architecture
The rapidly changing architecture of Coburg in Melbourne's north – a historically working-class suburb caught in the flux of gentrification – is the subject of an upcoming book of photographs and essays, The Coburg Plan.
To be launched as part of Open House weekend, the book is the project of video artist, writer, screen producer and Coburg resident Jessie Scott, who began photographing the suburb's eclectic houses more than six years ago as she walked the streets, accompanied by her dog and baby.
In the process of photographing the houses Jessie became fascinated with details she hadn't noticed before, with the specificity of Coburg's architecture.
"It's architecturally interesting to me [but] it's probably not that architecturally interesting to the majority of architects," she said.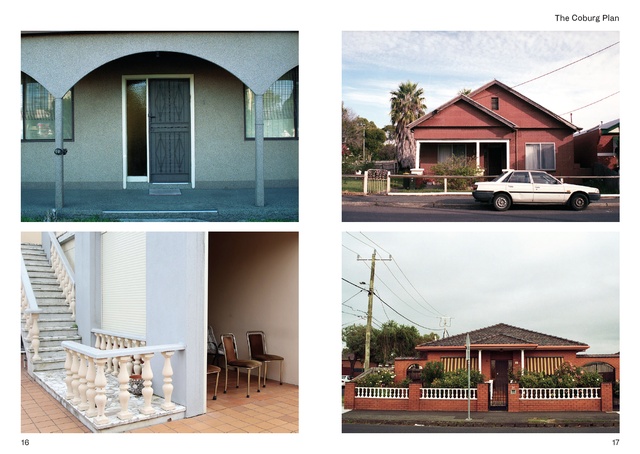 "What I find interesting is architecture that people can impact themselves. Most architecture we don't have a lot of influence over as individuals, but in the suburbs people can adapt and change their house over time.
"As a result you end up with something that's very specific to a local area, sometimes just specific to individual, eccentric people.
"The Coburg Plan is a loving ode to its specificity."
Despite Coburg's uniqueness, Jessie's photographs also reveal something of the suburban condition, of the universal nature of the changes the suburb is going through. She writes, "it sings the familiar strangulated refrains of a chorus of suburbs under development within a 20 kilometre radius around any big city in Australia."
By photographing the changing nature of the built form over the years, Jessie has been able to explore how different waves of immigration and changing economic circumstances have shaped the suburb. She has documented it when distinctive, adapted bungalows and typical north-west suburb shopfronts give way to the steady march of gentrification.
"Because of the cost of land, when they get bought now they get bulldozed and turned into multi-dwellings and town houses," she said. "So I've photographed them over the years and looked at the new type of construction that's coming in and the new architecture that's replacing that old vernacular architecture."
The themes explored in Jessie's photos are expounded on and made explicit in a series of essays, poems and short stories commissioned for the book.
Among the contributions is Timmah Ball's prose poem about discovering that there are aboriginal artefacts stored in a museum storage facility in Coburg. Ball is a writer, spoken word artist and urban researcher of Ballardong Noongar descent.
Jessie's sister Maggie Scott also contributes with a short fictional story set at the Coburg trash and treasure market, while a more traditional art history essay by curator Kyle Weise connects the work to range of street photographers and others who have done work on vernacular architecture.
The book also includes an interview with the elusive "Frank Lloyd Wrong," the nom de plume of the Ugly Melbourne Houses Instagram creator.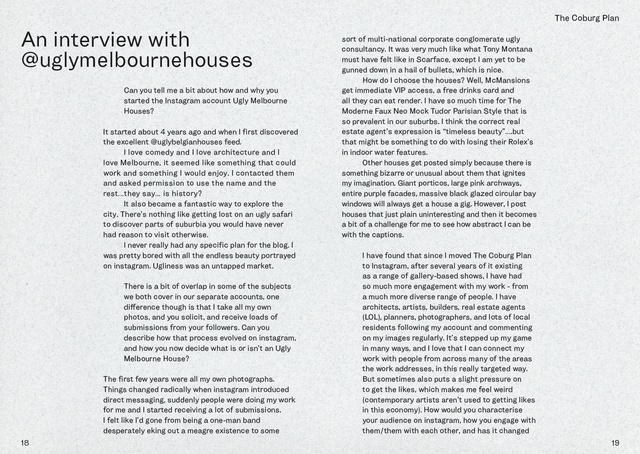 Jessie explains she deliberately commissioned works from a diverse group of people working in different fields. "I wanted it to be pretty accessible, not full of art jargon or architecture jargon, and to have a range of different voices," she said.
Having grown up in Moonee Ponds and lived in Coburg for more than ten years, Jessie has witnessed firsthand the dramatic changes that have visited Melbourne's north west. The book is not about nostalgia though, she says, but about observing change as it happens.
"It's a moment to contemplate as a community – what we want to happen to our suburb, and whether we can intervene in that process as well," she said.
"That's what I want to draw attention to."
A crowd funding campaign to help cover printing and distribution costs has so far attracted pledges of more than $6,000, with the target set at $8,000 and a deadline of 13 June.
The Coburg Plan will launch on 27 July.