'A national story of creative technical achievement': Sidney Myer Music Bowl celebrates 60th anniversary
Melbourne's Sidney Myer Music Bowl celebrated its 60th birthday on 12 February.
When it opened in 1959 it was the largest purpose-built, permanent outdoor performance venue in Australia.
The project was spearheaded by Sidney Myer, founder of the Myer Department Store, who had established a series of free open-air symphony concerts in Melbourne in 1929.
The idea of an outdoor performance venue took decades to come to fruition. In 1922, architect Harold Desbrowe-Annear proposed a cultural centre at King's Domain, which included a 5,000-seat capacity open-air auditorium that would have stood on the same site as the Sidney Myer Music Bowl.
In 1959, Yuncken Freeman, Griffiths and Simpson and Grounds Romberg and Boyd were invited by the Sidney Myer Charity Trust to a joint design exercise for the project. Barry Patten of Yuncken Freeman, Griffiths and Simpson produced a design that would see his firm awarded the project.
The design called for a tensile structure with a tent-like skin made from aluminium-clad plywood, curved over steel cables and masts. It embodies a spirit of innovative and experimental engineering and is considered one of the most significant Melbourne landmark buildings produced in the 1950s.
"It seems almost as if a silver scarf had floated down to earth and been tied by three corners to the ground. Or as if a giant had arrived from Mars and left a gleaming parachute on the lawn," wrote Neilma Sidney in The Age on 7 February 1959.
The canopy produced a high-quality acoustic environment for concerts. The bowl is an egalitarian venue for audiences with simple timber bench seats beneath the canopy and open sloped lawn.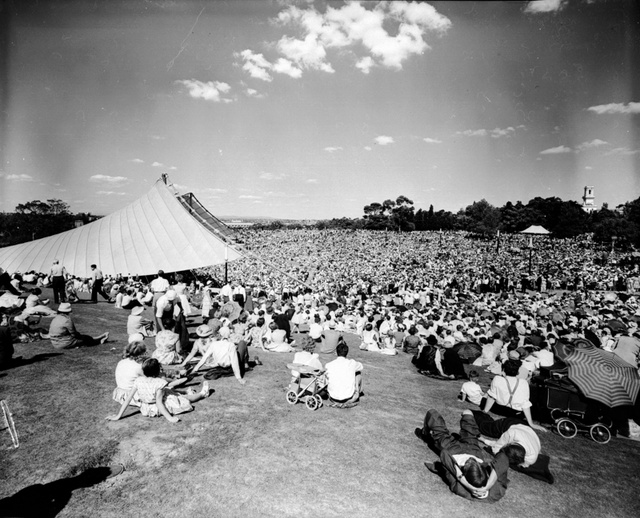 The structure was added to the Victorian Heritage Register in 1999. Its statement of significance states, "Many new techniques were developed throughout construction to ensure that the structure remained aerodynamically stable yet flexible and watertight.
"Since completion its tensile structural system has not been surpassed in scale or complexity."
The building is also one of four 20th century structures on the National Heritage Register. 
"The Sidney Myer Music Bowl (constructed 1957-59) heritage value to the nation demonstrates the national story of creative technical achievement," reads the national heritage statement.
The design of the bowl echoes the work of German architect Frei Otto who, in 2015, was posthumously awarded the Pritzker Prize for his lifelong work in tensile structures. The national heritage listing states the Sidney Myer Music Bowl "predated experiments in tensile-stress construction by Otto and others by almost ten years."
At its opening concert of the bowl, The Age reported that then-prime minister Robert Menzies said it was a very fine structure that would open a new era in appreciation of music in Australia. 
In 1963 Yuncken Freeman produced designs for a rotunda-shaped permanent kiosk at the bowl that were never realized and in 2001, Gregory Burgess Architects completed a number of refurbishments for the building that included improved audience facilities, technical facilities, back of house facilities and infrastructure.
More than 30,000 people attended the opening concert and, in March 1967, records were broken when more than 200,000 people packed the bowl for the Seekers concert. The bowl has also been used as a winter ice rink.