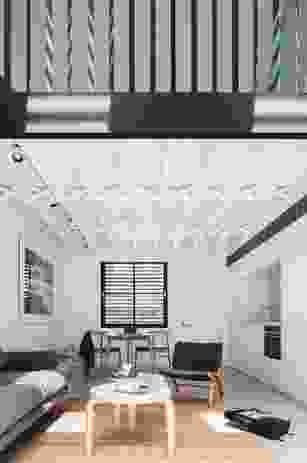 The most absorbing part of Brad Swartz Architects' work is not sculptural forms or exotic decorative effects. Photographs of the projects are not destined to be clickbait, fodder for the internet-weary eye. It is not "exciting architecture." It is the opposite: it is calming. Mood – the creation of atmosphere, taking care of the psychological effects of light or warmth or enclosure – is more often associated with hospitality projects than residential architecture. The curation of mood is important in any spatial design, but in small living spaces like Loft House x2 it is critical.
Brad's first project was his own home, which made the most of a twenty-seven-square-metre footprint – a project that turned a studio apartment into a one-bedroom apartment. (Not the practice's record, though; it has since done the same for a twenty- four-square-metre space.) It isn't surprising that the majority of this young practice's projects have been apartment interiors, but what is surprising is the consistency and confidence the architects display in their design language. All the interiors are white and bright, with black-painted steel details and natural timber floors and linings. Brad's details are clean and precise, his joints and junctions tidy. "Tidying" is a good word to describe the role of the joinery – it conceals everything , not just consumables and detritus, but also the equipment and machinery of domestic life. It's clear that Brad believes that clean lines are essential to feeling comfortable in a small space.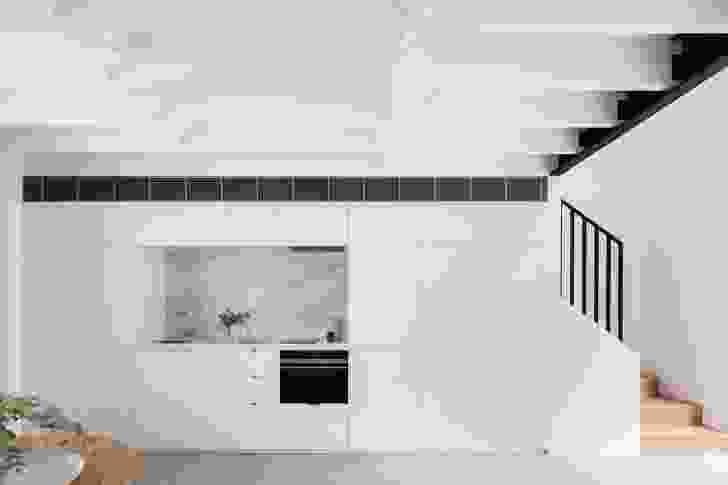 Loft House x2 consists of two nearly identical second dwellings at the rear of existing neighbouring terrace houses, designed first and foremost as Airbnb accommodation – so in that sense it is in fact a hospitality project. One neighbour had the idea to develop their backyard in this way and persuaded the other neighbour to join in. They both lost off-street car space but gained rental income to compensate. "Airbnb and services like GoGet replacing private cars have made it more affordable to live in the inner city," says Brad. "Our practice's mission statement … is to provide small, sustainable inner-city places that don't feel small."
Holiday planning these days typically involves browsing a selection online, trying to balance location, price and interior ambience. Often, to get close to the best parts of town but within your budget, the compromise might be size. This project is in a prime tourist position just a stone's throw from the Sydney Harbour Bridge. Visualize the place with the help of the photographs: can you see it as a welcome retreat after a hectic day of sightseeing? Just how much calm and relaxation can you afford, per night? Mood is an important selling point.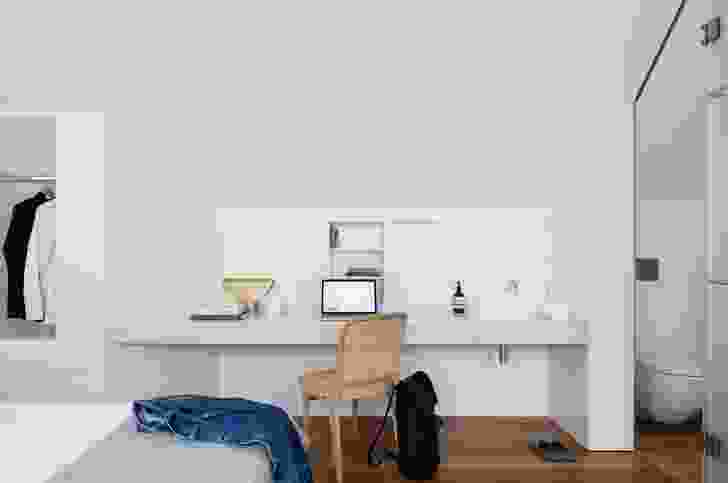 With a footprint of thirty-five square metres per dwelling to work with, the clients wanted an architect who could deal with tight space. When they saw what Brad had done with his own apartment, they knew they had the right person for the job.
Loft House x2 demonstrates a number of tactics for increasing the feeling of spaciousness. This includes carefully modelling the spatial flow: counterintuitively, sacrificing some storage space and introducing a chamfer that smooths the transition from the wardrobe to the wall has resulted in a spatial flow that feels gentler and therefore calmer. Designing a balustrade detail by the bed that angles the steel plate uprights in alternate directions serves to exaggerate both the openness and the sense of enclosure, depending on your point of view. Introducing double- height space, if only for the last metre and a half of the living space, conjures a feeling of loftiness when seated below. Leaving the mezzanine floor structure open and unlined, detailed like an old warehouse, increases the feeling of spaciousness. Privacy is made a priority, balanced with light and views: screens double as security devices to the street windows and clear glazing from the rear facade allows views to the courtyard garden and the sky. Improvising when necessary is another important tactic. There wasn't room for a basin in the ensuite shower/toilet cubicle, so it has been embedded in the bench that is both office desk and vanity (open cupboards to reveal mirrors as needed).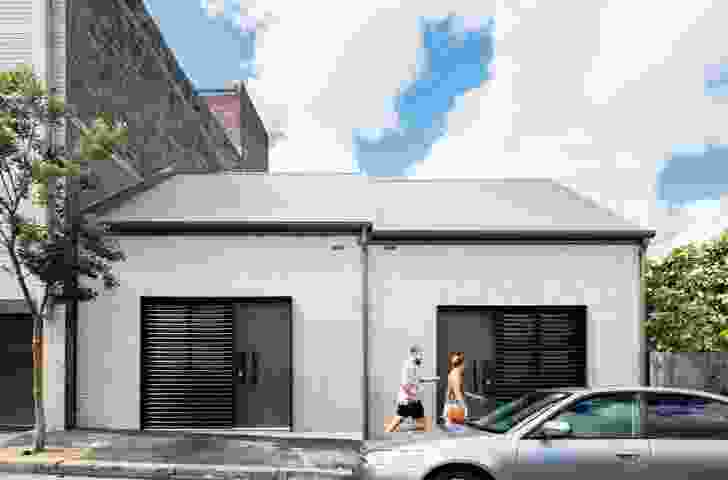 One of Brad's main inspirations is Glenn Murcutt and it makes sense – like Murcutt's, this is architecture of subtlety, of fine balances between traditional vernacular forms and modernity. "When you pass a Murcutt house driving down a country road, you don't immediately register it as something new and not a farm building that could have been there forever," says Brad. "It's not until you get closer that you realize it is special, architecturally." Externally, Loft House x2's materials match the context, with a subtle difference in bond and brick size. The pitched roof also helps it fit in with the surroundings, but like a project in Tokyo, this time we have the local planning regulations to thank – the shape is actually the maximum allowable building envelope.
It would be easy to dismiss this project at first glance, but it rewards a second look. Rent it on Airbnb if you can and swap the 2D for the corporeal, the eyes for the whole body. It is a good-looking project, but it feels even better.
Credits
Architect

Brad Swartz Architect
Sydney, NSW, Australia
Project Team

Brad Swartz, Emily Elliott
Consultants

Builder Rozzi Constructions
Engineer Cantilever Consulting Engineers
Landscaping Outdoor Establishments

Site Details

Site type Urban
Site area 35 m2
Building area 48 m2

Project Details

Status Built
Design, documentation 12 months
Construction 6 months
Category Residential
Type Apartments

Source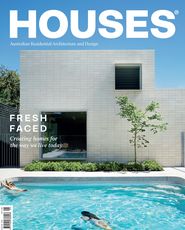 Issue
Houses, October 2018