A consortium of architects and engineers including Zaha Hadid Architects and ADP Ingeniérie (ADPI) have unveiled the initial design for a proposed second airport in Beijing, China.
Airport engineering specialist ADPI won the bid for the airport planning scheme in 2011 and in October 2014, the Beijing New Airport Headquarters created a Joint Design Team, inviting Zaha Hadid Architects, Buro Happold, Mott Macdonald and EC Harris into the collaborative fold, to create an optimised design.
The star-shaped design incorporates seven runways, over 800 aircraft contact stands, a facade spanning 5km and a total floor area of 700,000 square metres, which will reportedly make it the largest airport in the world when completed. Designed to be adaptable to fluctuating passenger traffic and different aircraft configurations, the airport will also be connected to local and national rail services, including a high speed rail.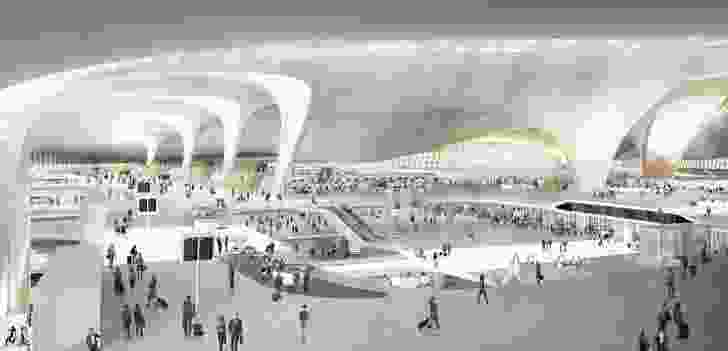 Beijing's current Capital Airport, to the city's north-east, was expanded in 2008, ahead of the Olympics, with a new terminal designed by Foster and Partners. Less than ten years on, it has already become over-burdened, with 64 million passengers through the airport in 2014. Beijing's Capital Airport is the second busiest airport in the world behind Atlanta, Georgia, and busier than London Heathrow, according to data collected by Airports Council International.
The new US$13.9 billion airport, which will be located south of city in complement to Capital Airport, is expected to handle 45 million passengers when open for operation in 2019. The consortium's design, taking into account the future demands of the airport, can be expanded to cope with the Chinese air authority's aim to accommodate 100 million passengers per year.
The Beijing Daxing Airport is set to become a key hub in the growing transport network connecting China's capital with the port city of Tianjin, as well the rest of Hebei Province.