Relationships, service and flexibility
The population of far north Queensland, a region stretching from Hinchinbrook on the east coast north to the Torres Strait and west to the shire of Carpentaria, is estimated to be 272,000.[1] This is less than 7 percent of the population of Greater Melbourne and Greater Sydney and around 12 percent of Greater Brisbane's population. In spite of this significant disparity of scale, practices from the region consistently receive commendations and awards in the Australian Institute of Architects' state and national awards programs. Sometimes the awards are for collaborations with larger firms, but often they are for local projects, procured at a regional level, with a commitment of many years to bring the projects to completion.
One such example is The School of Arts, Cairns Museum building by Total Project Group Architects (TPG). In 2017 the project was awarded the Don Roderick Award for Heritage Architecture at the Queensland state awards, and the Eddie Oribin Award for Building of the Year in the far north Queensland region. TPG worked closely with the Cairns Historical Society and Cairns Regional Council over four consecutive terms (and three mayors) to secure funding and deliver the much-needed local museum. The $8.69m budget included renovations to the existing building and its four previous extensions, all of which are heritage listed. TPG has a long history of working on heritage and arts projects in the region and the practice's ongoing relationship with local arts organizations and local government assisted it in securing the Cairns Museum project at each stage. Principal of TPG Roger Mainwood said, "As a community project, with little funding, it took many hours of volunteer effort by both professionals and passionate members of the Cairns Historic Society, working closely with the different councils and their senior officers, to guide the project to success."
Regionally based architects have to build long-term, solid relationships with potential clients, funders and project managers in order for their businesses to be sustainable, and to ensure they are consistently invited to tender on government projects. If things go awry on a project, the business community will know about it very quickly. The social and political pond is small in far north Queensland and having a reputation for delivering and servicing well on projects is paramount. Reputation, of course, matters everywhere, but in the regions it is likely more pronounced: you may well live next door to, attend school functions with or play sport with your client representative, project manager or local councillor.
Andrew McFadden, director of PAWA Architecture, also believes that success and business sustainability come from building strong, trusting and productive relationships with people who align with your work and creative philosophy. He stated, "Expertise specific to whichever region you are operating in is paramount. Relationships between the client and architect appear to be far more intimate in regions than in cities."
Practice flexibility and the ability to undertake a diverse range of services is also important. Specialization is rare for regionally based practices, because services need to align with what the economy has to offer. Whether it be education, social housing, health, tourism or commercial projects in architecture, or other services such as project management, community engagement and graphic design, practices with a diverse skills base are more likely to succeed because they are less limited by the smaller number of potential clients.
Working with government
When the topic of procurement was raised during discussions with architects practising in Cairns, the most immediate response related to state and local government-funded projects. Although the Queensland government is in the process of changing procurement methodologies, there are still many problems with procurement in the regions from an architect's perspective. Projects continue to be tendered with price as 80 percent of the assessment criteria weighting. Prioritising cost does not value design outcomes, relevant experience or demonstrated capacity. It just makes the local business environment extremely cost-competitive and delivers below-par built environments. Many projects are tendered as concept or pre-design phase only and are then repackaged and re-tendered for developed design and documentation, or as document and construct contracts. In a regional area, this leads to one firm doing the concept and a neighbouring firm documenting it, which is counterproductive for maintaining design and documentation quality, continuity and efficiency, let alone relationships in a small town. Tender invitations seem to come in a boom–bust cycle that relates to political commitments, program funding and the wet/dry seasons of the tropics. There is always a mad rush to get buildings started (or completed) before the wet season.
To secure a place on the pre-qualified supplier's list on Local Buy (the Local Government Association of Queensland's platform for local government tenders), a firm must first win a tender through Local Buy and the LG Tenderbox portal. For many practices this reality has never come to fruition, and so tenders continue to go to those on the pre-qualified supplier's list. A number of architects question the transparency and equity in the process that Local Buy promotes.
Andrew Lane, director of Indij Design (a 100 percent Indigenous-owned business) spoke specifically about The Queensland Indigenous Procurement Policy (QIPP), saying,"It sounds like it should be good for Indigenous business, and it is if you are a supplier of goods, but not if you are a professional service." The QIPP is intended as a "whole-of-government framework to increase procurement with Indigenous businesses to be three percent of the value of government procurement contracts by 2022," but Lane does not believe that his practice has ever been invited to tender for work because of the QIPP, or seen a tender in which the QIPP was cited.[2] This is one instance that demonstrates how procurement systems either don't comply with or don't refer to government policy documents.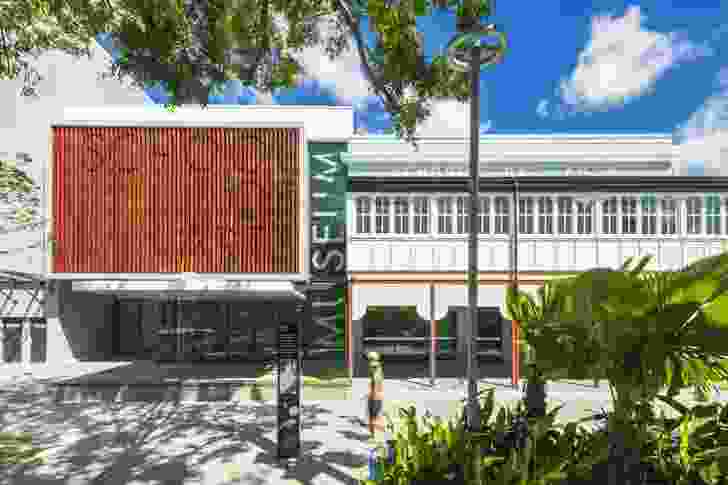 Collaboration or servitude?
When the Cairns Civic Theatre was designed and constructed in 1973, a collective of three local architects was awarded the contract for the service: Edwin Oribin, Jack McElroy and Barney Lynne. The project was successfully executed and was the main performing arts centre in Cairns from 1974 to 2016 when it was closed for major upgrades to create the new Cairns Performing Arts Centre, currently under construction. The new Cairns Performing Arts Centre was awarded to local firm CA Architects in collaboration with national firm Cox Architecture.
For projects over $30m in value, this is the typical modus operandi in the regions and has been for many years. Local firms rarely get awarded projects of this scale on their own, even when they have offices with capable staff, state-of-the-art resources and years of experience working on large projects. Somehow there is a perception that the influence of a large, metropolitan-based firm will make regional projects better, or that there may not be sufficient skills at a regional level to create or complete the project. This perception is held not only by local governments but also by regional practitioners, as evidenced by the following behavioural pattern, which typically occurs when a large project goes to tender: either large firms contact smaller local ones offering collaboration, or regional firms contact larger firms they have relationships with, or whom they are interested in collaborating with, in the hope that it will win them the project.
Is this a problem? If this pattern produces noteworthy places that improve our built environment, it shouldn't be any cause for concern. You might argue that collaboration occurs every day, in cities around the world, and this is just another example of globalization; a win-win for both the architects and the region. But it is the nature of the agreement and the balance of the partnership between the practices that is most revealing. I believe the served and service relationship is more pronounced for architects in the regions. In reality, the regional firm usually ends up with the service relationship: contract administration, detail documentation of specific parts (wet areas), perhaps some collaboration on design, local stakeholder management and, critically, a smaller cut of the fees.
If regional architects choose to collaborate than they should be negotiating an equitable share of the work. They know the climate, history, politics and local conditions, and without an implicit understanding of these elements projects can easily fail. Architects in the regions need to sell the message that their work, experience and skills compete at state and national levels. The assumption that to be at the cutting edge of architecture you must be living and working in a large metropolitan centre is as outdated as it sounds, and practices in far north Queensland are challenging and disrupting the status quo.
Author's note: I acknowledge contributions from the following far north Queensland architects in the preparation of this article: Andrew McFadden, managing director of PAWA Architecture; Andrew Lane, director of Indij Design; Roger Mainwood, founding director of TPG Architects; Loftus Overend, principal of Best Overend and Associates; and Belinda Allwood, director of POD.
[1] Data released by The Australian Bureau of Statistics based on data gathered in the 2016 census. These figures are for the Far North Queensland Regional Organisation of Councils. See profile.id.com.au/fnqroc/population (accessed 20 November 2018)
[2] Queensland Indigenous Procurement Policy, published by the Queensland Government Department of Aboriginal and Torres Strait Islander Partnerships. datsip.qld.gov.au/publications-governance-resources/policy-governance/queensland-indigenous-procurement-policy (accessed 20 November 2018).
Source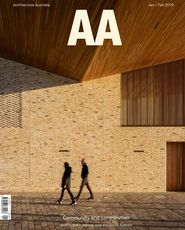 Discourse
Published online: 20 May 2019
Words: Shaneen Fantin
Images: Andrew Watson
Issue
Architecture Australia, January 2019
Related topics