A singular vision, three strands of government
Three Canberra landscape architecture projects by Oxigen demonstrate challenges and success in working with three different strands of government.
Canberra's unique planning and governance arrangements create particularly idiosyncratic challenges for landscape architects and urban designers working in our national capital. Perhaps Walter Burley Griffin unwittingly foresaw this outcome back in 1912, when on winning the original design competition for Canberra he remarked, "I have planned a city not like any other city in the world. I have planned it not in a way that I expected any governmental authorities in the world would accept."1
Indeed, it is one of the enduring ironies of Australia's most deliberately planned city that implementation of Griffin's original design vision has too often been frustrated by the lack of rigour and integration of the various planning structures and processes supposedly set up for just that purpose. Nonetheless, Griffin's fractious relationships with bureaucrats during implementation of the initial aspects of his plan perhaps should have served as a warning of things to come. Although he did add the following caution at the time: "I do not know to what extent my plan will be carried out."
It's difficult to imagine how anyone could have predicted the convoluted tangle of politics and processes that would bedevil the attempts of urban designers to uphold his vision of an ideal city a century later. One of the key reasons for this unusual complexity is that in addition to the typical design challenges and trade-offs encountered in any large regional city context, all urban design initiatives within Canberra must also respond to its special status as the national capital. Thus, decision-making is influenced by the interests and objectives of the Legislative Assembly for the ACT, which carries out both state and local government functions, as well as those of the federal government, through the National Capital Authority (NCA).
This article will examine the influence of these separate tiers of governance on three significant public realm projects in Canberra. The masterplans for the Canberra Central Parklands, Kingston Foreshore and Weston Park precincts were all produced by the same design office – Oxigen – yet each responded to a different open-space context across the city and was overseen by a separate government agency. This set of circumstances provides an opportunity to observe how those different agencies imagine, and equally importantly, exert, their responsibilities in shaping Canberra's urban design and landscape outcomes.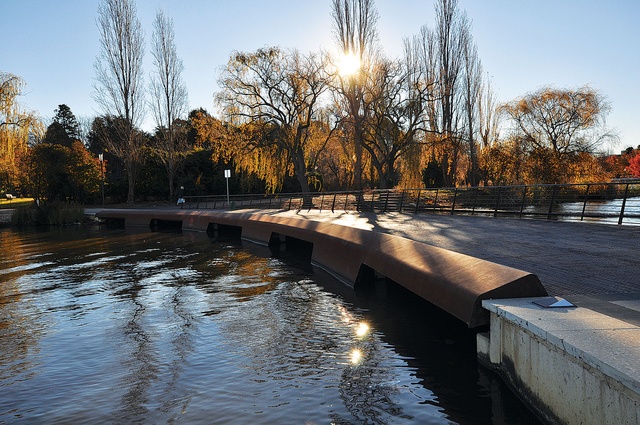 The Canberra Central Parklands project was overseen by the NCA, a statutory federal government agency tasked with strategic planning responsibility for enhancing the unique character and symbolic meaning of the capital as a reflection of our democracy and national life. Oxigen was commissioned to prepare a detailed masterplan for the parklands after winning the 2007 international design competition with its schematic proposal for the 115-hectare site. The competition brief was to devise a masterplan that would inform future development of this significant national public space, avoiding the historical ad hoc approach to planning and design of its various components.
The resultant masterplan conceptualizes the parklands as a series of integrated and mutually supportive layers designed to be incrementally developed over a period of eight to ten years. It provides a coherent framework and guidelines for addressing elements of circulation and built form, event programs and infrastructure, enhanced environmental functionality, and the ongoing symbolic role of the parklands as a significant national memorial ground and major civic landscape.
Oxigen's masterplan promotes a strong green infrastructure agenda, and seeks to forge landscape and social connections through calculated reassertion of the role of the lake and parklands as physical and symbolic activators of civic life – to "bring the city back into the lake," as Oxigen's director James Hayter puts it.
In Hayter's plan, landscape structure and function are strategically used to strengthen the integrity of the public space and provide a rational framework for future design and development decisions. It is a fine piece of work, drawing skeins of historical, environmental and social understanding together to provide 
a clear pathway for interpreting Griffin's vision in an enduring and sustainable manner.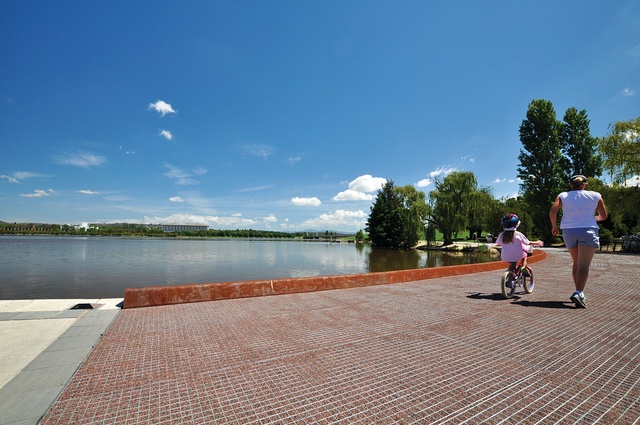 With the implementation of the first phase of the plan – the R G Menzies Walk – Oxigen gave Canberrans a glimpse of a re-energized landscape vision for the city. This two-kilometre walk adjacent to Lake Burley Griffin places the unique characteristics and qualities of Canberra's local and regional landscapes centre stage in the experience of the city, celebrating environmental connectedness as a vital feature of the Australian culture and way of life.
Unfortunately, however (and here Griffin would likely cast a knowing sigh), this promising start has not been followed up. Recent projects within the parklands, including the new amenities building, a national all-abilities playground and the Kings Park parking areas, were commissioned without further consultation with Oxigen, and with apparently scant reference to the masterplan. Ongoing development implementation appears to be reactive, rather than proactive – a missed opportunity.
While the NCA's efforts to deliver effective management and renewal of the parklands are understandably frustrated by ongoing budgetary constraints, lack of funding should never be an excuse for a lack of vision. The lessons set down in the masterplan and the R G Menzies Walk deserve to be leveraged into future interventions, and the NCA needs to be more strategic and consistent in following through on the masterplanning vision to fulfil its stewardship responsibilities for this significant national landscape.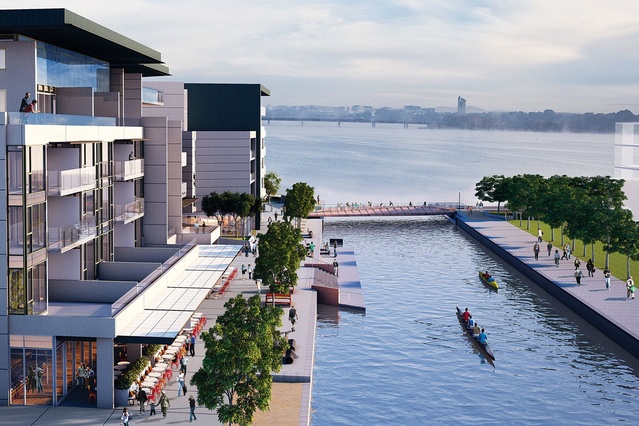 The second project, Kingston Foreshore Masterplan, was led by the ACT Land Development Agency (LDA), a government agency whose core business is developing and selling land on behalf of the ACT Government. While the LDA's stated mission is to "contribute positively to the building of thriving and vibrant communities by facilitating high-quality design and built form outcomes,"2 within the ACT context the agency carries an additional, and arguably conflicting, responsibility in that it simultaneously serves as the primary generator of government revenue.
The brief for the lakeside urban infill project asked for a contemporary "post-industrial" space on a highly contaminated site, the precinct having served as landfill/repository for previous generations of Canberra's development waste.
Oxigen was commissioned relatively late in the project development timeline, which severely constrained potential for creating a more dynamic and responsive public realm, as key decisions regarding the structure, size and function of open space areas had already been made. Unfortunately, the LDA's procurement approach in this case effectively devalues the role of landscape architecture, reducing it to the status of mere "green colourist," after the architects and developers have departed the (presumably higher-revenue-generating) building stage.
Key among the missed opportunities this approach engendered was the lack of incorporation of social programming or integration of cultural imperatives for activation of public space. In addition, Hayter observed that potential for strengthening green infrastructure network functionality within and beyond the project site was also unable to be fully exploited due to the back-end engagement of relevant professional expertise, noting that "this project could have been much more meaningful and rich if the landscape architect had been engaged earlier in the process, rather than at the end – and it wouldn't have necessarily meant a reduction in the overall profit margin, either."
Nevertheless, Oxigen attempted to push design outcomes as far as possible beyond the limited brief, endeavouring to create active green space and street frontages within tightly constrained site profiles, and highlighting the accretion of time and value of existing landscapes via materials that reflected the "historical grunge" context of the site. Coreten steel and recycled hardwood were incorporated into boardwalks, and unpainted/unfinished materials were used as counterpoints to the robust spatial structure and high-end commercial character of the precinct.
Ultimately, however, it remains far easier to weigh the urban landscape outcomes of the Kingston Foreshore project in terms of lost opportunities than in "thriving and vibrant" community gains. Clearly, while the LDA sees its role primarily as that of a deliverer of projects (as distinct from design leader), its mission statement remains as convincing as a Lance Armstrong confession.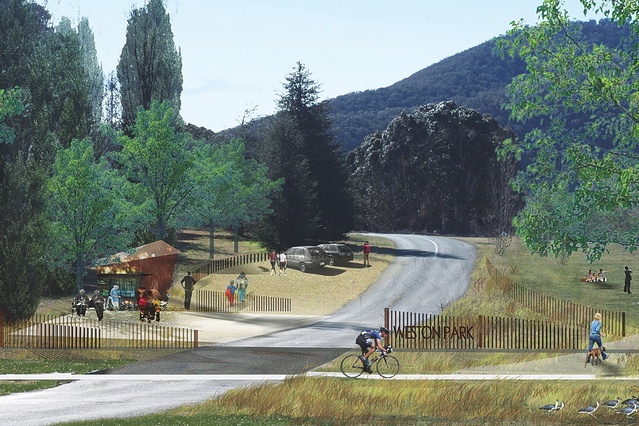 The final project, the Weston Park Masterplan, was commissioned by the Department of Territory and Municipal Services (TAMS), the service-provision arm of the ACT Government. While the initial brief was primarily focused on pragmatic asset-management concerns, Oxigen elected to expand the vision beyond this, strategically revealing layers of site history and usage to accentuate key environmental and cultural landscape values.
"We loved this project because it had such a rich planning history," says Hayter, "and the site was doubly interesting because it incorporated the location of the original Yarralumla nursery – the place that literally and conceptually provided the 'seed' for the development of Canberra's urban landscape character."
The masterplan layout has an agricultural sensibility, and references Canberra's original grid layout as well as agriforestry and horticultural patterning evocative of the original nursery lots on the site. The proposal for the new visitor interpretation centre is a further manifestation of the "seed" or "kernel" idea, a spatial articulation of Hayter's philosophy that there should be consideration in every landscape project of the need for people to be engaged in the process of learning about the places they know.
As an extension of this, a secondary aim of the masterplan was to encourage the client (TAMS) to think beyond immediate pragmatic landscape management agendas of maintenance and project budgets etc. towards supporting and enhancing longer-term social and environmental values. An even more welcome, and transformational, outcome would be to see those values expressed overtly as well as covertly in the planning and design of the landscape assets under the agency's control.
In summary, then, what are the key lessons we can take from the different government agency approaches to these three projects? Firstly, there is significant untapped value in expanding urban landscape design briefs (and the resultant land management and maintenance decision-making) beyond current pragmatic agency agendas. The design professions share an equal responsibility for advocating change and improving practice in this area. Secondly, there is a need to build better linkages between all levels of government and decision-makers around an integrated green infrastructure agenda that encompasses broader social and environmental needs and objectives. Finally, there is a need for improved recognition and removal of barriers around adequate resourcing and processes for long-term management and stewardship of Canberra's significant public landscapes.
If one was to distil the above into specific resolutions for individual agencies, they might look something like this:
The NCA could aim to be more consistent in the implementation of broader visioning initiatives
The LDA could vow to better serve the public interest by incorporating more comprehensive social programming and green infrastructure agendas within its model of urban design development.
TAMS could strive to effectively leverage its service provision role by locating and integrating maintenance and land-management decisions within a broader social and environmental framework.
On the occasion of Canberra's one hundredth birthday, it's possible both Marion Mahony Griffin and Walter Burley Griffin would drink to that.