A rout of schoolboys is meandering through the 2018 NGV Architecture Commission, DoubleGround. Their teacher is using the setting to give impromptu career counselling on the virtues of landscape architecture as a vocation. One student scrambles up a steep incline of grass and poses against the black folded wall beyond, his unruly adolescent limbs in stark contrast with its serrated profile. "Are you part of the art, Jack?" jokes one of his friends.
It's a more pertinent question than he realizes. In the multitude of annual programs, publications and Pinterests on pavilions, the issue of where architecture stops and art begins is a recurrent one. What is to be made of this burgeoning pavilion phenomenon? If there isn't yet a collective noun for pavilions there probably should be. A "spectacle of pavilions" springs to mind. Or maybe a parade? And what do some of the most recent additions to the stock − Melbourne's MPavilion by Estudio Carme Pinósand the NGV Architecture Commission by Muir and Openwork, for example − add to the field? It's telling that with lineages of five and four years respectively, these programs are now almost the grandes dames of pavilion endeavours.
There are new kids on the block: two sound and spatial installations, 80Hz: Sound Lab by Thomas Wing-Evans at the State Library of New South Wales, Sydney and Blak Box by Kevin O'Brien for Urban Theatre Projects, first installed at Barangaroo and later relocated to Blacktown, Sydney; Raffaello Rosselli Architect's Plastic Palace at Murray Art Museum Albury, New South Wales; and two pavilions in Lismore to initiate Southern Cross University's annual prize for repurposing public space with micro-architecture using sustainable materials. Meanwhile, at the inaugural Architecture Hub in October, the Sherman Centre for Culture and Ideas announced a major pavilion series for Barangaroo. It is tempting to see them as rival siblings, vying for attention in an increasingly crowded cultural event calendar − sometimes even competing against themselves, like the popular "best and worst of …" evaluations of the influential Serpentine pavilion program in the UK, now in its eighteenth year.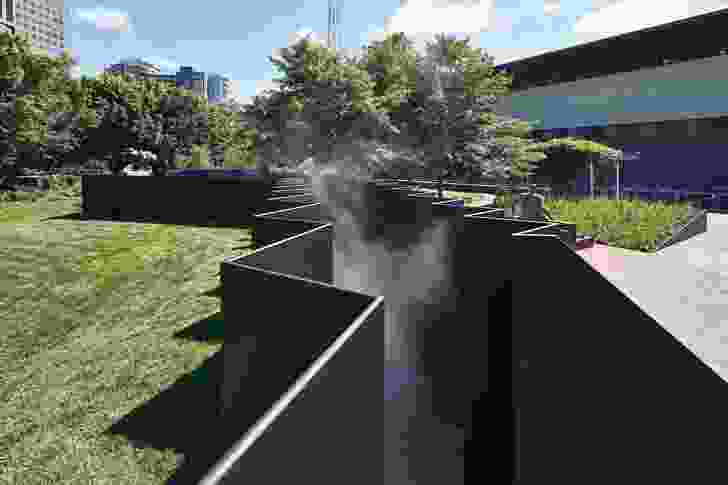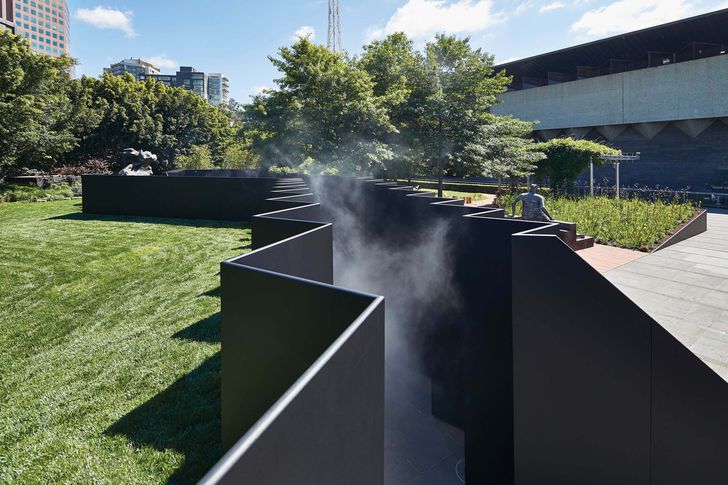 In the co-authored book Pavilion Propositions: nine points on an architectural phenomenon, John Macarthur argues that pavilions are conveniently compressed and cyclically brisk enough versions of architecture to examine bigger questions and cultural values in Australian architecture, notably "is architecture art?" Unlike the permanent, purposeful and holistic remit of "proper" architecture, they function like laboratory mice – we can experiment with them, focusing only on one or two hypotheses at a time.
Macarthur and his co-authors aren't the only academics to consider these ostensibly peripheral architectural typologies. Leon van Schaik and Fleur Watson's monograph Pavilions, Pop-Ups and Parasols is as comprehensive as a volume dedicated to a transient type can be.[3] From historical follies to celebrated contemporary constructions, the authorsexamine how these "three Ps" operate as a form of tangible discourse. In addition to their role as a testing ground for technology and ideas, they are commonly places to intensify ritual or to enjoy purposelessness. Conversely they can be practical agents in activating public space − shaped for debate, performance, civic amenity or commerce. They may also be complicit in commodification and gentrification, losing their provisional edgy status. Or, as Robert Bevan puts it, "All that is air becomes solid."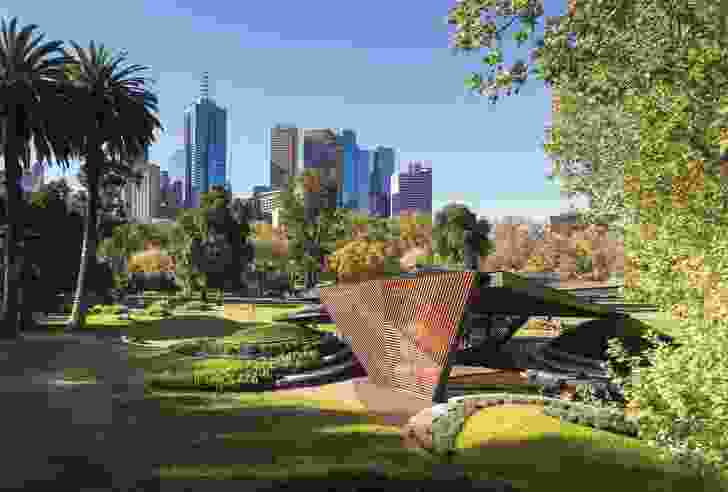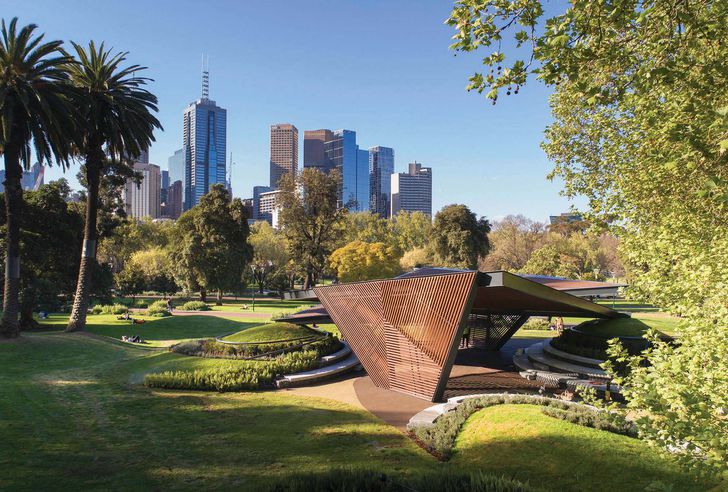 I confess I approached the fifth rendition of MPavilion with some qualms along those lines. Images of Pinós's design showed a dramatic sculptural statement of folded planes, nested together and delineated with black steel edges. Its inherent simplicity and angular geometry recalled the eager aspirations of first-year studio projects, as students experiment with point, line and plane as abstract compositions rather than occupationally attuned architectural responses. The pavilion appeared to have landed in the gardens like a giant filigreed timber papillon. (Or, shifting from entomology to etymology, like a papilio, Latin for "grand tent" and the root of the word "pavilion.")
But the experience of the place proves we should never entirely trust architectural imagery. While at one level MPavilion photographs well – all crisp forms, unambiguous materiality and intense patterns of light and shade – the overriding sensation of ease and gentleness is absent in most of the images I can find. Part of this is due to the perennial lack of people in most of the publicity shots. Putting aside candid shots on Instagram,the sculptural finesse of the design seems to invite the architecture-as-object tendency in our photographic framings. But this is an intentionally busy place (as are all MPavilions), densely programmed with diverse cultural offerings. In my three visits it's been variously throbbing with Congolese music, a focused forum of debate and a convivial room of folk passing the time with a chilled G & T. Exactly as Pinós had intended, "a protected space for social activities within the city."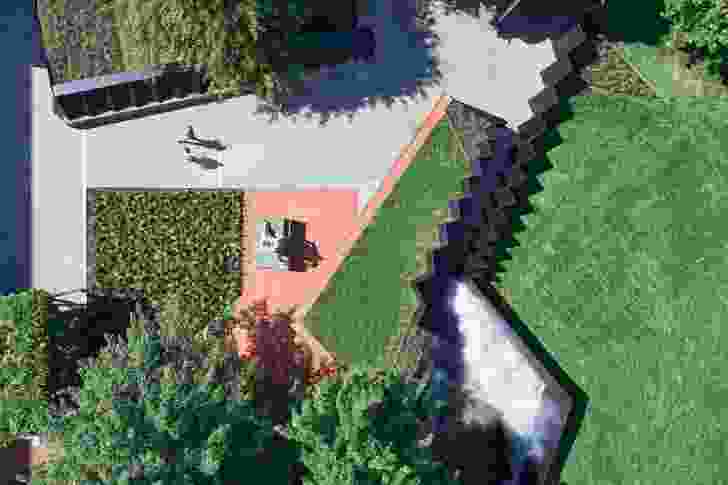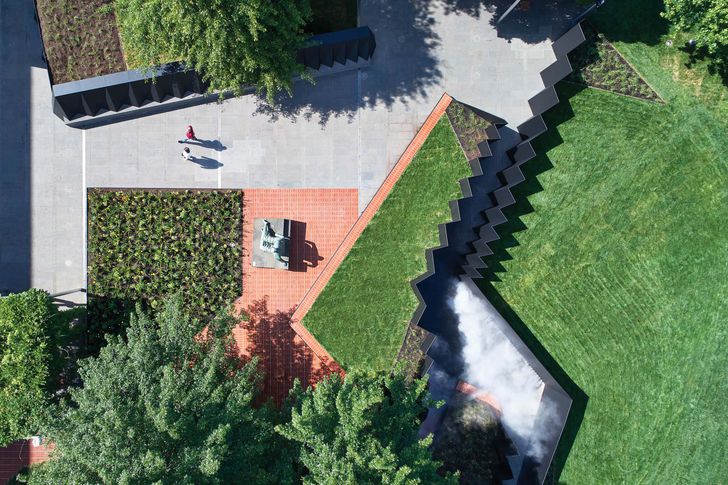 And far from perching arbitrarily on the land, the pavilion's connection to the gardens is substantial and nuanced. Despite its sweeping wings to the sky, it sits low in its surroundings, leaving the silhouette of trees and city uninterrupted. The structure grows out of the ground, even if the topography has been manipulatedinto three small tors on which to plant support and integrate tiers of seating and services. Consequently there are no columns disrupting the footprint, and views from within are always out, long and extroverted. Yet there is just enough containment of the performance area and cover from the wings as they hit the ground to give shelter from the sun, wind and rain.
Pinós uses protection from the elements as a dynamic to charge the space. Slatted timber cladding heightens the triangularity of each panel and sets up shifting matrices of shadow. If previous MPavilions were critiqued for their lack of attention to Melbourne's fickle weather, here inclement downpours are exploited for performative potential, with a massive V-shaped steel channel running low enough through the space that you can see and hear the water flow. Pinós talks of the evocations of childhood landscapes that underwrite all her works – of fields, orchards, streams and forest canopies that offer refuge. It is an observation one might query, looking at her portfolio of "bossy cuboid" buildings, until you experience the pervasive conversation between architecture and nature that is tangible here.
In other ways the pavilion belies its truncated lifespan. Impeccably detailed, it gains much of its intimate effect from the craft of junctions seen up close. In fact the scale and resolution of the whole thing feels solid, almost monumental. Pinós's approach resists the obvious temporality and spectacle more commonly associated with the virtuoso pavilion, in favour of poignant and non-trivial ambitions. "I hope it's going to be beautiful. I hope it's a place to create memories."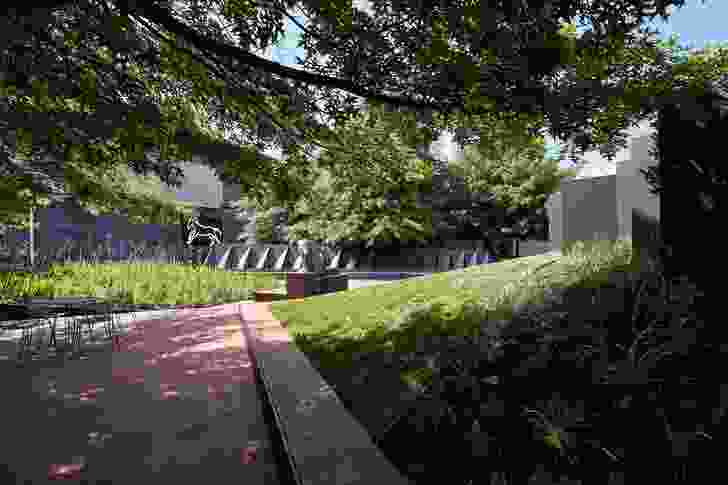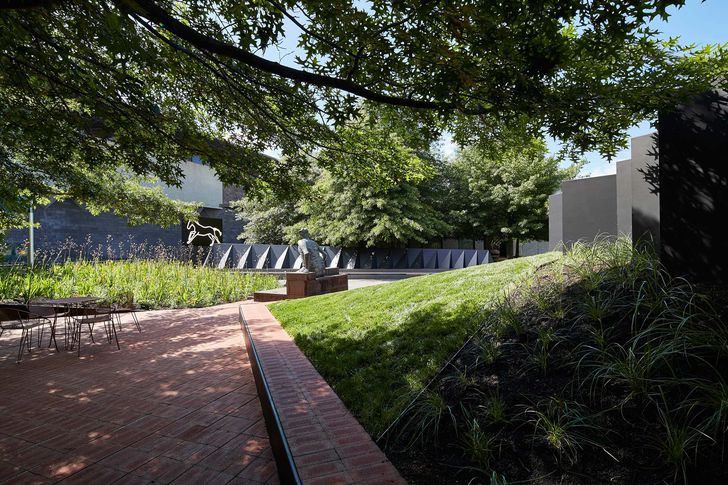 Though this pavilion might at first appear to be an exercise in restrained Catalan modernity, in essence it is historically consistent with the eighteenth-century pavilion typology: a refined, elemental and freestanding structure, designed for looking out. These are not unfamiliar tenets to the Australian architectural community, versed in the language of Murcutt, Leplastrier, Stutchbury and others. This may explain the pavilion's abiding popularity here, but the success of international programs like the Serpentine, and pedigreed "FIFO" designers like Pinós (and before her OMA, Studio Mumbai and AL_A), suggest that the pavilion is a remarkably peripatetic and adaptable concept.
Across the road, DoubleGround at the NGV demonstrates the point convincingly. Over their tenure, these programs have generated virtually contemporaneous summer installations: MPavilion is a "captain's pick" of a distinguished architect by the Naomi Milgrom Foundation, supported by a continuous curation of public events, while the NGV project is awarded through an open competition with an increasingly fluid brief. Together they are a complementary offering to the public (not least because the NGV has toilets and MPavilion, notwithstanding all those G & Ts, doesn't).
This year, there is an unmistakable Zeitgeist between the two. Like MPavilion, DoubleGround foregrounds the landscape using a robust architectural hand. It is paradoxically the most un-architectural and utterly architectonic of the NGV series so far and, like Pinós's design, steps back from any gimmickry or ostentation to produce a setting that is full of comfort, respect for place and almost Arcadian joy.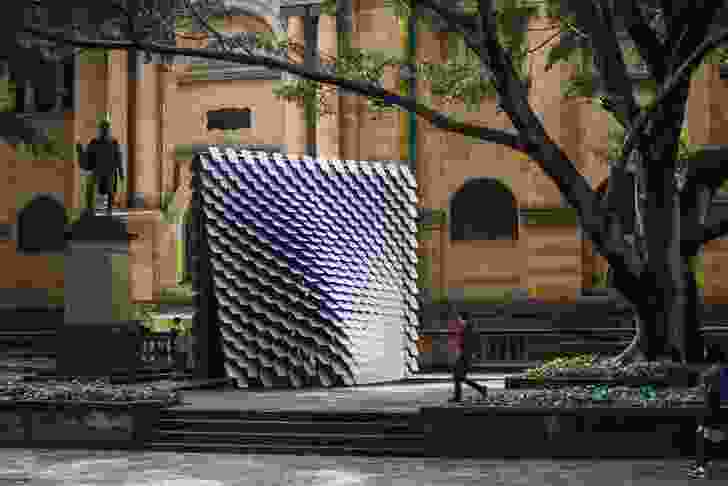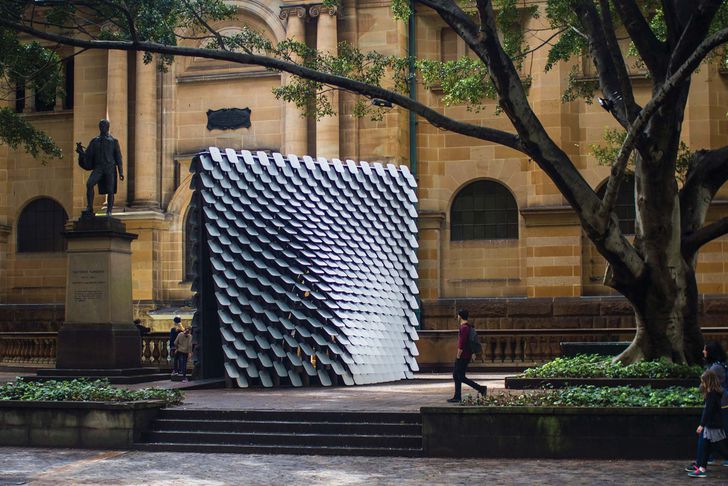 DoubleGround is in fact a creative interrogation of the knit between built and open space in Roy Grounds's original 1959 design for NGV, with a tactful critique of the Mario Bellini 2003 redevelopment. Speaking with Amy Muir and Mark Jacques, the depth and clarity of their collaboration is obvious. It is fuelled by respect for their foundational training – Muir in interior architecture and Jacques in landscape architecture and art – and by their current reflections on practice as advanced RMIT PhD students.
Three bundles of ideas are interwoven in DoubleGround. The first extends an emerging, reactive dialogue between NGV commissions, initiated with John Wardle Architects' "uber-object" and continued with the pop edifice of Haven't You Always Wanted …? by M@ Studio Architects. Retallack Thompson and Other Architects' 2017 Garden Wall distilled architectural objects to the device of the wall to try to engage with the building. Further, each contains a memento mori of the last: the pink of JWA's cladding carried to the cyclamen elements of M@ Studio's "carwash," whose dematerialized walls carried to Garden Wall, whose foxtails carry into DoubleGround's plantings. If not quite a critique of peers, it is a healthy sign of professional respect engendered by the sustained patronage of the series.
The second agenda (which again correlates with Pinós's approach) is to explore memory and depict the way we remember architectural space, often as collaged fragments of childhood experiences. Muir identifies the developmental path of spatial intelligence – from home to school to library to museum or gallery – and thus the importance of places like the NGV for our constructs of architectural and civic life. DoubleGround uses an ingenious translation of this into tangible methodology, where the seminal spatial experiences of the NGV – the water wall, great hall and bamboo court – are gathered as cropped vignettes from Wolfgang Sievers's photos of the newly opened NGV. These are then recomposed and superimposed onto the existing layout of the site as a synthesis of three-dimensional experiences, past and present. The pivotal motifs are cleverly transformed into not architectural but landscape devices: the golden carpet of the great hall becomes a tilted miniature field of saffron wildflowers, Grounds's tetrahedral buttresses become an elongated seating bench and the water wall turns into a veil of mist between strangely familiar concertina enclosures.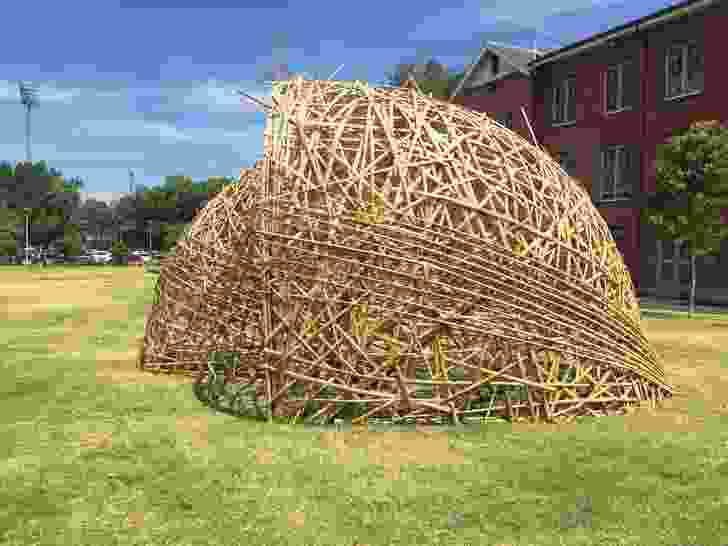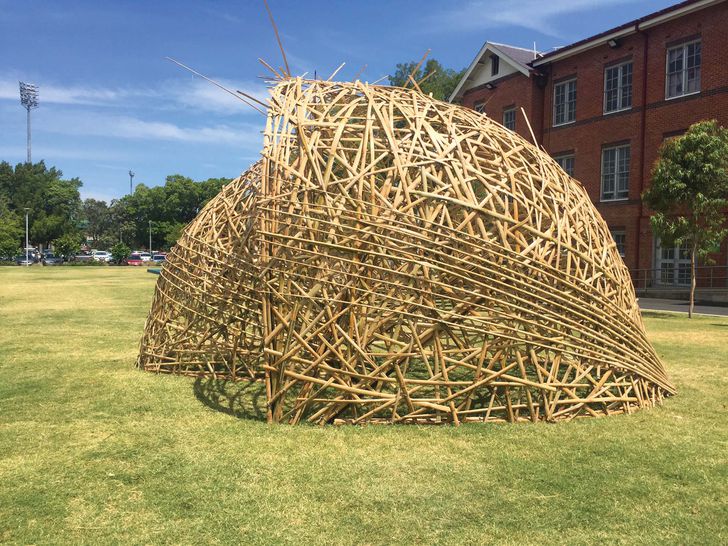 The third tactic is a mischievous desire to relegate Bellini's additions to the background. Some features, like his bluestone plaza and seating plinth, have been almost buried below reconstituted "Groundsian" homages, while others, like two wisteria pergolas, have been annexed discreetly.
If this all sounds too cerebral, the result is anything but. "It's kind of like an Australian version of a meadow," remark two British visitors, unaware that the garden is not permanent. Certainly the easy amenity and fit-to-place is such that one wonders: why not let DoubleGround remain, and find a different home for the annual series in the projected reworking of the Arts Precinct? It could serve as a celebration of the fiftieth anniversary of Grounds's masterwork, even if it was never intended didactically. DoubleGround aims to subtly change the use of the space, engage curiosity and encourage visitors to see the building anew. Artist Julian Opie's modern-day equine statue, digital sculptures of birds and life-sized sheep scattered through the glades add to the bucolic atmosphere. The implicit desire for visual novelty associated with commissions of this type thus comes from the art, more than the architecture (as it did with Grounds's original design).
Less than fifty metres away, in what was the grand breathing space of the sculpture court, the point is made again. Opie's installation Towers 3 is a miniature city of aluminium, board and paint. Mute and un-occupiable, this scenic parodyof architecture arguably operates with a similar critique and blurring of disciplines as the current crop of pavilions designed by architects, and is an apposite contrast to the approach of 80Hz and Blak Box. Seemingly driven by pure form and rarefied skin these two are actually, like MPavilion and DoubleGround, deft challenges to the ocular-centric. 80Hz translates paintings from the State Library of New South Wales's collection into music, to be experienced within the acoustically immersive shell of the structure, while Blak Boxhides a classically inspired oval loungefor the performance of sound pieces related to contemporary Aboriginality.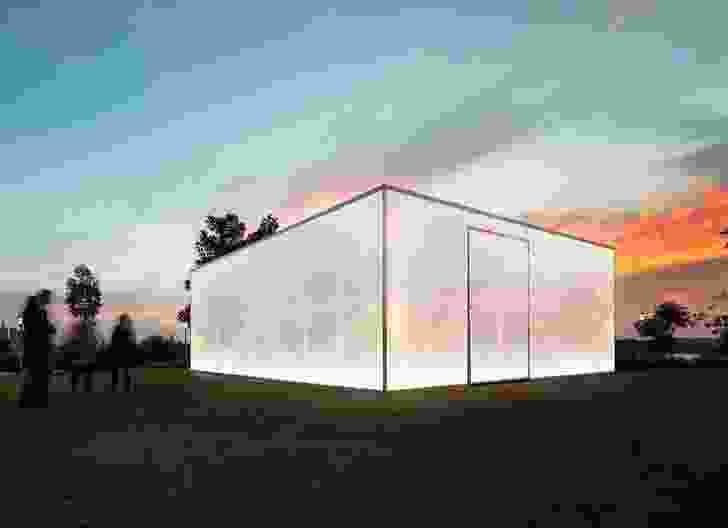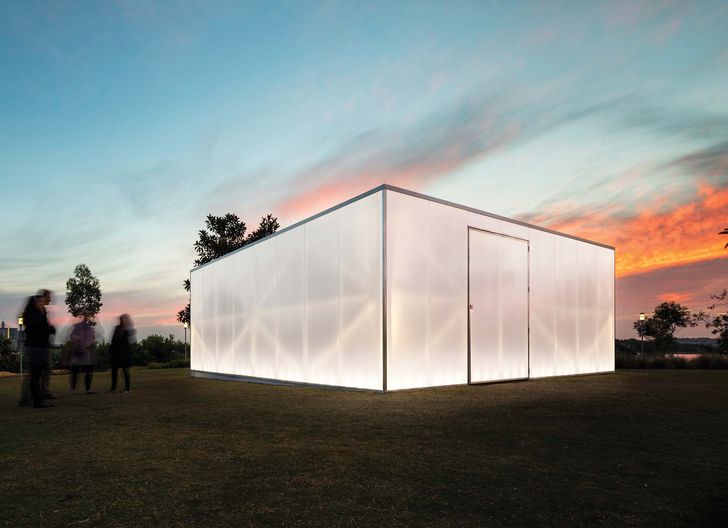 The question is, if such ephemeral architectures are catalysers for debate, what is the nature of the discourse they generate? Long-standing, highly visible programs like the Serpentine attract as much sensation from their published reviews as they do from visitations. Blunt, sometimes excoriating reviews are also vehicles for informative analyses, such as that of Edwin Heathcote, who deemed Koolhaas's 2006 design "shoddy, sweaty and slapdash but … absolutely great," but elsewhere wrote that the 2012 scheme by Herzog and de Meuron with Ai Wei Wei, a cork-covered "musty subterranean space," was evidence that "the architectural formalism, the incessant shape-making and enforced sculptural originality of the pavilion programme has, perhaps, gone a bit off."1 We seem to be a more courteous lot here in Australia; pavilion activity is not in its infancy, but the level of public debate is comparatively tame.
In the interests of a decent architectural controversy, and because it is cricket season, I have looked for reasons to sledge these two pavilions, and maybe throw in some gratuitous assessment of the others mentioned above. But try as I might I cannot find cause for sarcasm, vitriol or even damning with faint praise. Each of the pavilions here aspires to more than spectacle, more than clever construction or flamboyant one-liners. They are ethically thoughtful and sensitively realized projects. John MacArthur lists the many binaries that characterize the pavilion phenomenon: how they connect and clash specific sites with transportable ideas, high culture with pop-up retail, public space with architectural discourse and architecture with visual art. In doing so, he argues, they are instrumental in flattening cultural hierarchies and breaking down culture and commerce, and are part of an ecology of creative economies. DoubleGround and Pinós's MPavilionen capsulate these productive tensions, and are ennobling, social spaces that engage people, built place and landscape with humility and finesse. And who knows, maybe they will encourage the likes of Jack and his schoolmates to one day become landscape architects or part of the art.
Dr Rachel Hurst is a Senior Lecturer in Architecture at the University of South Australia and Contributing Editor for Architecture Australia. She researches everyday aspects of architecture through a baroque practice of making, writing and curating.
Related topics