When looking back and reviewing an event it's always nice to talk about the best things first.
In the case of The Architecture Symposium, Hobart (30–31 March) it would be fair to say that, though both days were of outstanding quality, the day two trip to Bruny Island to visit John Wardle's projects Captain Kelly's Cottage and Shearer's Quarters was the highlight. Visiting a building in the flesh has a buzz about it and as we prepared to leave for the island, there was a sense that this was going to be something special.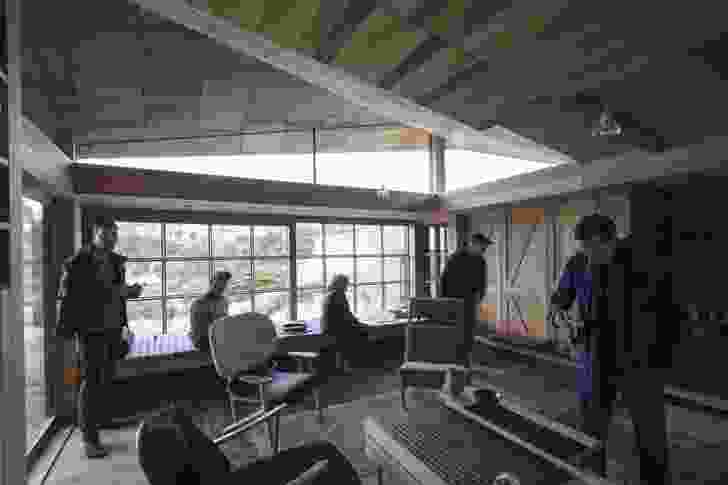 Hobart put on a crisp, silvery autumn morning. Coffee and breakfast at Brickworks got everyone going, then we were onto buses and off to the ferry, before gliding across the bay, negotiating some dirt road hairpin turns and arriving for brunch at Bruny Island Community Centre. There, we heard John speak about the twin projects; he told of his coming to the island, his relationship with locals, and his passionate resistance to salmon farming. The tone was set, and the surrounding landscape beguiled us with its austerity and beauty; the mood of anticipation just kept growing.
Seeing a building for the first time is never what you expect. As we approached from the high part of the road, the house and shearer's shed revealed themselves in the distance. Most striking was the profound magnetism and gravitas of these two small objects, drawing us towards them. Couple that with a most amazing natural setting that exuded so strongly a sense of history and time, and we had the ingredients for a hypnotic experience.
John's ability to hold a crowd was once again on display, with his telling of the history of the cottage, of his painstaking renovation back to original condition, his inspirations for the shed, and the farm's evolution into a place of gathering, repose and reflection – both on a personal level and for the wider community.
As we walked around, it was people's reactions that were the most telling. If one word could sum up the predominant feeling, it would be "joy." There was an overwhelming sense of joyfulness that was had by wandering the grounds, touching walls, looking in cupboards, opening windows and doors, sitting, lying, leaning, and interacting with the buildings and the land both as a collective and on a deeply personal level. Perhaps it was the sublime nature of the buildings and their internal spatial quality or their relationship to landscape; regardless, it was a reminder that it is the essence of a building and its connection to place that lies at the core of any meaningful experience of architecture.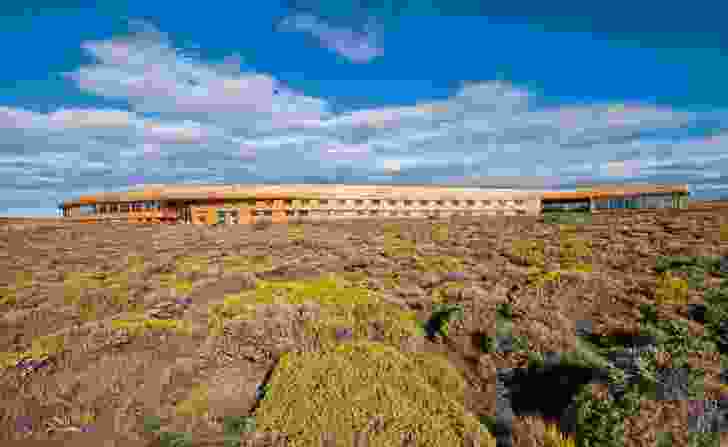 It was this theme that ran throughout the weekend's symposium, with each project presented seeking, in its own way, to connect to this elusive notion of the "essence of place." Much of the work also touched on how history, culture and architecture relate in different ways. In the extraordinary and almost improbable work of Cazu Zegers In Chile, for instance, we saw the development of a "Latin American language of forms" related to territory and culture.
And in Taylor and Hinds Architects' exquisite krakani lumi (standing camp) project, at Tasmania's North East National Park, we saw the way Indigenous knowledge and meaningful collaboration with Indigenous people can inform buildings. Part of the wukalina walk, krakani lumi was developed in close collaboration with Tasmania's palawa people and the Aboriginal Land Council; the design references traditional palawa shelters, with Care for Country a critical aspect of the project.
Other projects presented ranged from simple and subtle works such as those presented by Andrew Burns, through to ambitious larger projects such as Silvester Fuller's proposed cliff-top resort at Table Cape on Tasmania's north-west coast, a project that explores notions of landscape, materiality and edge conditions.
James Grimley, director of Scottish practice Reiach and Hall Architects, discussed projects that reference historical lineage and context, specificity and inhabitation, while Peta Heffernan and Elvio Brianese of Liminal Studio showed how aspects outside of architecture and strategic collaborations are as or more important to the outcome as the building itself.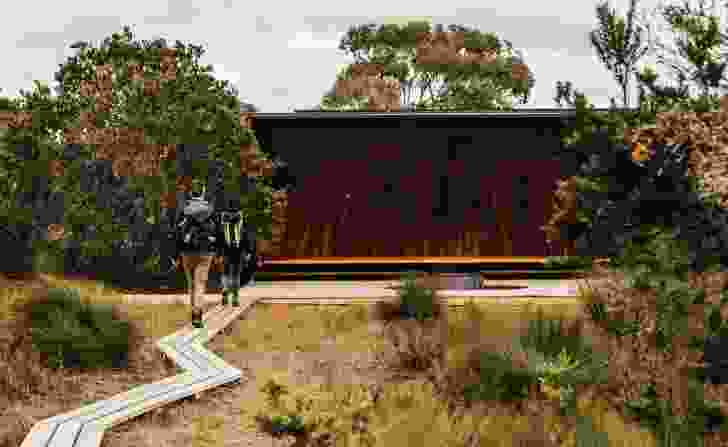 Unexpectedly, the biggest reading on the clap-o-meter came from the opening address by University of Tasmania's vice chancellor Rufus Black. What started as a soft introduction quickly became a passionate and articulate critique of the state of architecture, touching on the need for increased social responsibility in the profession and a consideration of the human condition to create spaces that have "soul."
This was no blasting or whinge session, but a deeply insightful, considered and passionate call to arms for us architects to step up, take charge and ensure we are delivering buildings of the highest quality for our clients and the public. In this we must take up our role as educators and orchestrators of livable spaces and not let that fall by the wayside. A fitting way to start a symposium.
In the end, I imagine what was was seen, heard and experienced would have left everyone inspired, arriving home well satisfied.
The Architecture Symposium, Hobart, is supported by Brickworks and the University of Tasmania, and presented by Architecture Media as part of the Design Speaks event series.
Related topics