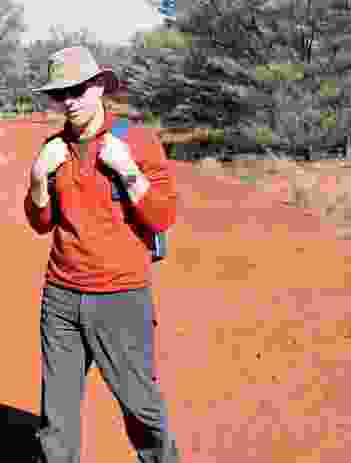 Landscape architect and urban designer Kevin Taylor died tragically in a car collision near Darwin on the morning of Sunday, 7 August 2011. He was fifty-seven. Kevin, a talented and unpretentious designer, established one of Australia's most awarded practices, Taylor Cullity Lethlean, together with Kate Cullity and Perry Lethlean.
Kevin was born into a working-class family in Clarence Park, Adelaide in 1953. When Kevin was twelve, his father died after a long illness and a period of acute struggle for the family followed. In 1978, Kevin attained a degree in architecture at the South Australian Institute of Technology (SAIT), now the University of South Australia, where he completed a radical final-year thesis that interrogated the impact of ecological awareness on architectural practice. This earned him the SAIT's medal and an offer from David Yencken to work in Melbourne with Merchant Builders. He later studied landscape architecture at RMIT University. In Melbourne, Kevin went on to work on several significant projects, including the influential Royal Park Masterplan (his daughters Danae and Emily were born during this time). In 1990, Kevin and his partner Kate formed Kevin Taylor and Kate Cullity Pty Ltd, producing the highly awarded and flamboyant Box Hill Community Arts Centre with architect Greg Burgess, and developing the much-publicized Australian Garden at the Royal Botanic Gardens, Melbourne with Paul Thompson.
In 1991, Kevin and Kate began work on the Uluru-Kata Tjuta National Park. Perry Lethlean joined the firm in 1995 and Taylor Cullity Lethlean was formed in 1998, shortly before Kevin and Kate returned to Adelaide. Their return began a prolific period that included infrastructure projects, national parks facilities and major urban public spaces such as North Terrace. Taking an unprecedented whole-of-park approach, they worked on improvements to the visitor experiences of major parks, including Flinders Chase, Kangaroo Island, Flinders Ranges, Innes National Park and the Gawler Ranges. Nationally, the practice undertook regional regenerations such as the Geelong Waterfront, Melbourne Museum's Forest Gallery and Sydney's Manly Corso, as well as the unique Canberra Arboretum, and the Darlinghurst Campus of Sydney University, which were both the result of international competition wins.
At the time of his death, Kevin had produced a substantial piece of writing as part of a PhD by Practice at RMIT University, which he was undertaking with Kate and Perry under the supervision of Professor SueAnne Ware. This work documented research into, and reflection on, Kevin's work and its shaping of the practice. It focused on two main projects: North Terrace, completed in 2005 over a period of almost twelve years, and yet to be realized – Victoria Square/Tarndanyangga, both in Adelaide. These are supported by brief discussions of three earlier projects that identify and elaborate on his underlying concerns for effective community engagement and sensitivity to site: Box Hill Community Arts Centre, Uluru Kata-Tjuta Aboriginal Cultural Centre and Collingwood Children's Farm.
In unravelling the threads of these concerns, Kevin described how profound and personal observations of both the site and its contexts were used in the development of operational strategies for approaches to design. "In understanding a project, my first intuition is to go to the site and feel what it is like to be there. My connection with site is also the conduit through which my relationship with client and community develops." Kevin went on to note the fragility of the landscapes and of the communities that dwell there. He also described how appreciation and confidence to act in these vulnerable biophysical and social environments came from being open and vulnerable oneself. Kevin's observations have breathtaking clarity and frankness. And this is a preeminent theme: fragility and vulnerability as strengths that open doors otherwise locked to appreciation of a site and the fuller potential of a project. As Kevin said, the risks of "intimacy gives me confidence to act," and this acting results in realization of the fuller potential of a project, for which the practice has been so rightly awarded.
Kevin's particular concern was for "the civic." The design of landscapes, and more importantly explicit responsibility for such design, involves processes inextricable from both personal engagement and community engagement. Kevin's personal engagement – or enthralment – with landscape is first shown by his description of fishing as a child on the Southern Ocean:
"The beach, the sky, horizon and ocean, the rhythmic sound of the waves, the dunes behind and the quietness of the night were constant presences. I experienced the physicality of these places while very open and sensitive, and vulnerable. I learnt something about the landscape, something of its language. I learnt a way of being in it whereby I could feel intimately connected with it. It comforted me. I learnt how to be comfortable within it."
Of his engagement with communities, Kevin recounted the lessons learnt in central Australia, where "all was foreign – culture, language, social structures, life experiences, landscape" and where "[w]hat was required … was the ability to listen intently … to the Aboriginal elders tell their stories of the site." The personal and communal are woven together and become inseparable.
In writing about the civic, a realm of contested, complex and contingent potentials, Kevin spoke to a core challenge and skill of architecture and design: how to define and develop a project. Kevin spoke of something Perry had identified and termed "moves," which is distinguished from more typical guiding principles and statements of visions because "they constitute a design approach or language that is spatial and propose physical changes to the site." More than this, "moves" are generative and enabling, and supply frameworks that free the designer for further exploration. They also supply "clear and simple communication" for clients and others. North Terrace provides a key example where five diagrammed moves – Complete the Thresholds, Connect the Thresholds, Energise the River, Enhance the Cultural Heart and Cross-Fertilise Programs with Linkages – drove the subsequent spatial, experiential and activity-based decisions.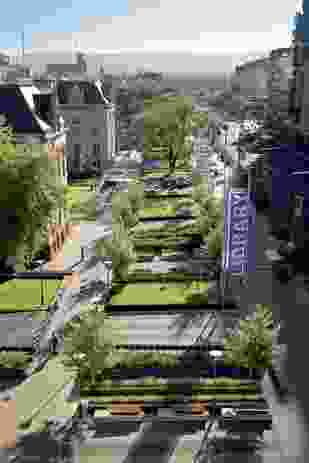 Kevin's candid scrutiny of his concern for the civic – for the physical public realm as the keeper and generator of communities' hopes – is an encouragement for the profession to undertake similar examinations. With every project, the designer grapples with determining what is best to do, and for whom. Who is the civic? Kevin explicitly identifies a lack "in the language used to describe the 'key moves' … a reference to the complexity, diversity, difference and social exchange present in public domain [as defined by Dutch sociologists Hajer and Reijndorp]." In other words, a specifically self-aware, design-responsive and politically positioned responsibility.
Many have spoken of the richness and breadth of Kevin's legacy of projects and friendships. In considering the most recent ways in which Kevin had himself reviewed his work, this review is perhaps less a traditional tribute that rehearses his achievements than an effort to share something of a projection of what his practice and life seemed set to deliver next. The loss of this promise is all the more poignant because it was so imminent; because his striving was so keen, so consistent, so articulate and so familiar to the many who knew him, and because his quiet commitment to the efficacy of risk and vulnerability reveals itself as ever more courageous.
Kevin's legacy is less a validation of the value of landscape architecture than a rousing challenge to its ongoing vitality. His work and inspiration is not only about the celebrated excellence of award-winning projects of the past, but about how to build confidence to move on to new projects in increasingly fraught social, economic and political contexts. We need have no public doubt about the value of landscape architecture as a profession – the work of Taylor Cullity Lethlean shows this. But we do need to test our doubts in private. What we profess and the conviction with which we can profess it comes from risking and harvesting this carefully cultivated and richly productive doubt. This was one of Kevin's greatest strengths.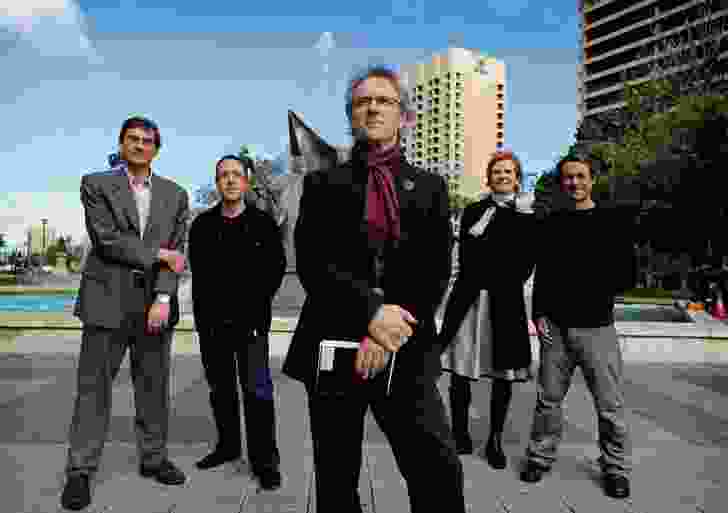 Perry Lethlean principal, Taylor Cullity Lethlean
"Kevin was our secret. He was our quiet leader, a true gentleman who could create authentic, beautiful places. We quietly cherished his integrity, his respect for sites and communities. It didn't matter to us that others didn't realize our friend could touch so many places and connect to so many lives. He was our secret. We were so proud of his genius. Until now we never realized so many others were too.
Kevin and I undertook landscape architecture studies at the same time some twenty-nine years ago under the leadership of Jim Sinatra. Our very first design exercise was to redesign the Victoria Market in Melbourne. I remember scheming, like many others in our class, to knock bits of it over and build instead a hotel or office block. I distinctly remember Kevin by contrast … presenting the Victoria Market essentially as it was. Kevin asked why change a place that provided real experiences and already had a soul? It was a revelation.
This affinity with a place and of its people was Kevin's gift. Through a layered process of walking, conversation, writing, research and above all listening, Kevin could tap into the soul of a place. We understood – only through this nuanced understanding of a site could creativity and innovation follow. His work had integrity.
The Australian landscape was Kevin's garden. He felt a unique connection to it and brought this love into his work. He experienced our country, understood it, and enjoyed participating in its spirit, its earth, its rhythms and stories. He saw the landscape through a poet's eyes; through abstraction and distillation he created remarkably rich sensory landscapes across this country.
Kevin was our calm leader. Joining his practice meant coming to a place of shared passion, respect and care. We learnt to accept and appreciate his way of listening, thinking and quiet reflection. Via reflection came honest insights. This subtlety permeated our lives. We connected into his moral compass. His values became our shared values without us ever realizing it.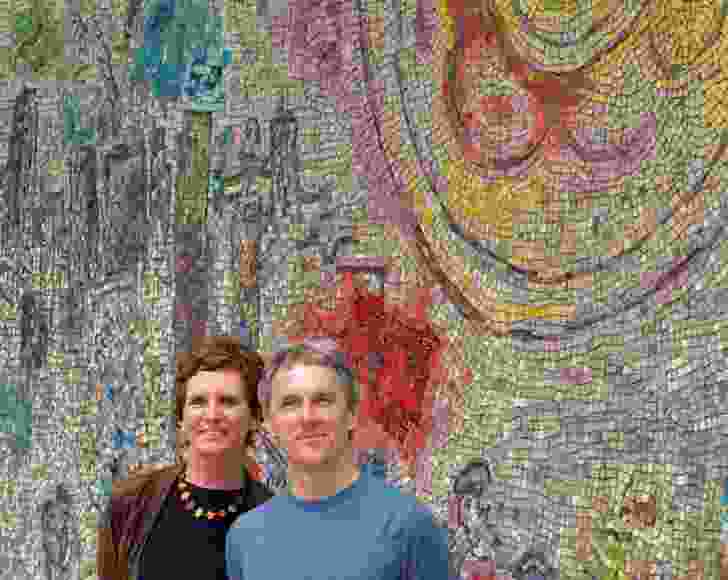 We also experienced the beautiful interplay between Kevin and Kate. It was a distinctive, yet reassuring rhythm of our working lives. Together they were loving, generous, trusting and empowering. Together they held dear the TCL family, one that united friends across this landscape.
I know Kevin was proud of the people he had gathered around him. He was excited about the future. In particular the opportunity to collaborate with these beautiful, talented individuals and what this would offer in the next phase of his life and practice.
Kevin has left them, but has parted with a gift. His values are now their shared values. His integrity will live on through this creative family.
They miss Kevin terribly. I miss my friend. We've all lost that solid ground. Our secret."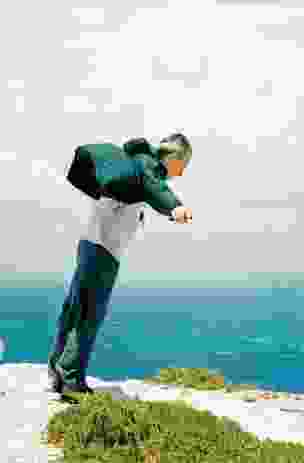 DREAM
Flying
Arms outstretched, lifting off the ground
Flying with ease high above the ground
Others flying too.
Flying smoothly, gliding
Looking down at the earth below.
It's so easy.
—Kevin Taylor, 24 July 2011
Source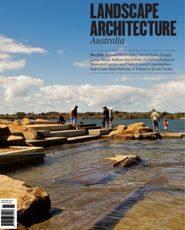 Issue
Landscape Architecture Australia, February 2012
Related topics