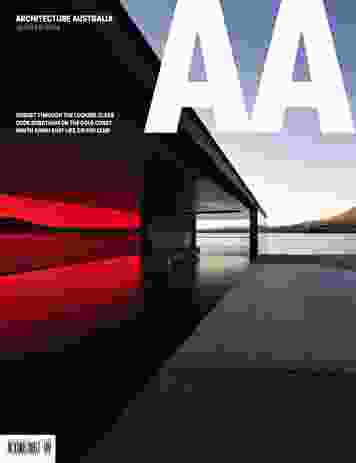 This issue of Architecture Australia considers how Australian architecture serves as both a symbol and an expression of the different cultural identities of each state. Why do discourse and practice tend to be distinguishable by state, and, given the vast scale of the island continent, is this diversity so surprising?
The projects reviewed in this issue include articulate and inquisitive responses to place that take us to localities where state boundaries have less potency than the qualities of the region and highlight architects and practice formations working across borders.
In the Dossier, Maitiú Ward reviews the National Gallery of Victoria's summer exhibition Melbourne Now; Philip Drew interviews Japanese architect Fumihiko Maki; and Victorian Government Architect Geoffrey London reflects on the early work of the Victorian Design Review Panel.
Project reviews include:
GASP Stage Two. Room 11 Architects continues its work at Tasmania's Glenorchy Art and Sculpture Park with a series of elemental structures, reviewed by Aaron Peters and Paul Owen
Advanced Engineering Building. At the University of Queensland, Richard Kirk Architect and Hassell apply the lessons of modernism to reintegrate learning and teaching spaces, reviewed by Haig Beck and Jackie Cooper
Lune de Sang Sheds. Two pavilions by CHROFI are early additions to an ambitious revegetation project in northern New South Wales, reviewed by Tracey Woods
Dayboro Veterinary Surgery. Owen and Vokes and Peters' design of this veterinary facility takes its lead from the rural buildings of the surrounding town, reviewed by Douglas Neale
Abedian School of Architecture. Peter Cook and Gavin Robotham's sculptural addition to the Bond University campus is replete with fluid, permeable spaces, reviewed by Andrew Mackenzie
North Bondi Surf Life Saving Club. On the Bondi foreshore, Durbach Block Jaggers and Peter Colquhoun conceive a twinkling public building that serves the observer and the observed, reviewed by Laura Harding
The National Arboretum, Canberra. A cohesive architecture and landscape scheme by Tonkin Zulaikha Greer and Taylor Cullity Lethlean underpins this significant civic project, reviewed by Philip Thalis
Cameron Bruhn, editorial director, Architecture Australia
Follow Architecture Australia on Twitter
Source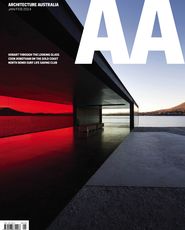 Issue
Architecture Australia, January 2014