This issue of Architecture Australia follows the trajectory of Australian housing. It is a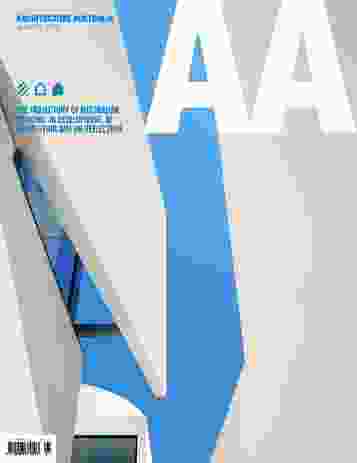 contemporary record of projects and thinking and the latest contribution to a series of issues focused on multiresidential architecture and urban development. The issue has three components: previews of projects in planning, design or construction; reviews of buildings at completion; and reflections on processes, outcomes and aspirations. The last is used to recast the relationship between the house and housing and to re-examine exemplar projects from recent history with the benefit of first-hand hindsight.
The projects in the current issue are exemplary by a range of criteria, including recognition at a state and national level in the Institute's awards program and prestigious international plaudits, and yet these buildings are prescient rather than ubiquitous. The reasons are complex, but the profession's commitment to addressing the gap, through building-by-building evidence and policy and advocacy frameworks, is both well grounded and gaining momentum.
This issue also revisits themes explored in the May/June editions of Architecture Australia from 2007 and 2011. In 2007, then editor Justine Clark argued for the disentanglement of house and housing, stating that "architecture, as a discipline, will need to stop fetishizing 'the house' and to start exploring housing in all its cultural and social complexity" and in 2011 the issue stepped outside the urban centre to examine domesticity, demographics, sustainability and affordability "out there" in the suburbs. In many respects this issue is an acknowledgement and a mashup of these conceptual transects.
The buildings and writing in this issue adroitly address the relationship between the individual and the collective. They constructively turn the house and housing conundrum inside out and make material challenges to the tedious binary of centre and periphery. There is a palpable sense of maturing attitudes to Australians living in closer proximity to one another and of the intelligence architects are bringing to the task.
The January/February issue contains the following peer-reviewed projects and reflective essays:
Three Houses Marrickville. David Boyle Architect delivers harmonious triplets on a complex urban site, where once a single house stood. Review by Genevieve Lilley.
Terrace Houses in Fremantle. Blane Brackenridge Architecture applies a restrained minimalism to three hillside houses in Fremantle. Review by Marco Vittino.
Wynnstay Road. Debbie Ryan reflects on her practice McBride Charles Ryan's ambitious self-initiated apartment project, completed in 2000.
Moreton Bay Houses. Brit Andresen reflects on Andresen O'Gorman Architects' unique design for single-occupancy houses in Queensland, completed in 2001.
Kununurra Transitional Housing. Architect Adrian Iredale reflects on Iredale Pedersen Hook Architects' transitional housing for Indigenous families in Kununurra.
Studios 54. Hill Thalis's Studios 54 demonstrates that small sites can be used inventively to make the city richer and more diverse. Review by Peter Smith.
Casba. Billard Leece Partnership and SJB Architects' mixed-use project in Sydney balances private comfort with civic neighbourliness. Review by Olivia Hyde.
Australia Towers. Bates Smart's twin elliptical towers in Sydney's Olympic Park present architecture as a positive force in city life. Review by Peter John Cantrill.
In development. A survey of housing projects that are currently in development or under construction from around Australia.
Cameron Bruhn, editorial director, Architecture Australia
Follow Architecture Australia on Twitter
Subscriptions and back issues: Print and Digital
Source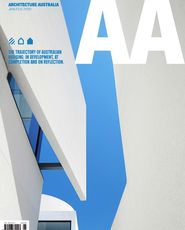 Issue
Architecture Australia, January 2016