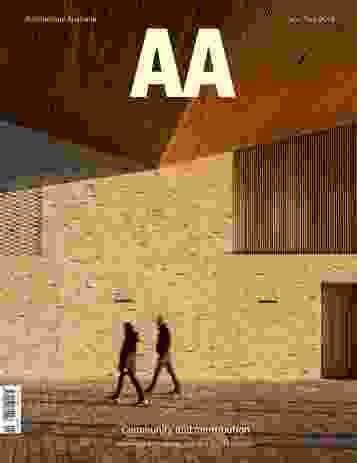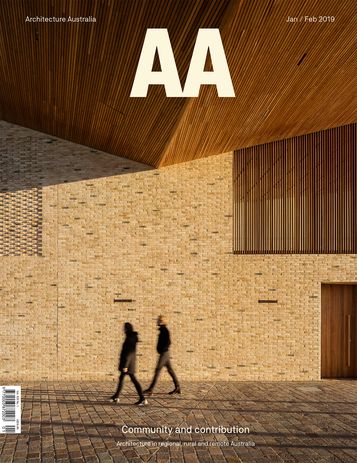 The January/February 2019 issue of Architecture Australia celebrates the contribution of architecture to communities in regional, rural and remote Australia. It surveys regenerative and transformative regional buildings and profiles practitioners living and working beyond the metropolitan centres. It is a portrait of regional Australia that reveals the collegial network of architects, students and academics working across the diverse economic, social and geographic realities of this country.
The focus is on public and commercial projects in order to examine the way architecture is contributing to community life and to the prosperity of the cities, towns and areas that lie beyond the limits of the six metropolitan centres. Read as a collection, the work is both accomplished and resourceful; each building and practice making the most of every opportunity. Using one broad term, "regional Australia," to describe the vast majority of Australia's 7.7 million square kilometres risks oversimplification, so in the process of selecting content, categorizations defined by the Regional Australia Institute (RAI) have proved to be a useful reference tool. The RAI research reveals four regional types, defined by different demographic, economic and social factors. The projects reflect the diversity of industry on which regional Australia relies – from dairy farming in Western Australia and seed breeding and research in South Australia to tourism in outback Australia and in Tasmania's Freycinet National Park.
This issue addresses the particular opportunities and obstacles of working with and for Aboriginal and Torres Strait Islander communities and identifies outstanding projects that work toward closing the gap in social, health and economic outcomes between Indigenous and non-Indigenous communities.
The publication of this issue has been incredibly rewarding and we thank everyone who has shared their stories. We would like to acknowledge and thank Helen Norrie for her research and knowledge as guest editor of the Dossier and Carroll Go-Sam from the University of Queensland for her expertise in identifying the traditional custodians of the regions.
The January/February issue contains the following peer-reviewed projects:
Maitland Riverlink. Chrofi with McGregor Coxall's revival of the Maitland city centre is a sublime lesson in addition and subtraction. Review by Kerry Clare and SueAnne Ware.
Les Wilson Barramundi Discovery Centre. Bud Brannigan Architects' building is a poetic and uncompromising celebration of Karumba's industrial legacy. Review by Roger Mainwood and Stefanie Field.
The Creamery, Bannister Downs Dairy. Bosske Architecture's expansion plan for a farm in Northcliffe is utilitarian and agricultural, yet corporate and spectacular. Review by Jennie Officer.
Waltzing Matilda Centre. Cox Architecture pays tribute to the Winton community and the landscape that inspired Banjo Paterson. Review by Peter Skinner.
Freycinet Lodge Coastal Pavilions. Liminal Architecture amplifies the experience of the distinctive landscape of Freycinet National Park. Review by Genevieve Lilley.
AGT Southern Crop Breeding Centre. A crop research facility designed by Ashley Halliday Architecture Interiors offers a contemporary vision of rural enterprise. Review by Julian Worrall.
Lismore Regional Gallery. In Lismore, Dominic Finlay Jones Architects in association with Phil Ward has delivered a community-minded and thoroughly successful civic space. Review by Ashley Dunn.
The January/February 2019 issue was commissioned by Cameron Bruhn together with Architecture Australia's managing editor Alexa Kempton. With this issue we wish Cameron all the best for his future endeavours as dean and head of the School of Architecture at the University of Queensland and thank him for his significant contribution to Australia's architecture and design culture.
Katelin Butler, editorial director; Cameron Bruhn, commissioning editor; Alexa Kempton, managing editor
Follow Architecture Australia on Twitter
Subscriptions and back issues: Print and Digital
Source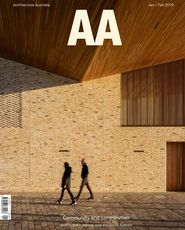 Issue
Architecture Australia, January 2019