In today's world, distance is collapsing. The battle between the local and the global is something that architects and designers continue to grapple with – in terms of sustainability, local identity, economy structures and architectural competitions. Simultaneously, there is a growing movement against the trend for clients to engage big-name firms from overseas – too often, the results are imposing structures that fail to fit with the local culture and conditions. Of course, exchange works both ways – so what happens when Australians work abroad? This special issue of Architecture Australia aims to describe the outcomes, in many and varied circumstances, of Australian architects working in other places.
The last time we focused a whole issue on the export of Australian architecture was September/October 2010. Justine Clark, editor at the time, attempted the challenging task of mapping Australian architecture across the world and concluded that "encounters across cultures and locations are most effective when they are understood as exchanges, or dialogues. It is never a one-way encounter, and the most productive work comes when we recognize this."
This observation remains valid today, and I would add that the most successful attempts at working internationally are by practices that embed themselves within the local community. This means establishing and sustaining a base in the place where the work is created and recruiting local architects. In his essay on how Australians might procure work abroad initially, Ross Donaldson reinforces the value of local presence.
We start the issue with a snapshot of significant projects that are currently in progress. It is interesting to note that most of this work was won through international competitions. One-off competition wins have the potential to precipitate an international practice – but again, I would argue that a FIFO approach for the duration of the project is not enough for a practice to establish roots somewhere else.
The eight case studies in this issue give a taste of the broad spectrum of work being undertaken overseas, from a renovation of a Kyoto machiya by emerging Australian architect Atelier Luke to a national library in Luxembourg by Peter Wilson of Bolles and Wilson, a recipient of the Australian Institute of Architects' 2013 Gold Medal. We have expanded our investigations to include essays
and reflections by those working abroad in associated architectural fields, such as education, curation and humanitarian architecture. The recent and inaugural Sharjah Architecture Triennial, curated by Australian Adrian Lahoud, is reviewed by Stephen Todd.
Every second year, we celebrate Australian architecture alongside other countries at the Venice Architecture Biennale. This year's creative directors, Tristan Wong of SJB and Jefa Greenaway of Greenaway Architects, spoke with us about their curatorial approach, which represents non-Indigenous and Indigenous ideologies simultaneously, and how they have collaborated with our close neighbours from Polynesia, Micronesia and Melanesia in their pavilion design. This proposition reminds us of the value of an inclusive approach to architecture and the built environment.
The discussions here are just the tip of the iceberg on the broad topic of practising architecture overseas. But, as with any themed issue, our aim is to prompt further discussion and debate. In our rapidly globalizing world, this topic will only continue to become more pertinent.
Katelin Butler, editorial director
Follow Architecture Australia on Twitter
Subscriptions and back issues: Print and Digital
Source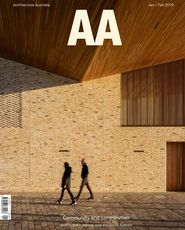 Issue
Architecture Australia, January 2019