AA July/August 2013 preview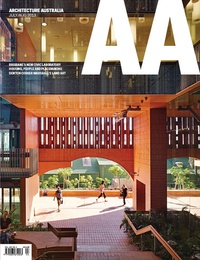 This issue of Architecture Australia traces the truly wide-ranging influence the profession has on our communities, our livability and our cultural richness.
The projects featured range significantly in scale and program – from Sydney's first new church in over twenty years, to a campus-style correctional facility in the remote Kimberley, Western Australia. New types of social housing are also examined and critiqued.
In the Dossier two recent books relevant to the discourse are reviewed; Bill Gammage's The Biggest Estate on Earth and Philip Thalis and John Cantrill's Public Sydney , along with a transcript of AA Roundtable 09: The Economics of Good Architecture.
This issue also includes the first installment of AA's coverage of the AIA's Chapter Awards, with the ACT, Northern Territory, New South Wales and Tasmanian award recipients.     
The projects reviewed include:
Translational Research Institute. Wilson Architects and Donovan Hill have designed a memorable building well-versed in postmodern quotation, reviewed by Brit Andresen
St Barnabas Anglican Church, Broadway. Francis-Jones Morehen Thorp has created a church that embodies a contemporary attitude to spiritual expression, reviewed by Philip Drew
The Majestic. Hill Thalis has balanced design and material quality with commercial returns in this inner-Sydney theatre conversion, reviewed by Peter Tonkin
Atherton Gardens Social Housing. A public housing development by McCabe Architects and Bird de la Coeur Architects thoughtfully reponds to complex requirements, reviewed by Justine Clark
Kyme Place Rooming House. McGauran Giannini Soon has prioritized individuality in this uplifting project that inhabits a space somewhere between domestic and civic, reviewed by Cameron White
West Kimberley Regional Prison. TAG Architects and Iredale Pedersen Hook Architects have delivered a custodial environment that allows prisoners to maintain a connection to country, reviewed by Elizabeth Grant and Peter Hobbs
View Hill House. A component-by-component approach by John Denton of Denton Corker Marshall results in a house that speaks expressly of its site and setting, reviewed by Leon van Schaik
Cameron Bruhn, editorial director, Architecture Australia
Follow Architecture Australia on Twitter
Subscriptions and back issues: Print and Digital