As Architecture Australia is a journal of record, we aim to publish and interrogate the most significant architectural contributions of a particular moment in time. Given the scale of many of these commissions, this tends to lead to a familiar set of large practices taking prominence in the pages of the publication. Our desire to be more inclusive of smaller practices led us to this special issue on "small" – what is the role of small projects, practices and budgets in shaping our cities? As co-directors of Sydney-based practice Panov Scott Architects, our guest editors, Anita Panov and Andrew Scott, are a duo aptly placed to consider how "small" can be leveraged for great impact.
Although we approached Anita and Andrew prior to the COVID-19 pandemic, the theme appears to be even more pertinent now. Historically, health crises have required us to question our urban condition and the current pandemic is no different (albeit in a new technological age). Anita and Andrew propose a kind of dispersed localism, comprising "a series of overlapping spatial networks centred on small-scale community-based facilities – the market, the school, the park." It is a bold proposal, and this is the time for big-picture thinking. In reflecting on the opportunities of the crisis at hand, Rory Hyde notes, "We have a chance to dream of a new way of organizing the world. And as architects, we have an opportunity to play a central role in designing that world." Through this lens, the selected projects in this issue are not simply beautifully resolved buildings; collectively, they suggest how the cultural and environmental context might be condensed and reframed.
The public toilet is a quintessential small-project typology. At the Jock Comini Reserve Amenities by Kerstin Thompson Architects, we discover how a design can go beyond basic safety and hygiene to address important social and cultural issues. At the End-of-Trip Facilities at the University of Melbourne by Searle x Waldron Architecture, we explore the contribution of the city university campus to the public realm. And at the Marsden Park Amenities by Chrofi, we consider the role of suburban infrastructure in creating community.
The way that minimum (or small) intervention can have maximum (or big) impact is demonstrated in Simon Pendal's Cottesloe Lobby and Landscape in Perth, Milani Gallery and Studios by Vokes and Peters in Brisbane, and Install House by Partners Hill in Hobart. Other featured projects demonstrate the complexity and power of memorial work, the curiosity of a well designed regional carwash and the opportunities of city planning controls to accommodate a mixture of development types across a range of scales.
Insightful commentary from leading design thinkers and strategists traces the idea of small in the urban realm, public projects, infrastructure considerations, strategic direction and domestic architecture. To conclude the issue, Andrew and Anita investigate the multitude of methods, benefits and challenges of practising small by interviewing a diverse group of emerging and established architects around Australia. The Architecture Australia team thanks Anita and Andrew for their thoughtful contribution to this issue.
In other exciting news, we are currently calling for entries to the renewed AA Prize for Unbuilt Work. Established in 1993, and re-established for a period from 2007 to 2011, this prize has been an important stepping-stone for industry leaders of the future. With the growing prevalence of architectural competitions as a procurement model in Australia and around the world, we think the time is ripe to again acknowledge and celebrate a largely unknown and unsung collection of architectural ideas. Along with unseen competition entries, we are curious to see what other forgotten unbuilt projects Australian architects have in their archives. Or, perhaps it's about taking the opportunity presented by this uncertain moment in time to rethink and reflect on possible and alternative futures for our built environment.
— Katelin Butler, Editorial Director
Source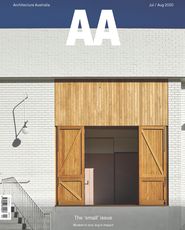 Issue
Architecture Australia, July 2020