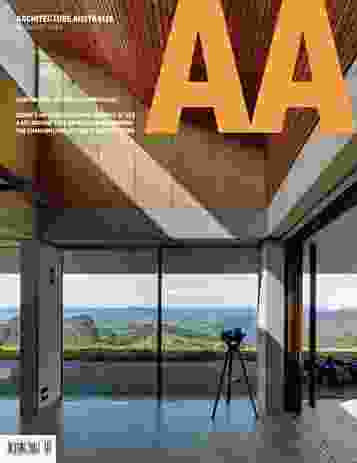 This issue of Architecture Australia celebrates personal accomplishment through the presentation of the 2015 Australian Achievement in Architecture Awards. Nine prizes are given in the Institute's annual acknowledgement of individuals shaping Australian architecture, and this year fourteen people have been recognized across career stages and specializations. The centrepiece of the program is the prestigious Gold Medal, which has been conferred by the Institute since 1960.
The 2015 Gold Medal recipient is Peter Stutchbury. The esteem in which Peter is held within the profession, both in Australia and internationally, is an acknowledgement of his very fine buildings and generous spirit. Peter and I were on the awards jury for the National Architecture Awards in 2010 (along with Melinda Dodson, Elizabeth Watson-Brown and Max Pritchard). Over the course of the tour across Australia, lifelong friendships were formed. Small talk doesn't cut it after a day or two and consequently the jury learnt a lot about each other, personally and professionally. Somewhere along the track – between Fremantle and Barcaldine – the conversation turned to the nature (or measure) of success in life. Peter was brief and forthright: "Make a contribution and live a life." And both of these he does! With these few words, Peter revealed much about himself and his architecture, and the success that is recognized with this accolade.
Peter leads his eponymous practice from a space above the shops in the main street of Newport, a coastal village on Sydney's Northern Beaches. An unassuming doorway right on the street reveals a small staircase that climbs directly to the drawing office. The studio is simultaneously convivial and serious, much like its charismatic leader. Peter has a wonderful (and slightly naughty) sense of humour and a laconic candour. The conversation about the presentation of his Gold Medal in Architecture Australia began at the kitchen table in the front room of this office. Peter was determined that it should tell a story – and that it should be a damn good read. As a result, Architecture Australia's record of this achievement tells the story of Peter's contribution through his award-winning buildings and commitment to the culture of architecture. This yarn comes to life as the things that have shaped Peter – both as an architect and as a human being – are revealed. Words by critics, fellow travellers and a client, a series of time capsules and a chronology of projects are presented. Threaded through these pages are Peter's own reflections, embroidering the narrative with the story of his life in architecture.
The projects examined in this issue are:
Martin Place. A significant building in Sydney's Martin Place is revitalized by Johnson Pilton Walker. Review by Ken Maher.
Dr Chau Chak Wing Building. Gehry Partners's landmark education facility at the University of Technology, Sydney is complex and polarizing. Review by Jennifer Calzini.
Mexican Contemporary House. A Barragán-esque house in suburban Melbourne is the outcome of an extraordinary collaboration between Mexico's Andrés Casillas and Melbourne's Evolva Architects. Review by Katelin Butler.
Cameron Bruhn, editorial director, Architecture Australia
Follow Architecture Australia on Twitter
Subscriptions and back issues: Print and Digital
Source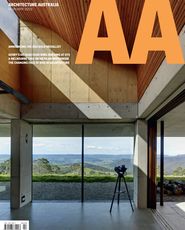 Issue
Architecture Australia, March 2015