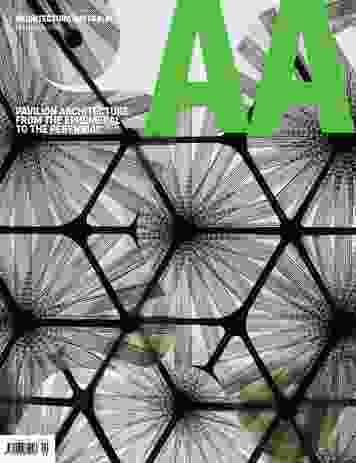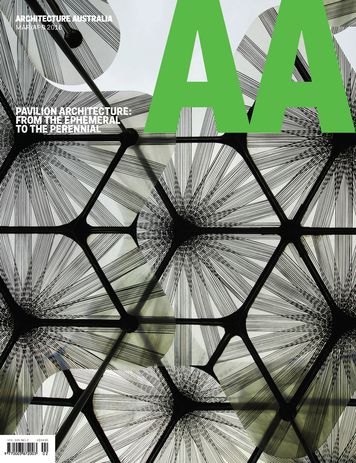 The first part of this issue of Architecture Australia examines pavilion architecture. It is a study of the ephemeral and the perennial and the interrelated temporal boundaries of this building type. We open with two pieces that provide an insight into The Pool, the upcoming national exhibition within the Australian pavilion at this year's Venice Architecture Biennale. Reviews of the 2015 MPavilion by Amanda Levete Architects and the 2015 NGV Summer Architecture Commission by John Wardle Architects and a preview of the Sherman Contemporary Art Foundation's 2016 Fugitive Structures commission by Vo Trong Nghia Architects demonstrate the conceptual and operative potential of contemporary pavilion architecture. In the essays that follow, Leon van Schaik muses "On [the autonomy of] pavilions" and John Macarthur and Susan Holden set out the methods and models for a study that uses this architectural typology to ask "Is architecture art?" In the issue's building reviews, the pavilion re-emerges as a useful description of a permanent building's relationship to its site – from projects that are rendered as pavilions through their independence from other structures, such as The Waterfront Pavilion by FJMT and the Clarence High School Oval Sports Pavilion by Dock4 Architects, to ones that can be conceived of as pavilions through their discreet spatial arrangements, such as the Doshisha Kyotanabe Chapel by Facet Studio and Pink Moon Saloon by Sans-Arc Studio.
The March/April issue contains the following peer-reviewed projects:
MPavilion. The 2015 MPavilion by Amanda Levete Architects – the second instalment of this annual architecture commission – presents a fittingly open platform for a diverse list of cultural programs. Review by Nicole Kalms.
Green Ladder. Vo Trong Nghia Architects' pavilion Green Ladder is Sherman Contemporary Art Foundation's 2016 Fugitive Structures commission. Preview by Sandra Kaji-O'Grady.
NGV Summer Architecture Commission 2015. John Wardle Architects' pavilion nods to Melbourne's modernist past, while also speaking to the new and emerging. Review by Harriet Edquist.
Doshisha Kyotanabe Chapel. Facet Studio has created two awe-inspiring volumes separated by a physical and metaphorical divide for a chapel complex in Kyoto. Review by Erwin Viray.
Pink Moon Saloon. In Adelaide, Sans-Arc Studio's design for a new bar and eatery can be seen as an urban interpretation of a rural hut typology. Review by David Kroll.
The Waterfront Pavilion. A new pavilion by FJMT offers a dramatic entry to the Australian National Maritime Museum on Sydney's Darling Harbour. Review by Andrew Nimmo.
The Condensery: Somerset Regional Art Gallery. PHAB Architects has revived a former condensed milk factory in Queensland through considered restoration and contemporary gestures. Review by Helen Norrie.
Clarence High School Oval Sports Pavilion. Dock4 Architects has successfully configured this school sports pavilion in suburban Hobart to accommodate a broader community. Review by Paddy Dorney.
Bowen Place Crossing. A minimalist design by Lahz Nimmo Architects with Spackman Mossop Michaels offers safe passage for pedestrians and cyclists under a Canberra bridge. Review by Roger Pegrum.
Cameron Bruhn, editorial director, Architecture Australia
Follow Architecture Australia on Twitter
Subscriptions and back issues: Print and Digital
Source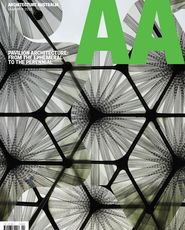 Issue
Architecture Australia, March 2016