In the context of greenhouse gas emissions and our climate emergency, the building industry has much to answer for. Although good design has always been about responding responsibly to climate, what is happening to our world will profoundly affect what and where we build in the future. This is especially pertinent in light of Australia's recent horrific bushfire season. It is heartening to see architects taking a stance against regulatory failure and committing to initiatives such as Architects Declare, which has led to more than 100 practices in Australia (at the time of printing) committing to becoming carbon neutral by the end of 2020. Of course, how this translates into a mass reconsideration of the way our built environment responds to our planet's complex environmental challenges is the next question.
In this issue, Andrew Broffman's profile of The Fulcrum Agency examines how one studio is attempting to break conventional approaches to architecture in search of a more meaningful response to the significant hurdles that confront humanity today. Reflecting on the practice's focus on critical engagement in architecture, Broffman suggests that The Fulcrum Agency "may be pioneering a role for architects as reimagined public intellectuals." The practice is one of many in Australia currently searching for ways to leverage architectural knowledge and design thinking to have an impact beyond a building's footprint.
In Karamia Müller's review of the publication Our voices: Indigeneity and architecture, she reflects on Kevin O'Brien's proposal that "it will be Country that reveals new knowledges in architecture, fit to undertake the unknowns of the future such as climate change and population growth." In a guest-edited Dossier themed "Rights and reclamations," Carroll Go-Sam of the University of Queensland asks: "What do our shared experiences around land and water sovereignty, and their intersection with the built environment, say about our future visions for Australian place?" In this Dossier, the pairing of essays by two local practitioners with those of two others working across the Pacific highlights the fact that Indigenous peoples across the world face many of the same challenges. How both Indigenous and non-Indigenous architects can advocate for better design practices and processes is a necessary and ongoing conversation.
Designed as a platform for Indigenous stories and voices, the 2019 NGV Architecture Commission, In Absence, is a collaboration by Kokatha and Nukunu artist Yhonnie Scarce and architecture studio Edition Office. The experience of entering the monolithic form, removed from the noise of central Melbourne, is simultaneously confronting and uplifting; it prompts a moment of pause and reflection on the forgotten stories, and on the potential for Indigenous and non-Indigenous collaboration to create resonant shared spaces in the future.
Across the road from the NGV Commission is this year's MPavilion, designed by Glenn Murcutt. Hosting a series of talks, performances and other events, this space provides the opportunity for community engagement and discussion on topics such as how architects and designers might leverage their knowledge and skills for a more sustainable future. The evolving nature of these talks, from one year to the next, suggests that, as a collective, we are making some progress. Only by continuing to talk, and to respond mindfully to our changing landscape and communities, do we have a chance of addressing the urgent issues of sustainability and of sovereignty that we face.
Katelin Butler, editorial director
Follow Architecture Australia on Twitter
Subscriptions and back issues: Print and Digital
Source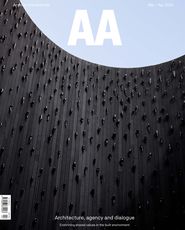 Issue
Architecture Australia, March 2020