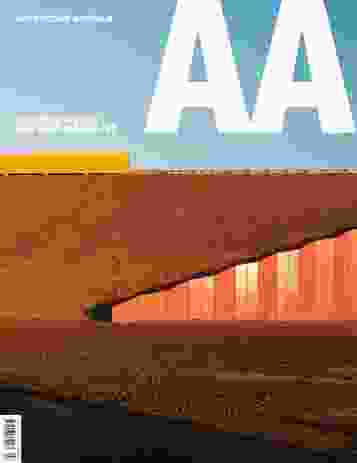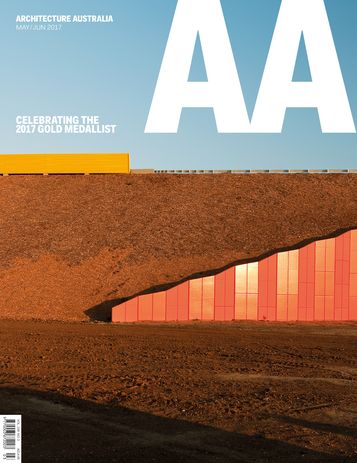 This issue of Architecture Australia opens with the announcement of the Australian Institute of Architects' 2017 National Prizes. These awards recognize individual members of the profession and celebrate prodigious and promising contributions to Australian architecture (pages 15–26). Our congratulations to the eleven prize recipients this year.
There is an important new national prize in 2017 – the Paula Whitman Leadership in Gender Equity Prize. This award is named after Paula Whitman (1960–2006), a remarkable architect, teacher, mentor and advocate. Sarah Rush, a past student of Paula's, described her as a "shining light for women in architecture" in a heartfelt tribute published in this magazine shortly after her death. Paula's contribution, in her home state of Queensland and further afield, is exemplified by her landmark report, Going Places: The Career Progression of Women in the Architecture Profession, published in 2005. The inaugural Paula Whitman Leadership in Gender Equity Prize has been presented to Catherine Baudet, with the jury remarking that "the substantial progress that has been achieved with regard to gender equity in the profession in recent years can be traced back to the foundations developed by both Baudet and Paula Whitman" (page 23).
In 2017 the Gold Medal, the Institute's highest honour, has been awarded to Melbourne-based architect Peter Elliott. Architecture Australia's celebration of Peter's contribution to the built environment documents four decades of activism, advocacy and practice through peer reflections, insightful essays by Dimity Reed, Geoffrey London, Leon van Schaik and Philip Goad and Perry Lethlean's review of the book Episodic Urbanism, which tells the story of Peter's remaking of RMIT University's city campus (pages 89–112). Annotations from Peter have been used to describe the trajectory and intent of his eponymous practice, Peter Elliott Architecture and Urban Design, as it has developed from mid-1970s urban campaigning to current commissions, which include the Victorian Parliament office accommodation project. Peter was recognized in the Australia Day Honours in 1987, becoming a Member of the General Division of the Order of Australia "for services to architecture, in particular public housing." Writing in Architect magazine in March 1987, Ian McDougall cheekily asked "Is it Sir Peter now?" Ian noted that "amongst the usual array of medicos, diplomats, sportsmen and businesspersons was an Architect, Peter Elliott AM, younger than the usual architects and premiated for the unusual architectural activity of services to 'public housing!'" Peter's early-career civil honour was prescient of his distinguished life in architecture and remains, as Ian suggested back in 1987, "a cause for optimism." Peter's Gold Medal recognition, thirty years on, is a timely reminder of the role of the architect in the public life and private lives of the city.
The May/June issue contains the following peer-reviewed projects:
World Maritime University, Tornhuset. Australian architecture practice Terroir collaborated with Danish firm Kim Utzon Architecture on the design of this bold extension to the World Maritime University in Malmö, Sweden. Review by David Garcia.
Anna Meares Velodrome. Cox Architecture has harnessed the full potential of parametric design to create a "taut and elegant" velodrome at Brisbane's Sleeman Sports Complex, inspired by the speed, precision and expertise of track cycling. Review by Sheona Thomson.
Knutsford Stage 1. This multiresidential design by Spaceagency Architects contributes to a local canon of intriguing medium-density projects in Perth with "deep pragmatism" and "tactile and poetic sensitivity." Review by Simon Pendal.
ICC Sydney. The ICC Sydney complex, designed by Hassell and Populous, houses the interrelated realms of exhibition, entertainment and conference as part of the revitalization of Sydney's Darling Harbour. Review by Michael Keniger.
Bayside Fire Station. The restoration of a former fire station in Brisbane by Owen Architecture reimagines a unique typology as a comfortable family home, achieved with a design strategy that was "deliberately singular." Review by Alice Hampson.
Cameron Bruhn, editorial director, Architecture Australia
Follow Architecture Australia on Twitter
Subscriptions and back issues: Print and Digital
Source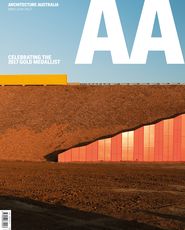 Issue
Architecture Australia, May 2017