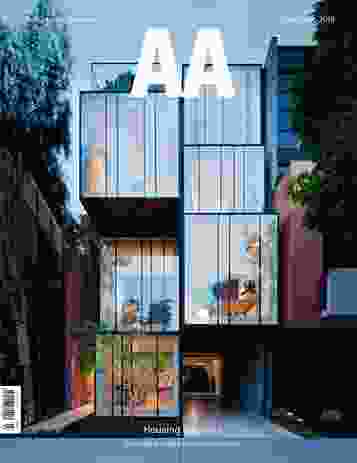 This future-focused issue of Architecture Australia is guest-edited by a team from Monash University, led by Shane Murrayand Alysia Bennett. Shane and Alysia have worked with their Monash University colleagues Naomi Stead, Nicole Kalms and Catherine Murphy (as advisers) to consider emerging directions in Australian housing. With the overarching theme of "Housing Diversity" the team has considered the significant challenges facing Australia's housing sector.

The renovation of the Australian suburbs is a topic that the Departmentof Architecture at Monash University has been addressing in teaching, research and advocacy over many years. Past issuesof Architecture Australia that have focused on housing include the May/June 2011 "Housing Futures" issue, which included an essay by Shane Murray and
Lee-Anne Khor exploring infill redevelopment, and theMay/June 2007 issue, which presented research from Shane's Ageing of Aquarius project, exploring the relationship between assets and identity in housing for retiring baby boomers, funded through an ARC Linkage grant.

Shane's opening piece for this issue outlines the housing research projects undertaken within Monash University's Department of Architecture over the past decade. He laments that while individually and as a body of work this has been well received in a number of forums, its impact is not commensurate with the issues or opportunities. As we know, uncertain planning processes, high levels of community resistance and low levels of development viability continue to impede sustainable urban change in Australian cities. Shane's introduction turns attention back to the role of the architect within society with a call for action: "Architects will need to transform themselves from commanders of a diminishing domain into influencers and collaborators in an 'all-of-system' approach to the delivery of the built environment." This significant transformation, currently reshaping the profession, underpins the content of this housing-focused volume.

In her overview essay co-guest editor Alysia Bennett, lecturer in Monash University's Department of Architecture, outlines three pillars under which architects and architecture can contribute to greater housing diversity: new typologies that support household needs over time, the creation of more diversity in available housing stock, and housing provision that is not driven by single family dwellingsor individually beneficial investment assets. In response the issue focuses on three topics: designing for diversity, the "missing middle" and the way we live together. The first considers the evolving character of the Australian dream, changing population demographics and diverse household configurations; the second explores the city-scale issues of regeneration and intensification alongside dwelling-specific concerns of flexibility and lifespan; and the third zeroes in on delivery, management and resource-sharing for individual and collective benefit. The issue comprises essays, built project reviews and speculative research projects.

This is an engaging and timely issue and the Architecture Australia editorial team would like to thank Shane and Alysia, the Monash University team and the contributors for thoughtfully addressing the future of Australian housing.

The May/June issue contains the following peer-reviewed projects:
Coburg Townhouses. Designed by Schored Projects, this community housing development in Melbourne's north provides affordable accommodation for women in need. Review by Nicole Kalms.


Estia House. This home for adults with disabilities by Candalepas Associates demonstrates how a building designed for group housing balances independence and care. Review by Casey Bryant.


Cowper Street Housing. Andrew Burns Architecture reasserts the well-loved terrace as a relevant and useful housing type in this inner-Sydney development. Review by Lee Hillam.


Tropology for DHA. Troppo Architects has designed a compact, climatically appropriate duplex for defence personnel, imbued with local identity. Review by Joshua Morrin.


Mixed Use House. A multi-generational home and commercial tenancy coexist in this house designed by Matt Gibson Architecture and Design with DDB Design. Review by Sarah Hurst.


Cameron Bruhn, editorial director, Architecture Australia
Follow Architecture Australia on Twitter
Subscriptions and back issues: Print and Digital
Source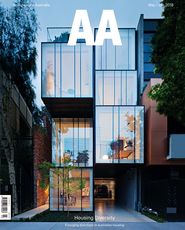 Issue
Architecture Australia, May 2018