This issue of Architecture Australia focuses on sacred spaces and religious buildings. As Ursula de Jong outlines in her introductory essay, recent statistics demonstrate an accelerating incidence of Australia's population reporting no religion, yet "there is still a marked interest in sacred spaces and religious buildings of the past, present and future." In Angelo Candalepas: Australian Islamic Mission, Angelo Candalepas reflects on the contradiction of designing the Punchbowl Mosque, "an anachronism when considering the rise of the non-faith position of the world." Regardless of society's shifting relationship with religion and the many differences between denominations and faiths, the projects in this issue are witness to the transformative spiritual impact that sacred spaces can have.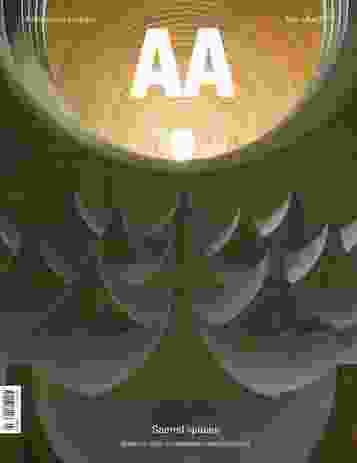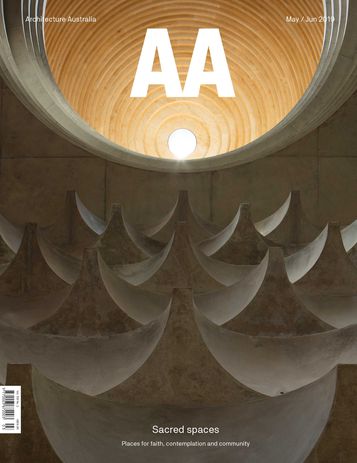 Mark Raggatt's reflections on the Punchbowl Mosque and Paul Walker's review of the Australian Islamic Centre in Newport, Melbourne, by Glenn Murcutt and Elevli Plus reveal the extraordinary ways that the traditions of religious practice can find confident contemporary expression. In addition to a collection of significant new buildings built for worship, we revisit Environa Studio's non-denominational and socially focused The Wayside Chapel and the Garma Cultural Knowledge Centre in North East Arnhem Land by Build Up Design.
Discussions about innovation and diversity in the design of sacred places extends into the realm of funerary architecture. David Neustein shares his research and propositions for a large-scale transformation of Australia's funerary industry, and Domenic Trimboli and Benjamin Juckes reflect on the role that technology might play in the rituals and customs of death.
This issue's Dossier focuses on Australia's postwar religious buildings and is guest edited by Philip Goad of the University of Melbourne and Lisa Marie Daunt of the University of Queensland. The Dossier extends the investigations of a symposium convened in 2018 by Goad and Daunt entitled Constructing Religious Territories: Community, identity and agency in Australia's modern religious architecture. The suite of case studies examines how a building boom in postwar Australia and the modernization of the church gave rise to architectural experimentation.
The opportunity to publish the two mosques in this issue seems especially pertinent. As this issue went to print, we were in the aftermath of the fatal shootings in two mosques in Christchurch, New Zealand. As this horror unfolded, it seemed that the universal religious tenets of love, tolerance and forgiveness had been superseded by hate and racial vilification. I am in no position to comment on how we might rectify this situation, but I wholeheartedly hope that we do. This themed issue is in some ways a counterpoint to the Christchurch attack, and to many other religious hate crimes; a celebration of the diversity of religious affiliation and the fundamentally different ways that faith is perceived, practiced and expressed in Australia today.
Above all, the buildings reviewed here are witnesses to the extraordinary undertaking of the clients, whose determination to fund the projects and whose ambition to engage architects to find contemporary architectural expression for their faith are testaments to their devotion.
The May/June issue contains the following peer-reviewed projects:
Punchbowl Mosque. The ritualistic traditions of the Islamic faith find contemporary expression in Candalepas Associates' monumental ode to prayer. Review by Mark Raggatt.
Cadogan Song School. Palassis Architects' lyrical project is a small but reverential addition to Perth's Cathedral Precinct. Review by Amber Martin.
Emanuel Synagogue. Lippmann Partnership's exuberant addition to a synagogue campus in Sydney reflects the plurality of the Jewish faith. Review by Maryam Gusheh.
Australian Islamic Centre of Newport. A mosque in Melbourne by Glenn Murcutt and Elevli Plus abstracts the conventional language of Islamic places of worship. Review by Paul Walker.

Kooroomba Chapel. Wilson Architects overlays a picturesque landscape experience with allusions to earlier settler culture. Review by Elizabeth Musgrave.
Katelin Butler, editorial director
Follow Architecture Australia on Twitter
Subscriptions and back issues: Print and Digital
Source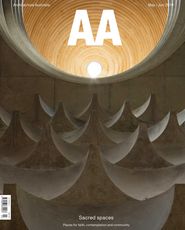 Issue
Architecture Australia, May 2019