AA November/December 2013 preview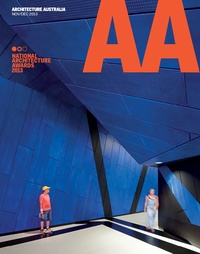 This issue of Architecture Australia celebrates the 2013 National Architecture Awards. One of the most interesting things about this year's winning projects is their sheer diversity, the broad scope of architecture that they represent. Featuring all shapes, sizes and budgets, the National Awards set the standard for architecture in Australia.
Included in the Dossier is an essay from 2013 Gold Medallist Peter Wilson reflecting on the themes explored in his A. S. Hook Address, Annabelle Pegrum previews the shortlisted proposals for the 2014 Venice Biennale creative directorship, and Robert Grace reviews the award-winning Finding Country exhibition at the 2012 Venice Biennale.
Cameron Bruhn, editorial director, Architecture Australia
Follow Architecture Australia on Twitter
Subscriptions and back issues: Print and Digital