The final issue of Architecture Australia for 2014 presents us with an opportunity to reflect on Australia's relationship to the global conversation about architecture. In recent years, this international discourse has taken two discernible directions: concomitant trajectories that are equally present in the formal and the anecdotal. The first provocatively questions the context of architecture, searching for a new model of participation and understanding. The second responds to widely held concerns about the body of knowledge that gives authority to the discipline and practice of architecture.
At the 2014 Venice Architecture Biennale, Rem Koolhaas and his collaborators presented two exhibitions that adroitly captured this international Zeitgeist. The Koolhaas shows in Venice – Monditalia in the Arsenale and Elements of Architecture in the Giardini's Central Pavilion – used art and science to powerfully mark out these two directions. At Monditalia, a series of latitudinal cuts through the Italian peninsula were used to explore architecture's intersection with just about everything in the world. The outcome was an exhibition that was less about architecture per se and more about its context. The immersive installation was a dismissive snubbing of cleverness and form-making, offering a counter-position of relevance and inclusion. Meanwhile, experts and boffins of all persuasions convened in the taxonomic wunderkammer that was the Elements pavilion. Here, Koolhaas made a highly strategic claim for the tectonics of architecture by exhibiting the stuff that buildings are made of. The undercurrents of these shows have been bubbling up locally and abroad for a number of years, but at this international forum they entered the global consciousness, backed by the force of Koolhaas's reputation as both practitioner and provocateur.
The content of this issue of Architecture Australia is similarly reflective – an almanac of Australian architecture in 2014, sampling significant built works as well as reviews, interviews and reports that reveal the diverse array of activities of and about Australian architecture. The projects recognized in the 2014 National Architecture Awards are, of course, the centrepiece of this celebratory issue. Each year, the national awards jury traverses the nation to consider projects of all types, scales, locations and budgets. The exemplary projects honoured are united by their ambition, quality and innovation. Congratulations to the practices that were awarded in the regional or state programs, and to those that have received recognition at the national level.
Follow Architecture Australia on Twitter
Source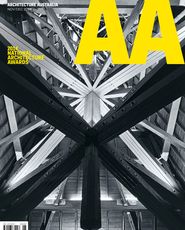 Issue
Architecture Australia, November 2014