AA November/December 2018 preview
An introduction to the November/December 2018 issue of Architecture Australia.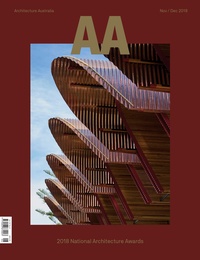 This issue will be my last as Architecture Media's editorial director. By the time this 2018 National Architecture Awards celebratory volume is published I will be in my new role as Dean of Architecture and Head of School in the University  of Queensland's School of Architecture. My life in architecture as a writer, editor and advocate has been incredibly rewarding, personally and professionally.
It has been a privilege to make a contribution to Australian architecture through publications, events
and awards over the past fifteen years. I would like
to thank the architects, photographers, academics, writers, designers and  publicists who have encouraged, challenged and inspired me. I am incredibly indebted to my Architecture Media colleagues past and present for their mentoring and camaraderie and would like to acknowledge the leadership and generosity of Ian Close and Sue Harris. I am grateful for the support I have received from Architecture Media's board of directors and for the collaborative partnership of the Australian Institute of Architects. I hope to stay in touch with the many friends I have made along the way as I embark on the next stage of my career.
The media landscape has undergone profound changes in the past decade and Architecture Media is at the forefront of innovation – working with the architecture community and its industry partners to create and deliver inspiring and informative content across established and emerging media platforms. For the past five years my role has included the custodianship of this centenarian journal. Over its long life this magazine has charted the progress of Australian architecture and in signing off I honour all who have contributed to its success.
In saying thank you and bidding farewell to my colleagues and collaborators I would like to introduce Architecture Media's incoming editorial director, Katelin Butler. Katelin has worked at Architecture Media for more than a decade, most recently as the editor of the Houses magazine portfolio and as my co-editor of the books The Forever House, The Terrace House and The Apartment House. Katelin has a Master of Architecture degree from the University of Melbourne and in 2018 was a member of the Institute's National Architecture Awards jury.
Katelin began her career in architectural writing and publishing while a student
of architecture and in her formative years she worked alongside past Architecture Australia editor Justine Clark. In signing off from her tenure on the magazine in 2011 Justine paid tribute to Katelin's contribution – "But my biggest acknowledgment must go to Katelin Butler, assistant editor on Architecture Australia from 2006 to early 2010. Katelin is a delight to work with, intelligent, tough-minded, amusing and seriously committed to architecture and to thoughtfully presenting and representing it in a magazine context."
Katelin and I have worked together collaboratively, rigorously and energetically
for many years – as a dynamic duo and as part of a team dedicated to the production of cross-platform publications, events and awards for Australia's architecture and design communities. As she embarks on the next stage of her career leading the content team at Architecture Media I echo Justine's prediction back in 2011 – "I believe Australian architecture will see a lot more of her in coming years."
Cameron Bruhn, editorial director, Architecture Australia
Follow Architecture Australia on Twitter
Subscriptions and back issues: Print and Digital