Architecture inevitably responds to its social and political context. In 2019, there have been a number of progressive developments within the Australian profession that constitute a much-needed response to our changing world.
Unfortunately, the year began with both the fallout from repeated evacuations of Sydney's Opal Tower and a ruling by the Victorian Civil and Administrative Tribunal that the architect of the Lacrosse apartment building in Melbourne's Docklands, which caught fire in 2014, is proportionately liable for damages. In this issue, construction lawyer Bronwyn Weir, co-author of Building Confidence: Improving the effectiveness of compliance and enforcement systems for the building and construction industry across Australia, uses her insights into regulatory frameworks to clarify architects' responsibilities and liabilities, particularly under novated contracts.
The relationship between architecture and Indigenous knowledge has finally started to become more broadly recognized as a way to, as Sam Spurr writes in her review of the 2019 National Architecture Conference, "enrich and propel the design of our built environment." Also in this issue, Julie Willis reviews The Handbook of Contemporary Indigenous Architecture, arguing that it is "the single most important contribution to this burgeoning field to date." This greater cross-cultural understanding will benefit us all. In the March/April 2020 issue of Architecture Australia, themed "Rights and Reclamations" and guest-edited by Caroll Go-Sam, we will continue to investigate these themes.
On 20 September 2019, the Architecture Australia editorial team joined the Australian Institute of Architects and many of its members for the Global Climate Strike. On this day across the world, a collective voice, aided by social media, urged meaningful change. How the profession embraces and maximizes opportunities to effect change will shape the future of our cities and the lives of their inhabitants.
With our rapidly growing population, the evolution of our urban centres is, appropriately, the focus of much industry discussion. Human-centred approaches respond to the complexity of the urban context. This idea of "responsive urbanism" was explored by co-curators of The Architecture Symposium in Sydney in September (presented by Architecture Media), Laura Harding and Adam Haddow. To help create a rich and lively public realm, it is imperative that designers consider the larger framework of culture and city-making, rather than prioritizing the individual architectural act or project.
This is exactly what Studio Hollenstein in association with Stewart Architecture has done at Sydney's Green Square Library and Plaza, which won the Sir Zelman Cowan Award for Public Architecure in the Institute's 2019 National Architecture Awards. This issue celebrates the winning designs, which represent the best physical outcomes of architects responding to the layers of change within our environment. Warm congratulations to all those practices that have received this recognition.
As we look to the future, it is crucial that we work together as an industry, exchanging knowledge that helps us to respond to the challenges of our changing world and to produce excellent, enduring design.
Katelin Butler, editorial director
Follow Architecture Australia on Twitter
Subscriptions and back issues: Print and Digital
Source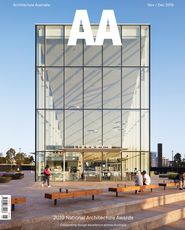 Issue
Architecture Australia, November 2019