Knot Building by Nicolas Koulouras
A theory of knots, published by Scientific American as a cover essay in July 1979, inspired this year's AA Prize-winning scheme by Nicolas Koulouras, a senior architecture student at RMIT. Prepared during an upper-level studio led by Paul Minifie and Neil Appleton, this proposal explores an option for a real RMIT commission (now in the hands of Carey Lyon and Perrott Lyon Mathieson): the Cititech building, opposite Building 8 on Swanston Street. Koulouras' contorted concept for this 10-ish storey sports and information technology centre (computer lab, offices, lecture theatres, three basketball courts, carpark) is also triggered by a Rem Koolhaas comment in S, M, L, XL: "imagine a room where floor becomes wall becomes ceiling, becomes wall and floor again … the room loops the loop." As well, he is concerned with topology (considering properties of a space that remain unchanged when the space is deformed). Here, Koulouras combines methods of knot-making with aspects of the modernist tradition of buildings for public assemblies and sport. Quotations include buildings by Hugh Banahan of Bates Smart McCutcheon, Clement Meadmore, Alvar Aalto, Eero Saarinen, Yuncken Freeman and the Communist party of Czechoslovakia, which commandeered Mies van der Rohe's Brno house for a gymnasium-and painted the white vinyl floor red. Mies is said to have liked it.
Jury Summary
Knot building generated vigorous debate. Some jurors considered it both half-cooked in practical terms ("the plan and envelope are non-connected", "the programme has been knotted") and burningly over-heated in its aesthetics ("it looks anguished and awkward"). However, it was agreed that the scheme is an audacious, exploratory, well-researched and unusually creative attempt to literally tie up architecture's unravelled strands of theory at the end of the millennium. As CAD, virtual reality and manufacturing technologies become more sophisticated, architecture's reliance on cubic geometry seems, to some, questionable and unimaginative. Stand by for more techno-Baroque scenarios from CAD-literate architects aiming to reconnect the planet's histories and future.
HIGH COMMENDATION
News by Adrian Iredale
Students of Peter Cook and Enric Miralles at Frankfurt's Staatliche Hochschule fur Bildende Kunste were in 1995 given an open brief to design an architectural response to the concept of 'news'-choosing a site in the Netherlands. Adrian Iredale, a graduate of Perth's Curtin University, responded with this scheme for a canal development at Vlissingen, in the flat, wet, mechanical landscape of the Dutch delta region. The design arises from considerations of industrial landscapes, fragile and tense connections between land and sea, land patterning, familiar objects made unfamiliar by removal to another context, and the role of news (and misinformation) in modern society. It includes two major elements-a land blanket-a 'peeling' of the land with voids representing major events in Dutch history-and a land extension-an open-ended pier jutting out into the canal. The downriver side of this structure is a billboard facing incoming ships-a stainless steel plane folded and twisted in symbolic response to the forces confronting modern society. The upriver side comprises a pedestrian spine linking architectural fragments such as flea and floating fish markets, wind indicators, a lighthouse and a passenger terminal.
Jury Summary
This scheme impressed the jury as the best resolved of the shortlisted projects-but after some discussion, a majority voted for a view that it followed a direction too well-trodden to win (over the Knot building) a national award thought to be about innovation. Ivan Rijavec's scribbled notes summarise the decision: "ideologically ambitious … rigorous in development … great drawings … good idea … dated?"
Useless Fragments by Angus Munro and Craig Channon
This cubic yet organic structure-not quite a shelter-is intended for construction in an urban park, as a place of special experiences and solace. Senior University of Queensland students Angus Munro (now graduated) and Craig Channon submitted a text which explains all: "This unbuilt idea explores the notion of architecture without function. The building concerns itself with marking boundaries for 'invisible' function that urbanism has discarded. … Its forms suggest spaces and thresholds. Like a ruin, it can only go so far as to engage a person's imagination as to what function the building might hold. It is used when a person touches the cool stones on a summer day, hears the bamboo whistle in the breeze, takes a siesta on the [Holden] car seat, shoots up behind a wall, reads poetry to a small crowd, shelters from the gusting rain, fornicates under a half moon. performs satanic rituals in the symbolic oval, learns African drum rhythms, sings Christmas carols, prays to their higher self, counts stolen money, teaches boy scouts to tie knots or jogs through without stopping. Automated humans find relief in the discovery of a place in which to perform those thousands of everyday actions otherwise denied to them by urban progress. In its uselessness, the purpose of the building emerges."
Jury Summary
Like News, this project was promoted by some jurors as a worthy winner of the Prize. Its sense of optimism and humanity marked it out from other entries, the main illustration was admired and the concept was applauded as one well worth building in almost any urban landscape. Other jurors considered the scheme a little slight in several ways: and when it came to a vote, complexity's supporters prevailed.
COMMENDATION
Doncaster Community Information Centre by Enza Angelucci
Plato's Timaeus philosophised about adding a third to binary oppositions. Interested in that idea, RMIT's Enza Angelucci designed this scheme for a community information centre on a school site in the Melbourne suburb of Doncaster … which "can be viewed as introducing a third into binary discussions on the suburbs and city centre." The design has been developed by 'shaking' drawings of existing conditions on and around the site, using Photoshop software. Also shaken was a trace of Guardian Angels, a painting by Dorothea Tanning which depicts the possibility of a third through movements such as shaking and weaving.
Ode to the Lingering Garden by Zahava Elenberg and Kelly Ratigan
Conceived for the Residential Design 2000 international design competition for a site in Shanghai, China, this scheme by RMIT's Zahava Elenberg and Kelly Ratigan is based on three concepts from which arise eight constructable elements. The ideas are the wall (expanded by the design of apartment blocks and occupied by row houses), the garden (an urban park inspired by the Chinese Lingering Garden of the Failed Politician with other gardens scattered nearby) and the courtyard (inspired by inner courts of wisdom in Solomon's temple and enclosed by row housing). Other elements include a moat, and a 'viewing loop'-a suspended platform along the lingering garden which links the row houses and apartment blocks.
Australia Sports Gallery by Steven Lim
Wedged between the northern and southern stands of the Melbourne Cricket Ground, Australia Sports Gallery-proposed by RMIT's Steven Lim-is an eight-storey infill with two facades: one facing north-east (external) and the other south-west (seen around the ground, yet set back 20 metres from the adjacent stands). Visitors enter via a 'ceremonial' ramp at level 2 (offices and storerooms on ground and basement), and then wind up the building's galleries via staircases set around a central atrium and lift core, to arrive at a viewing deck shaded by a canopy that also scoops light down into the atrium. A café and bookshop are provided.
Minimata Memorial by Anton James
This scheme was conceived for a Japanese competition to design a memorial for citizens of a fishing village, Minimata, who were poisoned by mercury from a fertiliser plant. For the site on a headland flanked by the village's now-filled bay, Anton James proposed an architectural landscape of three different contemplation chambers cut into the earth, with the highest topped by five trumpet-shaped light scoops. Fitted with mirrors, these are intended to provide glimpses of sky through slots in the gold-leafed wall of Room of the Clouds. A second chamber, Room of Brushes and Sands, is paved with sand, contains a grove of small trees and has a commemorative wall displaying 96 straw brushes. At the headland's farthest point, the Room of the Sea opens to the ocean.Jurors: Ivan Rijavec, Andrew Metcalf, Sheona Thomson, Richard Black and Davina Jackson
Source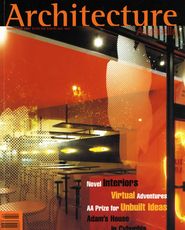 Issue
Architecture Australia, March 1997
Related topics