Jury citation

The City of Melbourne has made remarkable progress in advocating a sustainable future and challenging the sprawling metropolis through comprehensive research and leadership. The strong and consistent voice of this leadership has been Rob Adams.
The City's 2004 "Places for People," which put science behind urban design, led to real amenity, wellbeing and sustainable outcomes. In 2009, their "Transforming Australian Cities" report re-established the debate about the future form of cities in the light of population growth and climate change.
The City has consistently advocated for action on environmental issues, both in public forums and professionally to national and international audiences. It has put into place master and strategic plans to guide the management of Melbourne's green and urban infrastructure to meet rigorous heritage and environmental guidelines. These include the recent Total Watermark strategy, the Zero Net Emissions by 2020 target, the Climate Change Adaptation Strategy and the Greenhouse Action Plan.
The City of Melbourne's works program is exemplified by recent intensive ESD projects including Council House 2, Queen Victoria Market solar panel installation, East Melbourne Library, the Royal Park Wetlands and Flagstaff Gardens Bowls Club – all projects that have broken new ground in water reclamation, energy generation, passive and active airconditioning, green roofs and reuse.
In community engagement, policy development, advocacy and leadership, the City of Melbourne's Rob Adams is a worthy recipient of the Leadership in Sustainability Prize for this year.
Further coverage of the awards can be found at Australian Achievement in Architecture Awards.
Source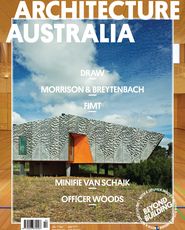 Issue
Architecture Australia, March 2012
Related topics