Emerging heroically at the edges of the RMIT [University] city campus, A'Beckett Tower has a brilliantly conceived facade of shallow three-dimensionality, colour and repetition on a small, 900-metre-square block. Created through a decorative application of shading devices to the north elevation, the scale and geometry complement the piecemeal and low-rise building stock of A'Beckett and Little La Trobe streets. The tower operates as a dramatic set piece in the urban realm, adjacent to Swanston Street and within the eccentric character of local architectural form.
At ground level, its arcade connects the two streets and offers views of Melbourne laneway graffiti. Above the street, at the podium level, front apartments allow a series of parking levels accessed by car elevator to eliminate street-level ramps. This is unashamedly high-density living in the city, yet it is intent upon nurturing a strong aesthetic quality, not only through the north face but also through applied decoration on the south facade (by John Warwicker of Tomato) and a sequence of interior finishes and installed objects.
– Jury citation
"As our protagonist arrives home to her apartment, it's clear that compared to the building's colourful exterior, the apartment's black-and-white palette is devoid of colour – but is everything as it seems? … Picking through the remnants of the night before, she glides around the familiar spaces. She changes the layout to suit her mood – operable sliding walls give you options to customize your space – close them to keep the bedrooms and living areas distinct, or keep them open to increase the living area with one master bedroom. Opaque glass and mirrors retain privacy while playing on shadow and light. She finally gets to sit back and relax and looks out at her city over the balcony – this is the perfect spot for a telescope – we're thinking J. G. Ballard's 60 Minute Zoom."
– Elenberg Fraser, "A'Beckett Tower Interiors," Vimeo website, vimeo.com/23836395 (accessed 31 October 2011).
For a full list of awarded projects see 2011 National Architecture Awards – the winners and for more awards discussion see Rachel Hurst and Rory Hyde's responses to the awards and the jury overview by Karl Fender.
Credits
Architect

Elenberg Fraser
Melbourne, Vic, Australia
Project Team

Callum Fraser, Andre Perret, Lisa Jennings, James Whetters, Linda Valentic, Kathrin Wheib, Adam King
Consultants

Acoustic consultant Acoustic Logic
Builder Icon Construction
Building contractor Icon Construction
Building surveyor Gardner Group
Cost consultant Slattery Australia
Developer Pan Urban
Fire engineering ULA
Land surveyor Reed Group
Project management PDS Group
Services consultant Murchie Consulting
Structural consultant Webber Design
Town planning Contour Consultants Australia
Traffic consultant Cardno Grogan Richards (Vic)

Site Details

Location A'Beckett Street, Melbourne, Vic, Australia

Project Details

Status Built
Category Commercial, Public / commercial

Source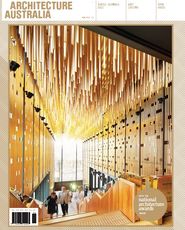 Issue
Architecture Australia, November 2011
Related topics