Founded by an act of parliament in 1987, Bond University was Australia's first private university. It rather ambitiously received its first students just two years later, and while initial student numbers showed every sign of a successful start, the university would soon find itself at the centre of a calamity. Its joint venture partners were the (now infamous) business entities of Alan Bond and Japanese resort giant EIE. Heavily debt leveraged and wildly ambitious, both unravelled following the crash of 1987, bringing financial crisis to this freshly minted university. It all threatened to fall in a heap until some clever footwork and courageous fundraising saved the day and secured the university's survival.
Little of this buccaneering backstory is evident in today's campus, which presents itself confidently in the architectural garments of order and permanence. From the north a processional tree-lined avenue leads to an expansive quadrant, which is overlooked by campanile and clock tower and lined with colonnades, all of which are covered in acres of ancient Australian sandstone. Masterplanned by Daryl Jackson and Robin Dyke, its calm PoMo classicism betrays nothing of the university's troubled youth.
Up until now Bond's greatest architectural landmark has been the Arch building by Arata Isozaki, which sits at the centre of the campus and is distinguished by a soaring triple vault arch that bridges the building's east and west wings. Laden with historical quotations, the Arch is a product of its time and might appear comfortable within the campus, but for a strain of irony that never quite succumbs to the surrounding faux Arcady.
In any case order is restored, though perhaps too much. For despite steadily rising student numbers and a corresponding growth in teaching and support staff, the campus demonstrably struggles to generate a collective life and community – the sine qua non of any good campus. This is largely due to the disconnect between its wide, unshaded outdoors that supports little more than pedestrian circulation and its highly internalized buildings whose response to the harsh Queensland sun is equally of its time – sealed envelopes and big plant.


Into this eighties cloister comes a new building designed by Peter Cook and Gavin Robotham of CRAB Studio, with a local collaborator in Queensland architect and educator Brit Andresen. The new Abedian School of Architecture is unmistakably and delightfully cut from a different cloth. Caring little for the conventional trappings of try-hard grandeur, CRAB cares very much for the qualities that might engender a rich learning environment. One that provides a wide variety of interconnected but distinct interior spaces, from social to private and from interactive to contemplative. In this it recognizes that creative learning is a messy business that is not well served by hard lines and rigidly defined program. It is, in short, a form of built pedagogy and could only have been designed by a team that has collectively clocked up over a century of architectural teaching.
The project began life as a competition initiated by then Professor Philip Follent. Follent was the founding head of school from 2010 and had previously spent years as Queensland Government Architect and before that Gold Coast City Architect, in which he learned a thing or two about procuring good architecture. Follent brought this experience to Bond University and the success of the present building is in no small part thanks to his pivotal role in drafting a rich competition brief and pursuing a rigorous competition process.
CRAB's competition-winning submission differs in some respects from the building as finished. The original design featured a complex wraparound of vertical louvres, particularly notable on the southern elevation. As built, the skin has been simplified to a more modulated sequence of imposing concrete forms interspersed with large, floor-to-eave glazed sections. Given the rather clichéd predominance of louvres in Queensland (as a means of mitigating solar access), this more sculptural sequencing of glass and concrete strengthens the scheme.
Less positively, the original proposal for a "workshop yard" that was to be dug out of the land, with a partially elevated building floating above, has been lost. While the vernacular Queenslander reference was no great loss, the proposed landscaping was. It would have provided an all-too-rare opportunity for outdoor (but weather-protected) activation on this important southern terrace. Plans for a revegetated surrounding landscape have also been minimized. Both are presumably due to budget constraints, given that the school has been built for an unbelievable $16.2 million. Leaving this aside, however, CRAB's original vision for this new school has been substantially and valiantly delivered.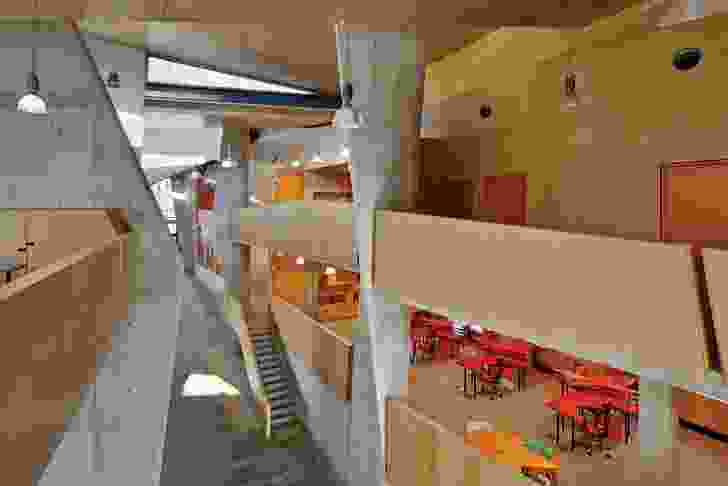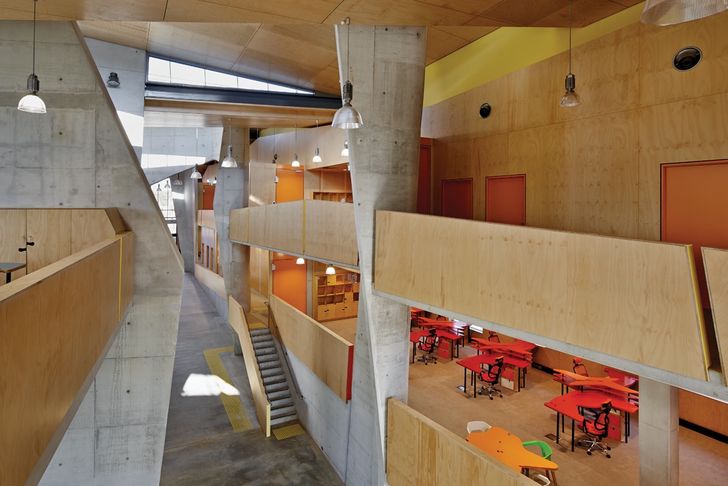 That vision relies heavily on a few simple and effective moves. Internally a central "street" runs east to west, slicing the plan in two. Required furniture storage, service spaces and bathrooms are all located on the northern half, split between three floors. This is a practical placing of these lower-order elements to the north, where a more conventional solid flat facade and reduced glazing respond to the serious northern solar penetration.
The southern half of the plan accommodates the large group studios for first year, undergraduate and postgraduate students, divided across two spacious floating floors. Here the south face of the building is permitted greater transparency, exposing the studio to views and the softer southern daylight. The street itself is much more than a circulation corridor. It also generates sociability, exchange and belonging. Knee-high timber plinths serve as benches to dally around. Stairs peel off while lateral view lines through the building allow for people-watching and snooping on neighbours, whether hunched over studio tables or gathered in small groups in one of the four "scoops" that line the street.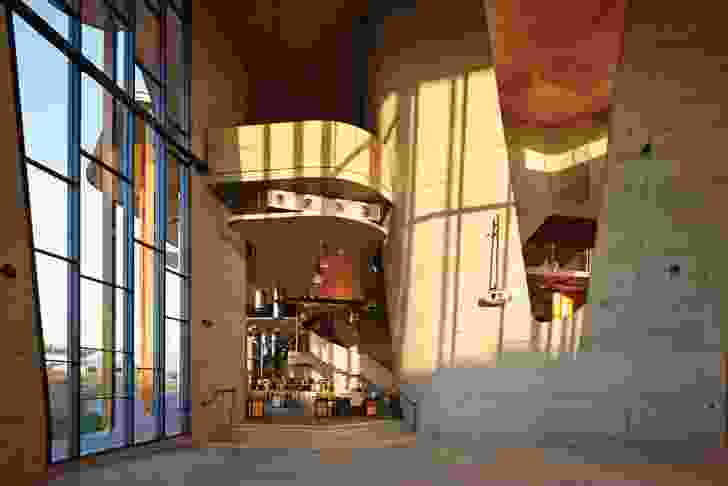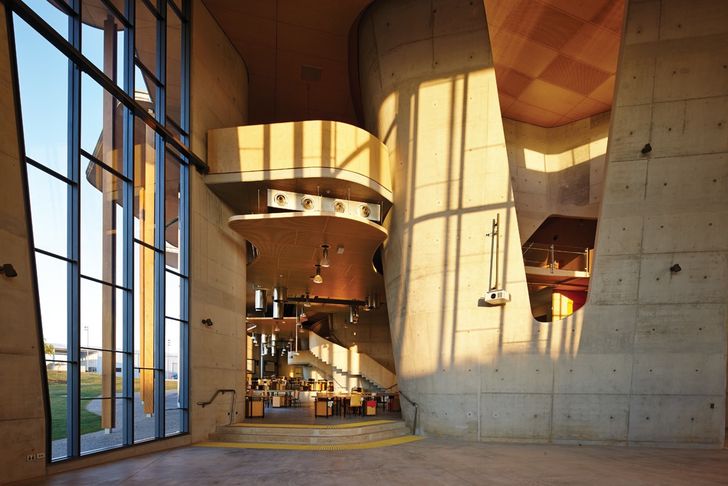 These large bespoke scoops are undoubtedly the project's masterstroke. Formally they are highly sculptural structural elements that splay out from bottom to top. At ground level they encircle a series of modest meeting areas, while at the top they unfurl wildly, bending and curling through the central volume. Their supple plastic quality makes them look like they were cut from pastry, belying their complex construction that required over 400 finely engineered pours overseen by formwork maestros Peri. They simultaneously hold the roof up, create four crit spaces, support two elegant concrete staircases and dramatize the building's airy interior volume. The extent of exposed concrete, along with passive cool air circulation, represents a simple and effective means of passive temperature control.
The central staircases, along with a series of walkways that bridge over the street below to connect north and south programs, demonstrate an unusual investment in circulation. As most habitués of colleges will know, incidental meetings and chance encounters (as well as opportunistic escapes) constitute some of the more important moments in a student's life. That, and the naked voyeurism of observing who is going where, when and with whom, has transformed what might have been soulless corridors into a neighbourhood.
For those who have attended a Peter Cook lecture or two, there are multiple Cookisms in this project. His fondness for bodily references finds expression in the project's "nose" to the east, where a series of meeting and office spaces take the form of a protrusion of narrow floor plates with rounded ends. The saturated colours of Cook's drawings translate into vibrant red and yellow vertical planes and selective door reveals. The subtle humour of window shades to the north that look like a collection of raised eyebrows, the forest of vertical timber columns that support billowing deep eaves on the south and the relaxed asymmetry of furniture throughout the studio spaces (also designed by CRAB) all come together to make this building a celebration of the heterogeneous over the homogeneous, of occupation over object and of the particular over the general.
Read Cameron Bruhn's mid-construction site tour with Peter Cook. See what's on at the Abedian School of Architecture.

Credits
Architect

CRAB Studio
London, United Kingdom
Project Team

Sir Peter Cook, Gavin Robotham, Mark Bagguley, Jenna Al-Ali, Ting-Na Chen, Lorene Faure, Yang Yu, Tim Culverhouse
Structural and civil engineer

Arup
Australia
Consultants

Certifier McCarthy Consulting Group
Hydraulic engineer Arup
Mechanical, electrical and fire engineer Arup
Principal contractor ADCO Constructions

Site details

Location Brisbane, Qld, Australia
Category Public / commercial
Type Universities / colleges

Project Details

Status Built

Source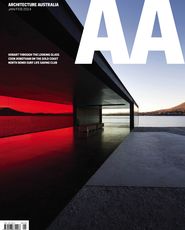 Issue
Architecture Australia, January 2014
Related topics