My first view of Bolles and Wilson's new Haarlem city hall and cinema centre – known as Haarlem Raakspoort – is the clock tower. Comprising three minimal faces embedded into a protruding brick fin, it is a reassuring urban instrument, simultaneously declaring "this is a civic building" while also usefully announcing the time. And yet, despite its presence, I still instinctively check the clock on my phone to see if I'm on schedule for my tour with Peter Wilson. Whether this impulse is simply a nervous tick, or a deeper distrust of public clocks (which always seem to be wrong), it raises some doubt as to the relevance of such public symbols today. But this particular clock is more than a symbol – it forms part of the building's elaborately layered game of time.
I am early and so take the opportunity to do a brief tour of my own. Built as part of a masterplan by Kraaijvanger Urbis, the city hall and cinema have a greater presence than the accompanying buildings and spaces. Located on the edge of Haarlem's historic centre, an edge once defended by a city wall in the Middle Ages, the building references this history by also forming an urban wall of sorts, modulating between the scale of the adjacent buildings, and pressing out against the street. But unlike a defensive wall, this block is porous, its surface defined by clusters of windows held together by patches of flattened brick with lighter mortar among the stepped courses. These patches give the windows the impression of having been inserted into an existing wall, adding an artificial layer of history to this new building and disrupting the continuity of time.
Wilson's office has sent me an annotated plan of the building, indicating to meet him in a passage that bisects the block that connects the main street along the river to a small-scale shopping street and public square beyond. He arrives, dressed discreetly in black, with a silver goatee and thick-rimmed glasses: a picture of an urbane and sophisticated European architect, but with an Australian inflection. Hailing from Melbourne, Wilson studied at the University of Melbourne before heading to London's Architectural Association in the early 1970s. "That was my year out," he tells me, "and I'm still here forty years later." After briefly practising in London with his partner Julia Bolles-Wilson, he and Bolles-Wilson relocated to the latter's hometown of Münster, Germany, after winning the competition to design the city's central library in 1987. The pair continues to practise out of Münster, a city that Wilson stresses is "very boring, but a great place to put your head down and work, while remaining in the centre of the network of cities and cultures of continental Europe."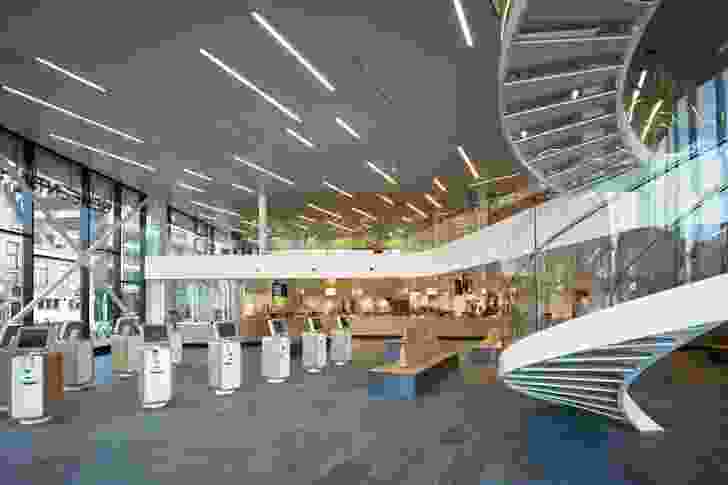 Münster is only an hour's drive from the Dutch border, and Bolles and Wilson has a substantial body of work in the Netherlands, most notably its Luxor Theatre and Bridgewatchers House in Rotterdam and, more recently, the central library of Helmond. Of course, this success is not simply due to geography, but to the generous civility the firm brings to public buildings; never ostentatious, but dignified and elegant backdrops to urban life.
This restrained dignity could be said to be one well suited to Dutch culture. At the high point of its power and wealth during the Dutch Golden Age of the seventeenth century, the Netherlands faced a particular moral conflict, identified by historian Simon Schama in his book of the same name as "the embarrassment of riches." In this fervent Calvinist society, the accumulation of wealth would become a source of unease, as it clashed with the teachings of "austerity." Or, as the pastors of the day would warn, "the more lavish the feast, the more imminent the writing on the wall."
Although the fear of a vengeful God may have receded in today's society, the case for austerity (or zuinigheid in Dutch) has been resurrected under the guise of fiscal restraint in the Eurozone's ongoing economic crisis. Thus, despite it having the public program of a city hall, the Haarlem Raakspoort was delivered by a commercial developer and under the commercial constraints and expectations that this demands. This is a taut and sober building, with no wilful flourishes or added "architecture."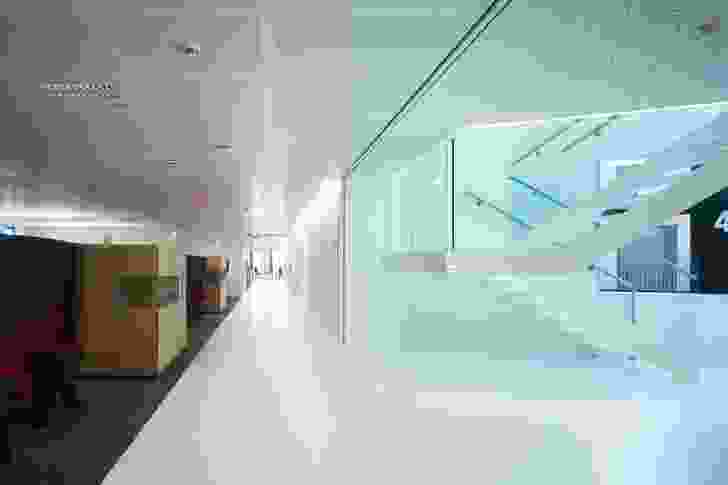 This is strange to say, because it's practically covered in applied ornament, from stone arches and statues to fields of iron wall ties. But even these seemingly Venturian nods to history serve a practical purpose. As a concession to the public, which protested the demolition of the early-twentieth-century schoolhouse that previously occupied this site, it was suggested that the ornamental elements be retained and then employed throughout the new building. The ornament is a compromise, but embraced by the architects and incorporated with intelligence. Applied using Carlo Scarpa's Verona technique, the statues and arches are hung off the building with steel armatures, "circumventing pastiche and offering the attentive viewer a historic layering."
But what is the actual effect of this? Often, it is satisfyingly jarring. A crowned maiden clutching a caduceus (used to depict commerce in Greek mythology) surveys the public square. Her regal form, quality and earnestness appear to disapprove of the mundane activities going on below — shopping, smoking a cigarette, queuing up for movie tickets. Similarly, an angel clutching an open book, representing the lofty realm of knowledge, looks on as we numbly drive our cars into the underground garage. At other times, these appendages are fully incorporated into the contemporary language, as with the iron wall ties. Abstracted into graphic fields, without obscuring their original use, they build a convincing link through time to the building that once stood here.
A more implicit link through time is made with the use of brick, a material which has become a requirement for heritage areas of the Netherlands. Unlike Louis Kahn's bricks, which "want to form an arch," these bricks don't even have lintels, but are suspended over glass and thin soffits, with no intention to convey their weight or mass. This is due, as Wilson explains, "to a profound philosophical difference between Dutch and German bricks." Where German bricks act foremost as a waterproof layer, Dutch bricks are permeable and require a weather seal and insulation behind. They are pure semantic symbol, the image of "brickness," used to appease the council and to stitch the building into its historic fabric.
But to call this building "historicist" would be to undermine and ignore its intelligence. It references history, and makes efforts to retain architectural memory without being precious or nostalgic. It is big, but polite. It is contextual, and yet remains autonomous. It's the product of consultation, compromise and collaboration, but remains authored. It's an object right on the limit, straddling the eras, sitting uneasily within the linear sweep of "progress." It is an atemporal marker in space, pulling Haarlem gently forward while keeping one eye on the clock.
In November 2012 Bolles and Wilson received the Brick Award from Britain's Brick Development Association for the Raakspoort city hall and cinema centre.
Credits
Architect

Bolles + Wilson
Germany
Project Team

Julia B. Bolles-Wilson, Peter L. Wilson, Christoph Macholz, Remco de Graaf, Susanne Asmuth, Heiko Kampherbeek
Consultants

Interior design Döll Atelier voor Bouwkunst
Local architect Bureau Bouwkunde, Rotterdam

Site Details

Location Haarlem, Amsterdam, Netherlands
Site type Suburban
Building area 18500 m2

Project Details

Status Built
Website http://www.bolles-wilson.com/flash/projekt_flash.php?projektID=727
Category Public / commercial

Source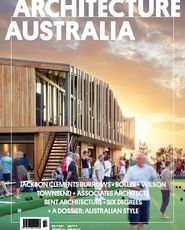 Issue
Architecture Australia, July 2012
Related topics