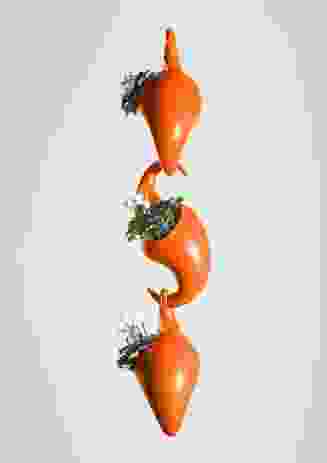 Melbourne designer Adam Cornish has won the 2011 Corporate Culture Design Pitch with his Monkey Pots – a system of linked hanging planters inspired by the classic children's game Barrel of Monkeys. The product is space and water conscious, with Cornish taking inspiration from shrinking living spaces.
Five designers were invited to take part in the design pitch event. Each designer had ten minutes to pitch a recent product to a panel of design industry professionals – including Jacob Holm, CEO of renowned Danish furniture brand Fritz Hansen – and an audience made up of members of the public. The audience then voted for their favourite.
Cornish will travel to the 2012 Milan Furniture Fair courtesy of Corporate Culture and will receive a mentorship from Corporate Culture's Richard Munao.
The other participants included Henry Pilcher, Kate Stokes, Yellow Diva's David Walley and Henry Wilson. Alongside Jacob Holm on the design panel were Corporate Culture director Richard Munao, Hecker Guthrie's founding director Hamish Guthrie, founder of Shareen Joel Design, Shareen Joel, and managing principal of Hassell's Melbourne studio, Ingrid Bakker. Criteria and topics ranged from design inspiration to manufacturing processes, with each designer given a chance to respond to questions and topics raised by the panel and audience members at the conclusion of their pitch.
Related topics