Photos by Aspect/Kevin O'Daly.
Review
Review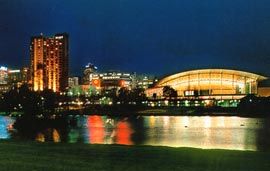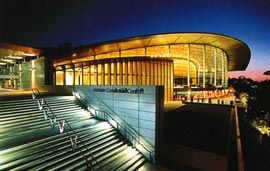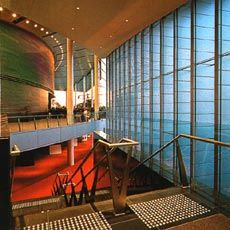 The new extension to the Adelaide Convention Centre is the latest addition to the Riverbank precinct, spanning from North Terrace down to the Torrens Lake, between King William and Morphett Streets. Designed by Woods Bagot in association with Skidmore Owings Merrill (SOM), the extension provides a multipurpose exhibition space of around 7,000 square metres, complementing the existing Convention Centre and Exhibition Hall. In contrast to earlier designs for the area, including Hassell's Adelaide Festival Centre and John Andrews's Adelaide Station and Environs Redevelopment, the new building attempts to more directly address the river and surrounding parkland.
A new entrance canopy at North Terrace leads visitors down to a wintergarden, connecting existing facilities across to the new foyer space. From there, steps lead down to a promenade built above Festival Drive, featuring a large sculpture in rusted steel by local artist Greg Johns. This promenade provides a connection back to the Festival Theatre, with future landscaping and pedestrian links intended to open out to Morphett Street and down to the riverbank.
The building consists primarily of a large vaulted roof, giving the clear span necessary for flexible internal space. The roof extends from the existing hall northwards, terminating in a large glass wall curving around to the north-east. The glass wall makes the foyer an ideal place from which to view the parklands, while at night it lights up the river like a giant lantern hanging overhead. A structural grid, based on a three metre display module, has been coordinated with that of the train lines, over which the centre is built, and large flues on the western facade express the need to remove diesel fumes from the platforms below.
The collaboration with Chicago-based SOM ensured the resulting internal spaces are of international standard with respect to flexibility of use, servicing and legibility, while materials are consistent with contemporary corporate textural and colour palettes globally. Such centres are arguably conventional by nature, directed as they are to the transient occupant.
It is difficult, therefore, to imagine how this necessarily large-scale building could have addressed issues of local identity which would reinforce Adelaide's existing high ranking as a convention venue and pleasant place to visit.
However, the vaulted roof and curved glass wall are an elegant solution to complex structural and siting problems and the need to respond to the very different urban conditions of boulevard, plaza, river, and bridge. Though not exactly a public venue, the convention centre does give an indication of the way the Riverbank precinct may evolve, allowing tourism, entertainment, and cultural venues to connect to the parklands and contribute to their urban amenity. This will depend, of course, on whether the public spaces of the precinct are properly dealt with in order to be inclusive.
In the meantime, visitors to Adelaide will no doubt be impressed by the new facilities.
Scott Drake and Rachel Hurst are lecturers in architecture at the University of South Australia.
Project Credits
Adelaide Convention Centre
Architect Woods Bagot (Adelaide). Design Specialist Skidmore Owings Merrill (Chicago).
Engineers Connell Mott MacDonald. Building Services Bestec. Acoustics and Vibration Bassett Consulting Engineers. Cost Manager Rider Hunt, Adelaide. Risk Manager DAIS. Project Director Major Projects Group, DAIS. Project Manager Savant. Collaboration Consultant JMJ Associates.
Managing Contractor Baulderstone Hornibrook.
Client Adelaide Convention Centre.