Rather than focusing on architectural output, the Australian pavilion's Formations exhibition at the 2012 Venice Architecture Biennale focused on agency – more specifically, agency to be discovered in and through practice structures ("formations") beyond the architectural office. By doing this, the exhibition intentionally engaged with a larger international discourse concerned with a redefinition of "the architect," at a time when the seemingly stable bedrock on which the discipline has been historically constructed shifts.
Formations provided a cross-section of the state of Australian architecture and singled out thirty-three unique practice structures corresponding to its agenda. The project was essentially made up of two components: the exhibition, with the unassuming Australian pavilion as its nucleus, and an accompanying catalogue. Of the total thirty-three surveyed practices, the pavilion exhibited six. The sextet formed an intensely polyphonic whole, with practices ranging from broadcasting architectural knowledge (The Architects) to robotic fabrication (Supermanoeuvre) to humanitarian action (Healthabitat) to education (Maribor 2012, 2112Ai, 100YC) and more. The spatial arrangement of the exhibits ­– posters, models, 1:1 installations, video projections, a ladder – made rather good use of the challenging split-level condition of the pavilion. Some used it as a base camp for interventions projecting into the Giardini (these included Richard Goodwin's performative journeys, The Architects radio show's nomadic broadcast trolley, from which they launched guerrilla interview attacks on unsuspecting high-profile Biennale participants, and Archrival's fussball tables occupying the pavilion's forecourt).
Regardless of the merits of each individual project, the ensemble as a whole appeared somewhat arbitrary; the message communicated through this specific selection or the process that led to it remained unclear. As is typical for architectural exhibitions, the Biennale featured several shows that appear to primarily serve the purpose of marketing publications released at the same time. Formations wasn't one of them; in fact, it was quite the contrary: although the full breadth of the project could only be fully appreciated through the 188-page soft-cover book (sold separately), its scrutinization was also essential for contextualizing the practices and work on display.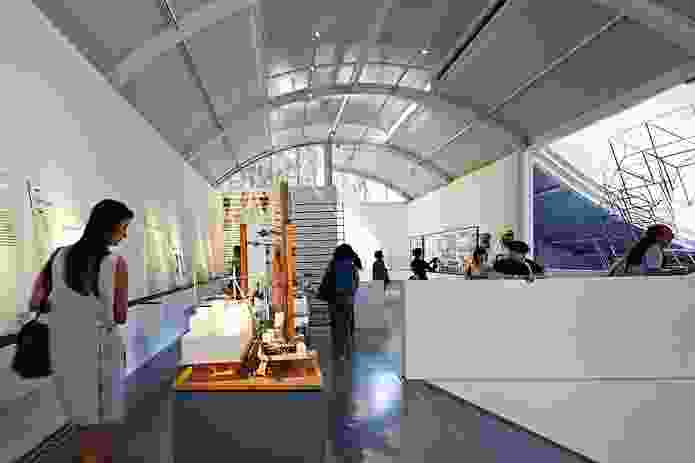 In the catalogue the thirty-three outlined practice structures are presented and grouped under three categories (Multi-modal Formations, Collaborators, Motivators) identified and named by Formations ' creative directors Anthony Burke and Gerard Reinmuth. Regardless of the ultimate capriciousness of any such grouping, it forms a sound basis for their assessment. In addition, the organizational and knowledge make-up of each of the individual practices and the larger constellations they operate in are illustrated as diagrams. Although their authorship remains unclear (one assumes they are products of self-reflection) the exercise is compelling: the mappings vary from (unsurprisingly) rhizomatic structures to matrixes to flowcharts to three-dimensional phase spaces to free-form groupings to an almost literal depiction of a phallus (by Richard Goodwin). As a potentially valuable historical record one would, however, wish the diagrams' designs had undergone a rigorous Tuftean purge: reducing visual complexity would not have undermined the complexity of the work exhibited in them. Nevertheless, as a general impression these structures corresponded with the call for plasticity: knowledge, specialized expertise, human and institutional resources freely enter and flow through these open and flexible formations with built-in capacity for indeterminacy.
Alas, Formations didn't contextualize its urgency culturally or geographically. It spoke in general terms to a global "us," articulating the prevalent interest in rethinking the architect and architectural practice as a "direct response to the turbulent forces currently reshaping global contemporary culture."
This doesn't quite satisfy my curiosity: given the exhibition's national frame of reference one would have expected it to address questions of why Australia, why now? Why is Australia currently a fecund petri dish of restructured architectural agency? To what local (as opposed to global) conditions are these practice structures responding? Are they questions related to the building industry and market, larger societal developments, disciplinary culture, fee structures, academia, political economy … ?
Should we perhaps speak of a more general "Anglo-American condition" to which these practice formations respond? It is noteworthy that all four Anglo pavilions, situated in relative proximity to each other, to varying degrees turned their focus to the architect's potential to effect change outside of the usual disciplinary boundaries. (Also, Burke's and Reinmuth's essay "Formations: The plasticity of practice" exclusively cites thinkers and practitioners operating in an Anglo context.)
Nevertheless, the optimism and pluralist sensibility of Formations was laudable. Indeed, it may soon be the case that, as Ole Bouman says, "architecture has become a universal access code, a mother key that may open countless doors in culture and in society." However, in the meantime, for any current student or young practitioner of a discipline and body of knowledge in turmoil, the need for professional (role) models is acute. The emancipatory bent of Formations is more timely than ever.
From the Architecture Australia (Nov/Dec 2012) dossier on "competitions, exhibitions and events of 2012." See further coverage of the 2012 Venice Architecture Biennale.
Source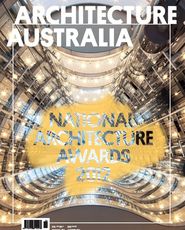 Issue
Architecture Australia, November 2012
Related topics