Advertisements for architecture
Submissions in the second Advertisements for Architecture exhibition revealed an appealing candour, says Oliver Watts.
As part of a call for greater recognition of architecture, as a profession and discipline, the Australian Institute of Architects' NSW Chapter and the NSW Architects Registration Board held the fourth annual Sydney Architecture Festival. Within the festival was a provocative exhibition of hypothetical advertising posters created to promote architecture, held at the Surry Hills Library. The show was a collaborative effort between DARCH (the NSW Chapter's emerging architects and graduates network) and OpenHAUS Exhibitions. Last year's successful inaugural Advertisements for Architecture exhibition was mounted at Federation Square in Melbourne (read the review from Architecture Australia vol 99 no 1, January/February 2010 here).
Although it was open to "design professionals and students," those who answered the call for posters were, on the whole, architects. Cammi Tan, the organizer of the Sydney event, admitted that although DARCH had made a wide call, in the end the show was architects speaking to architects; this of course is not a bad thing. Some of the directions set by OpenHAUS were: where would we be without architecture?; the status of architects as creators of meaning in the built environment as "iconographers" or "visionaries;" the changing role of the architectural profession; the creation of desire for architecture; the promotion of the role of architecture in society. These provocative questions and the call to "articulate architectural ideas" produced many great posters that could be read as an extended discussion on the state of architecture.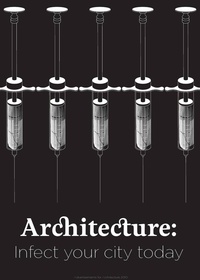 Even within these parameters a problem arises between a more critical approach (testing the limits of the discipline through critical intervention) and a normative approach, which wanted to promote architecture's "core values" and promote the profession as holistic and definable. The broadness itself was not an issue but it was impossible not to feel the two sitting uncomfortably together. OpenHAUS noted that their inspiration came from architects who "have engaged with advertising" but this ran from the arch-modernist Le Corbusier to the deconstructivist Bernard Tschumi; it is clear that for the exhibitors both these positions are still in play and the tension between them was the most lasting message of the exhibition. The exhibition had a candour that you would not get from polite conversation; in these images architects divulged what charms they felt they had to seduce society and also let slip their fears.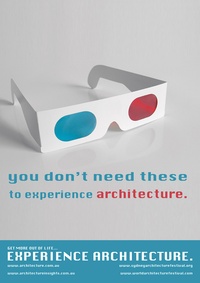 The critical pieces won the people's choice, which Tan again admits were mainly young architects on the night. Marcus Trimble of Super Colossal won with his poster of architecture in hypodermic needles being injected into the city. "Architecture: infect your city today." It was a call to arms to make change and to critically and virally take over the city with an architecture of pure potential. Second prize went to Liquid Architecture's pop twist that countered the perceived elitism of the profession. The firm went for a direct engagement: 3D glasses with the slogan "You don't need these to experience architecture." These posters followed the long tradition of protest posters, particularly those of the post-1968, Situationist period. They had the flavour of one of Tschumi's slogans: "Architecture only survives where it negates the form society expects of it" or "To really appreciate architecture you may even need to commit a murder. Architecture is defined by the actions it witnesses as much as by the enclosure of its walls."
These approaches, though, were few and seemed to suggest an acceptance of architecture's role within late capitalism, in a way not dreamed of in early critical approaches. Indeed DARCH, and Cammi Tan, seemed very interested in breaking down "barriers between the architecture industry and the public." Many of the posters took the brief to advertise the profession very seriously, not critically, but truly as a meaningful and important service within the economy: "Stand out from the crowd," "Make your house uniquely yours." In this way advertising was the perfect vehicle of expression. Could these be the most truthful, Realpolitik manifestations of architecture's position?
What was common was a traditional and normative approach to the profession which seemed almost nostalgic for a time when men were men and master architects were master architects. Even the appeal from OpenHAUS to move away from the celebrity architect (Koolhaas, Hadid, etc.) and the "design brand" called really for a return to architecture in the traditional sense. DARCH, particularly, was pushing the essentialist position, which is not surprising given its connection to the professional advocacy body the Australian Institute of Architects. Many of the critical positions in the post-1968 environment consciously worked against professional bodies but the role of these bodies seems to have been re-adopted by younger architects. Is it part of a hysterical response to an age of uncertainty? Advertising needs a strong core message and although many of the posters pointed to the broadening of architectural concerns in a postmodern mode (from the environment to society, from landscape to technology) there was a return to a strong centre.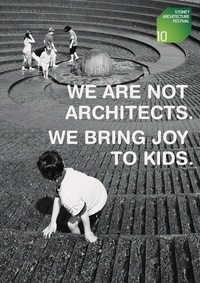 Within this mode, too, there was an overall defensive tone, with slogans like: "Architecture, make space [for it]" or "Architecture: we need you" (an interesting idea appealing to the quality of the client). It was the work of Cammi Tan, Andre Heng and Johnson Tay that best summed up this position, with the slogan "We are not architects. We bring joy to kids." It was as if the profession of architecture needed supplementing because of a perceived lack. On the Australian Institute of Architects home page, a similar mode is adopted where the "extra" knowledge of the architect is highlighted:
"Architects have the qualifications, professional training, vision and experience to manage the entire architectural design and construction process. A minimum of five years of university training separates architects from other, less qualified building designers. More than a designer, an architect works with clients on an intensive exploration of their requirements."
A similar slogan is found in the Institute's ad campaign of late 2008. Commissioned as part of the rebranding of the Institute without its royal moniker and developed by Smart Agency, the slogan was: "Sure architects like a lot of white. They're also rather partial to green … Architects do more than create beautiful buildings …" The argument here seems to be that architects are sound, sustainable, technologically aware professionals who care for society – again, as opposed to mere designers. It is a neoclassical appeal to tradition, professionalism, knowledge and science, an acknowledgment that architecture is potentially understood more in terms of Grand Designs and Belle than through "the profession."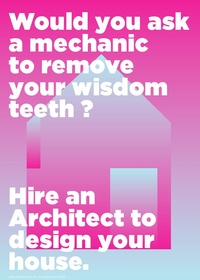 There was a final alternative to these two approaches, and that was a shameless return to aesthetics. Third in the awards was another Super Colossal poster, with the slogan: "Would you ask a mechanic to remove your wisdom teeth? Hire an architect to design your house." What was refreshing about this poster was the reinstatement of the word "design." There is something in architecture that seduces us. A simple ad by Alastair Flynn with four tourist shots in front of landmarks made this point boldly: "Architecture, you already love it." It is this positive approach that is found in the American Institute of Architects' print ads. Created by Sengeworks Agency, there is always a close-up of a face or character with a small story. "Mom's cranky. Dad's irritable. The kids are grouchy. Everybody needs counselling … with an architect … Good design makes a difference." These ads seem also to match the return to aesthetics in architectural theory with books like Architecture and Beauty, edited by Yael Reisner this year.
Everyone seems to agree that more promotion of architecture is needed. The General Manager National Coordination of the Australian Institute of Architects, Greg Hughes, is adamant that if the Institute had an "endless supply of money" they would investigate print and radio ads like their American counterparts. In the meantime, cost-effective engagement with media editorial, especially through the promotion of industry awards, seems the most advantageous path.
This exhibition raises a very interesting conundrum for architecture. Architecture is competing with new disciplines and a new position within the culture in late capitalism. Appeals to traditional professionalism may be nostalgic and dull. Criticality may be impossible with the death of any real avant-garde. Perhaps it is not proof but seduction that will be more successful, through such strange terms as beauty or good design.