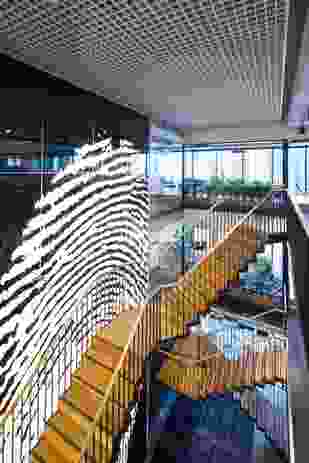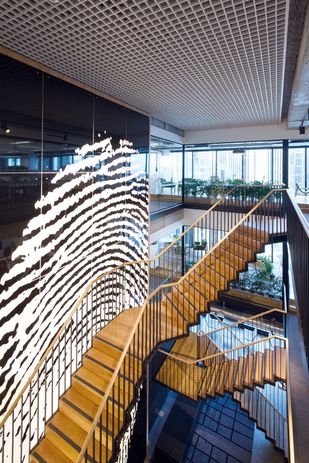 Upon exiting the lift at AECOM's new offices in Sydney, it is immediately apparent that we have not yet arrived. Although the reception desk is folded into the material elements of wall, floor and ceiling, it seems the entire purpose of this black, compressed vestibule is to frame an expansive volume of light beyond and to the left. What first appears to be a conventional dog-leg stairway is revealed as an elaborate network of cranked stairs, set within offset voids that connect four levels of open-plan workspace.
In many ways, the foyer feels like an expansion of the staircase at the midpoint between floors. The staircase itself is an elegantly detailed series of folded timber plates, supported by an expressive central beam. The sinuous, Escher-like trajectory of the stairs suggests the presence of an invisible programmatic necessity. A huge black-and-white artwork occupies an entire wall of the three-storey void – a shared background for all of the levels above. Viewed in its entirety, the abstract image is revealed as a fingerprint; a metaphor for that which connects us all, but which also makes us unique. This concept of a meta-scale works with the theme of connection that is evident both in the outcome and in the process of making this project.
AECOM's technical director and primary client representative, Stuart Bowden, spoke about the company's need for an actual and symbolic hub that unified five distinct "legacy" divisions within the AECOM stable. The site, however, presented a significant challenge to those intentions as AECOM's nine floors of offices are located in two separate tenancies within the one building. BVN's response was to create a shared identity for each tenancy through the use of stairs and voids. The strategic location of the foyer in the upper tenancy and a staff area in the lower create a vertical campus that is connected in the mind, if not physically in space.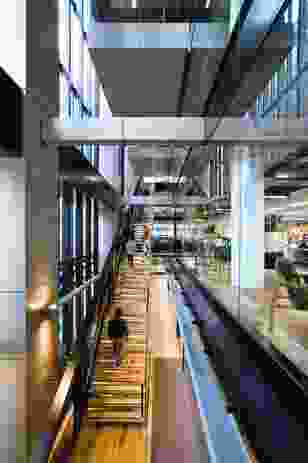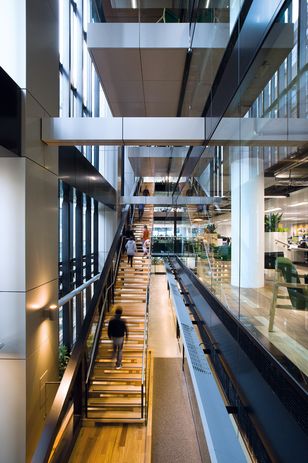 In the lower tenancy, the primary communication stair is located within an existing peripheral void. One of the longest single-span stairs in the world, this heroic spine is supported by a massive cranked truss that had to be threaded between existing transfer beams. This extraordinary feat of engineering is simultaneously stable and precarious; its mass is apparent, yet it springs under foot.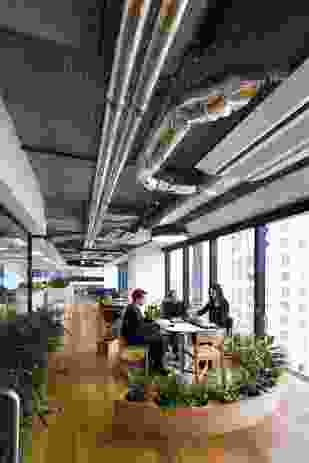 In this project, BVN has produced a variation of the verandah it adopted in its own Sydney studio – a peripheral spine, intended for unstructured activities and therefore providing opportunities for innovation and collaboration. Such spaces work best when they are undetermined but imbued with sufficient flexibility to be capable of determination by the occupants. There is, however, a balance between the more adventurous informal work zones and the more conventional open-plan areas. Stuart Bowden explains that for many staff, who come from a wide variety of working environments, the concept of open-plan offices was challenging enough. Indeed, there is a significant amount of contradictory research about the benefits of open-plan office environments; many studies cite isolated noise as a powerful external contributor to performance problems.1
There is no doubt, however, about the importance of informal meeting spaces in the contemporary workplace. The approach developed by AECOM and BVN has been to introduce activity-based, informal work zones in strategic locations between the more conventional workstation areas. Approximately 20 percent of the net usable area on each level is given over to these informal activities, demonstrating AECOM's commitment to this strategy. For AECOM, this project supports an evolutionary process within the organization. For BVN it represents a growing sophistication in its approach to workplace design.
Design Statement
The new AECOM Sydney workplace is the latest addition to the company's evolving national office model. It is the outcome of BVN Architecture and AECOM's long-standing and mutually beneficial working relationship. The 11,500-square-metre project occupies nine floors in two discontinuous stacks at 420 George Street, Sydney and accommodates 850 people who were previously dispersed across four different locations.
Developing the business imperative of "one AECOM," the design introduced a series of voids and interconnecting stairs through the existing building to create connections across the tenancy. A communal rather than territorial approach to the arrangement of spaces ensures that every business function has an appropriate environment to support it, providing an intelligent environment that bridges the boundary between "design" and the strategic objectives of the business.
The execution of the meeting spaces, social gathering spaces and open-plan work environments provides opportunities and choices for new ways to work, interact and communicate. Through the transformation of their existing work culture, the client has recognized an increase in collaborative activity and productivity.
This project represents the design opportunities and outcomes that were created in partnership with the client to create a unique place that is proudly owned by the people of AECOM.

—BVN Architecture
1. T. L. Smith-Jackson and K. W. Klein, "Open-Plan Offices: Task Performance and Mental Workload," Journal of Environmental Psychology, vol 29 no 2, 2009, 279–289; G. Green, "Meta-analysis of multiple-task performances: cumulating the first two decades of research findings across studies," Proceedings of the Human Factors and Ergonomics Society 37th Annual Meeting 2, 1993, 1147–1151; A. Mital, J. D. McGlothlin and H. F. Faard, "Noise in Multiple-Workstation Open-Plan Computer Rooms: Measurements and Annoyance," Journal of Human Ergology, vol 21 no 1, 1992, 69–82.
Products and materials
Walls

Partitioning system from Sapphire. Pinboard by EchoPanel from Woven Image and Cork from Portugal Cork Co. EnvirO2 Low Sheen Acrylic paint from Dulux. Tretford carpeting from Gibbon Group. Concrete-look polished plaster from Armourcoat.
Windows

Helio 3 blinds from Helioscreen.
Doors

Madinoz and Dorma door hardware.
Flooring

Print carpet is Blue Print from InterfaceFLOR. Tretford carpet from the Gibbon Group and Weave Accent from Shaw. BVN-designed rugs made by Designer Rugs. Everoll rubber from Regupol. Recycled blackbutt from Australian Architectural Hardwoods.
Lighting

In meeting rooms, Mellow Light from Zumtobel. In reception, Deep Lazer from iGuzzini. On verandas, Lotis-Tubed light from Modular. Orbita Pendant in hubs from Dedece.
Furniture

Furniture from Corporate Culture, Haworth, Innerspace, Interior Equipment, Interstudio, Jardan, Koskela, Schiavello, Stylecraft, Tait.
Kitchen

Fridges from Scope. Microwaves from Smeg. Sink from Abey. Counter from Caesarstone. Splashback is Toughened Starphire Colourback glass. Joinery from Laminex.
Artwork/graphics

Designed by AECOM, artist is Nick Drummond.
Credits
Design practice

BVN Donovan Hill
Australia
Project Team

Bill Dowzer, Paul Pannell, Cristian Castillo, Angie McKay, Rebecca Carroll
Consultants

Builder Built
ESD AECOM Sydney
Engineer AECOM Sydney
Lighting AECOM Sydney
Project manager APP Corporation
Quantity surveyor Davis Langdon

Site Details

Location 420 George Street, Sydney, NSW, Australia
Site type Urban
Building area 11500 m2

Project Details

Status Built
Completion date 2011
Design, documentation 8 months
Construction 4 months
Category Interiors
Type Workplace

Client

Client name AECOM Sydney
Website aecom.com

Source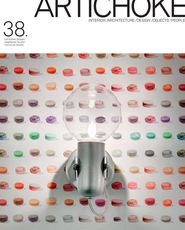 Issue
Artichoke, March 2012
Related topics