AECOM's global presence and broad reach over a multitude of disciplines conversely influenced a "regional" direction in the fitout of its recent Brisbane headquarters. The company provides technical and management support services to the mining, architecture, engineering, transportation and water industries - to name just a few - and operates in over a hundred countries. In Brisbane, a recent amalgamation of four different organizations across nine locations into one meant that the new offices in Fortitude Valley formed a single home for the first time for the formerly disparate groups of employees.
BVN Architecture designed the dual tower base building for Leighton Properties, paying attention to capturing both light and prospect. Large voids are bitten out of the central section of each floor and surrounded by generous expanses of glazing. "Sky terraces" are situated at either end of the voids, establishing permeable platforms or open meeting places that capture the surrounding views of the city as well as surveillance points within the floors.
AECOM occupies five of the north tower's eleven floors, covering 13,600 square metres and accommodating up to 920 staff. BVN assessed the company's aspirations for the future, sensitively responding to the variety of disciplines, working styles, age groups and interests at hand to deliver a sustainable and creative environment that, at the same time, suggests something of the local vernacular.
"A sense of openness, and of our indoor-outdoor lifestyle was important," says BVN associate and interior designer Angie McKay. "We were keen to reflect AECOM's global reach, but also to layer it with regional differences to make it 'distinctly Brisbane'. These influences were interpreted in subtle ways in the furniture, finishes and graphics. Tying these local, regional and global elements together is a timber 'slot' which acts as the primary circulation zone and takes the form of a ribbon connecting staff across each of the five floors."
A raft of interviews, workshops and meetings with representatives from all sections of the organization allowed the design team to develop a strong picture from a broad cross-section of staff. "The briefing period was a generous three months," says McKay, "which enabled us to thoroughly understand the client's operational and cultural change objectives. The biggest driver for the design was in creating connectedness between the staff, many of whom had not met each other because of recent expansion and acquisitions, and providing them with opportunities to work in new ways. The other key driving factor was a desire for a sustainable workplace."
Three hubs (coffee lounges-cum-town squares) act as anchors to the floors. Set in pivotal positions visible from the connecting stairwells, the convivial spaces encourage workers to "leave their corners," notes McKay, and are also ideal for meetings with visitors. For more private intra-firm collaborations, a "village green" accommodates spreading out large project sheets on tables or gathering around small coffee tables under a pergola of greenery. Timbers used here and elsewhere are recycled from wharves, bridges and telephone poles around the country. Worm farms in the kitchens also attest to staff enthusiasm for flying the green flag.
Workstations comprise a "kit of parts" which each team has customized to suit their work habits. BVN's adoption of a neutral palette with readily adaptable elements such as wall graphics and fabrics delivers both flexibility and cost effectiveness in this future-proof scheme.
Products and materials
Lighting and furniture

BAC Systems, Corporate Culture, Dedece, Great Dane, Innerspace, Interior Equipment, Innerspace, Interior Equipment, Interstudio, Jardan, Kinnarps, Korban Flaubert, Koskela, Living Edge, Planex, Robert Plumb, Small Australian Projects, Schiavello, Space Furniture, Stylecraft, Tait Outdoor Furniture, Thonet, Zumtobel.
Artwork

Reception art by Carly Scoufos from Urban Art Projects.
Credits
Design practice

BVN Donovan Hill
Australia
Project Team

David Kelly, Angie McKay, Joel Kelder, Rebecca Carroll, Pamela Trathen
Consultants

Builder Leighton Contractors
Certifier Philip Chun & Associates
ESD AECOM, BVN Donovan Hill
Fire engineering Arup
Indoor landscaping Custom Tropical Indoor Plant Hire
Lighting Floth, BVN Donovan Hill
Project manager Thinc Projects
Services engineer Floth
Structural engineer Bornhorst and Ward

Site details

Location 540 Wickham Street, Fortitude Valley , Qld, Australia
Site type Urban
Category Commercial / public buildings
Type Commercial, Fit-outs

Project Details

Status Built
Design, documentation 9 months
Construction 6 months

Client

Client AECOM
Website http://www.aecom.com/

Source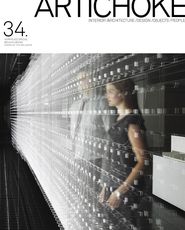 Issue
Artichoke, March 2011
Related topics