March Studio contextualizes design in Singapore, where almost everything seems to be imported.
Aesop's patronage of prodigious Melbourne design firm March Studio has proved mutually beneficial. Aesop has established a series of dynamic retail spaces for its distinctive skincare products while March Studio has garnered an international profile, designing stores in Zurich, Sydney, Adelaide, Melbourne and, most recently, Singapore. Identified by elegant amber glass bottles and a medicinal rigour to its graphics, the consistency of Aesop's brand allows the designer of each interior to articulate a particular response to the host space, often adopting the character of its geographic location.
Singapore is an intriguing place. On the surface it is a slick, clean, safe shopping mall of an island, geared for tourism with a great airport and a brilliant transport system – but there seems to be a change coming, bringing with it a nervous current. Now competing with Dubai as the hub to Europe, "Asia's Switzerland" is looking for a new game: "integrated resorts" (resorts based at a casino), hip hotels, food, wine and design.
In resistance to its longstanding "boring" tag, the island state appears obsessed with rebranding as hip and cool, with a Monocle city survey, a sparkling design festival, a new art museum and proposed massive government investment in creative industries, but the focus is on what can be absorbed from beyond its borders, rather than produced locally.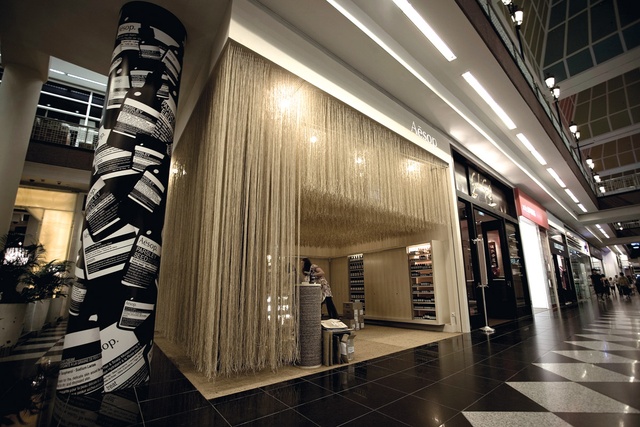 March Studio principal Rodney Eggleston describes the experience of Singapore as one of constant transit – as such, the ancient and contemporary trade route became the key point of departure for the design of Aesop Singapore. "We were interested in the idea of the city as a link to the rest of the world, a midway point, but also we like the route diagram in the Singapore Airlines magazine of this intensity of lines graphically showing the connection of Singapore to the world." Eggleston endeavoured to find a material that was indigenous to the place but his endeavours were stifled. "Everything is imported! How do you contextualize in Singapore?"
Even the host space for the store is a collection of imports: located in a shopping centre on reclaimed land, designed by an imported architect (American Phillip Johnson), and filled with Australian retailers such as Harvey Norman and Space Furniture. A striking proposition was necessary because the store, a cube almost four metres square, is in a difficult corner tenancy, a space problematic in its ability to engage passing traffic. Eventually March Studio found that coconut-husk twine is local to the region and provided the perfect material counterpoint to the shopping centre malaise.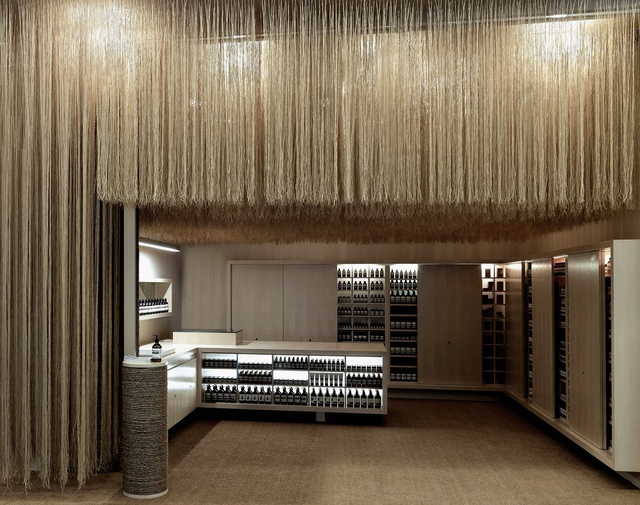 March Studio has acquired a reputation for doing something with lots of nothing; 12,000 amber bottles, 4,000 metres of yellow trace or 400 packing crates, and "Stringapore" is consistent with this status. The space was reduced to its core element of a cube and an L-shaped bench, derived from an understanding of customer behaviour and the functionality learnt from previous Aesop stores, where the focus is on the product as an idea rather than an object. A simple Boolean operation of usable space from the cube produced a solid zone for occupation by the twine. After several attempts to create a space crafted by networks of tensile structure, March Studio decided to let the twine do what it wants to do: "it wants to hang." Indeed it does. Thousands of strands of the twine are hung from the regular ceiling grid, creating a magical space that constantly changes density, form and aspect as you move through and around it. Simultaneously dense and transparent it provides a handcrafted delight from a design produced on a computer. The earthy quality of the twine reinforces the natural agenda of Aesop but also provides tactility against a backdrop of sealed, lacquered, hard, stainless shopping. The natural beech of the timber joinery continues the resistance to the overly lit demands of the centre outside: this is a place to rest and contemplate before moving on. Says Eggleston, "It seems that the way to be different in Singapore is to try to contextualize – by attempting to promote the local you immediately become foreign."