Aesop Melbourne
In celebration of its twenty-five-year anniversary, the Aesop creative team collaborated with Kerstin Thompson Architects to create a new Australian flagship store in Melbourne's city centre. Firm in the belief that "intelligent architecture and design has the capacity to fundamentally alter the human experience," Aesop wanted to create an interior that would enhance its products and philosophy.
The site is an existing 1920s building, located in an up-market, polished section of Collins Street. "We developed a set of conceptual themes centred around the idea of a gentlemen's private salon," says Thompson. It is a nod to the neighbouring historic Athenaeum Club and the high-end menswear stores in the area. "The salon is the personal, contemplative space between a gentlemen's bathroom and a dressing room," she continues. "We designed the space as a curiosity cabinet, a series of bespoke pieces that suggest a private world."
In order to achieve this, Thompson used a range of freestanding salon-style furnishings (instead of fitted pieces) that function as display units and elevate the status of the Aesop products on display.
There are three main elements in the space, all of which sit against a sumptuous leather-curtained backdrop. "The curtain reinforces the theatricality of the space," says Thompson. "It also amplifies the intimate mood and creates an intrigue as to what lies behind." The leather is untreated and will develop an oily patina of use over time.
The product-testing station is a desk and vanity hybrid that is offset by a three-sided, period-style mirror. The space is kitted out with a sink and a range of accoutrements that you might expect to find on a gentleman's bureau: brushes, combs, a selection of Aesop grooming products and a vintage desk lamp. Other items include slim-profile blackened steel shelves, brass cabinets, a goat hair carpet and a sales desk.
In terms of the overall space, Thompson was sparing in her use of fixtures and light fittings. "We essentially stripped the space back to its shell," she says. "Using another staging technique, we painted the ceiling black and limited the green colour on the walls to curtain height only. This helped us to reinforce the theatrical and intimate mood."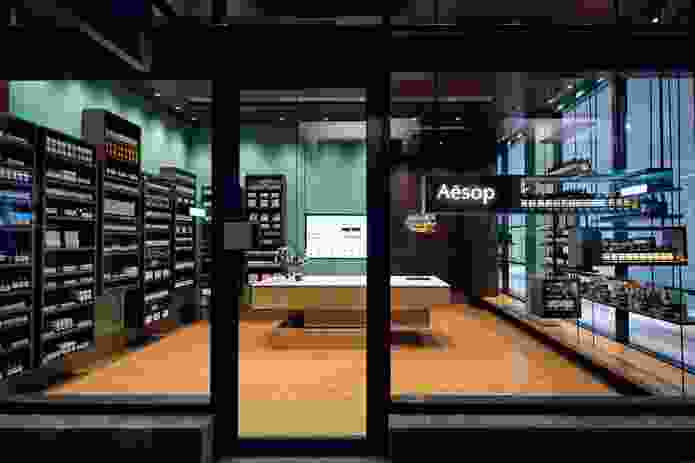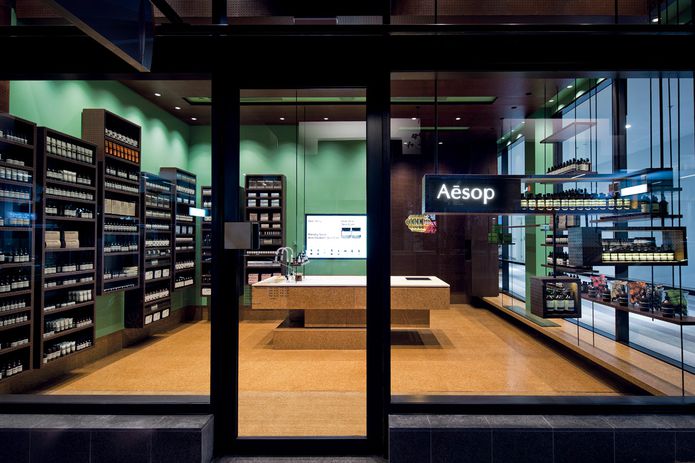 Aesop Perth
Ryan Russell is no stranger to designing retail spaces for Aesop. He and his team at architecture firm Russell & George are responsible for five of its stores, including its Hong Kong presence. "Every project brings new opportunities," explains Russell. "The brief is usually quite open-ended, giving us the freedom to develop our own initial concept."
Russell's latest store interior for the brand – located in the newly developed Claremont shopping precinct in Perth – also marks Aesop's first foray into Western Australia. "We wanted to make subtle references to the natural geography of the area and refer to the cultural mythology of Western Australia," explains Russell. "The key to this was a balance of tone, form and texture through a carefully edited material palette."
After numerous collaborative discussions with Aesop, the team settled on a mix of Kimberley sandstone, cork, black-painted metal and green paint. "Our intention was to use fairly generic materials, but in beautiful and unexpected ways," continues Russell. The extensive use of masonite pegboard – used as suspended ceiling boards and shelving – is the most reflective of his approach. Typically used as a cheap, often temporary material, Russell reversed the masonite to reveal its perforation detail and a richer, brown colouring. "Aside from a tonal link to the natural landscape, it has the effect of transforming a basic, generic material into something quite luxurious," he adds.
The structure of the interior is a simple presentation of three key Aesop store components – a testing zone, a point of sale area and display elements. The counter, a richly detailed piece, is completely clad in cork and takes centre stage in the space. There are cupboards built into every surface, a remarkable achievement given the seamless junctions and the complexity associated with concealing all the supporting hardware and wiring. The counter also serves a dual purpose, incorporating the suspended testing area on one side and point of sale on the other.
"Everything is bespoke," Russell explains, "and everything has a place, including the recessed oil burners, which disperse Aesop scents through special perforated openings."
Products and materials
Walls

Existing walls painted in Dulux 'Sicily Sea.'
Windows

Leather curtain from Creative Windowhaus. Leather supplied by Contemporary Leathers.
Flooring

Tretford Anthracite carpet.
Lighting

Supplied by Richmond Lighting.
Joinery

Display cabinets are brass with copper shelving, and black steel with cold oxide treatment and black steel perforated shelving. Point of sale and wrapping desk is black sheet steel. Window display shelves are folded black steel with leather display pad. Back of house is black melamine. Pinboard is black Echo Panel from Woven Image.
Vanity

Testing vanity unit with pivot leather shelf is custom made. Vanity basin is black sheet steel with black steel wash plane. Tapware is from Enware. Decor Mirror from Viridian.
Credits
Design practice

Kerstin Thompson Architects
Melbourne, Vic, Australia
Project Team

Kerstin Thompson, Lynn Chew
Consultants

Builder EMAC Constructions
Building surveyor Philip Chun & Associates
Engineer WSP Group
Project manager Leon Goh (Aesop)

Site details

Location 87 Collins Street, Melbourne, Vic, Australia
Site type Urban
Category Interiors
Type Retail

Project Details

Status Built
Design, documentation 2 months
Construction 2 months

Client

Client Aesop
Website aesop.com

Products and materials
Walls

White wall tiles from National Tiles. Laminate from Laminex. Decor Mirror from Viridian. 'Yucca' green paint from Dulux.
Flooring

Readycork from Premier Floors. Brush coir matting from The Natural Floorcovering Centre. Ceramic floor tiles from Classic Ceramics.
Lighting

Vintage pendant light above counter. LED Deep Starr downlight from Inlite. Warm LED strip light from Superlight. Clipsal 2000 series switches.
Joinery

Kimberly sandstone to counter from Meteor Stone. Pegboard to ceiling and cupboards from Australian Hardboards. Cork to joinery.
Furniture

Leather seat from Contemporary Leathers.
Kitchen

Zip HydroTap from Zip Industries. Oxygene sink mixer from Gessi. Franke Futuro sink from Appliances Online. Tonic basin from Rogerseller. Drawer slides from Hafele. Bar fridge from The Good Guys.
Credits
Design practice

Russell & George
Melbourne, Vic, Australia
Consultants

Builder EMAC Constructions

Site details

Location Shop L1, 169 Claremont Quarter, Cnr St Quentin Avenue and Bayview Terrace , Claremont, Perth, WA, Australia
Site type Suburban
Category Interiors
Type Retail

Project Details

Status Built
Design, documentation 1 months
Construction 1 months

Client

Website aesop.com

Source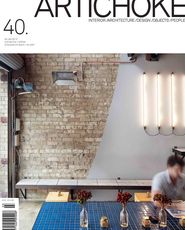 Issue
Artichoke, September 2012
Related topics