Affordable and accessible housing
Lee-Anne Khor speaks with four architects about the role of architecture in delivering affordable and accessible housing, and the diverse and complex challenges inherent to the processes.
Affordable and accessible housing
Architectural intelligence is integral to creating – and sustaining – affordable housing. Yet almost a decade ago, Shane Murray brought our attention to a troubling reality: less than 10 percent of housing in Australia has architectural involvement.1 Murray challenged the architectural community to reconsider its relationship to general housing at a time when single dwellings outstripped other dwelling forms and public housing was at an all-time low.2 Since then, semidetached units and apartment construction have overtaken single houses and Australia's community housing sector has doubled in size.3
So what now is the relationship of architecture to general housing? I put this question to four architects committed to affordable and accessible housing: Eloise Atkinson, director of Deicke Richards and chair of the Brisbane Housing Company (BHC) board; Eli Giannani and Rob McGauran, directors of MGS Architects; and Kieran Wong, director of Coda Studio.
Not-for-profit developers
Perhaps the biggest change in affordable housing has been the growth of community housing organizations (CHOs). In addition to the tenancy and service roles these organizations have historically played, several smaller CHOs have amalgamated and rapidly professionalized as major developers. For instance, Deicke Richards designed BHC's first residential development in 2002 and BHC now manages a property portfolio in excess of $300 million.4
The social imperatives and expertise underpinning the expansion of CHO operations has seen the sector deliver a range of higher density projects for tenant groups that the private market fails to cater for. They not only accommodate those on low and moderate incomes but also develop mixed-tenancy projects that foster a positive cross-section of residents in local communities. These complex housing briefs often have modest budgets, requiring high levels of spatial expertise to ensure resident privacy, security and wellbeing.
BHC's Richmond Apartments in Brisbane, by Mode, comprises 107 mixed-tenancy dwellings distributed around a "green" circulation atrium. Access is vertically secured over the eight-storey building. Common spaces of various scales allow individuals, small groups or larger assemblies of people to interact as chosen. Dedicated programming provides settings for more "natural" encounters based on activities, such as gardening or kids' play space. While semipublic in nature, they are carefully located between smaller apartment groupings so that they also serve as spatial devices to enhance resident privacy.
BHC has collected numerous awards in recent years, demonstrating its investment in high-quality design. Atkinson attributes the most successful projects to astute siting. Affordable housing projects are rarely delivered on "premium" sites and so the most ambitious architecture tends to emerge from shrewd contextual responses.
Caggara House in Brisbane by Arkhefield accommodates fifty-seven seniors already living in the area but needing more maintainable homes. The five-storey building optimizes opportunities offered by its location behind a commercial strip. Designed as two flanking volumes, the project inverts the back face of the strip to address the adjacent residential fabric while creating a green refuge between the new buildings. A landscaped ascent to an open-air podium connects the street with a range of communal facilities that allow residents to maintain links with existing neighbours and meet new ones. Relocating these residents "in place" frees up $25 million worth of government housing for renewal or reallocation to larger families. Although this aspect of the project is not the architect's doing, Caggara House provides a successful precedent for other residents considering downsizing and state housing authorities contemplating future strategies for underused housing stock.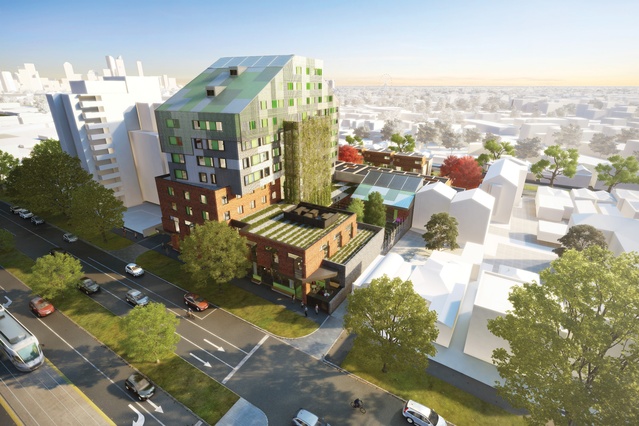 More than a roof over heads
A review of housing projects delivered under the Nation Building Economic Stimulus Plan found that innovation was more likely when design quality was a stated value of the organization procuring the development.5 Exemplary dwelling design enhances resident wellbeing, which is the core objective for community housing providers.
However, organizations like BHC also recognize that well-designed projects make good business sense. BHC expects to retain its assets for thirty to forty years.Atkinson explains that as the number of high-needs tenants increases, progressive design is one strategy BHC employs to maintain nimble commercial operations.
Giannani echoes these observations, noting that working with CHOs is liberating compared with a risk-averse private market that typically produces the same conservative results. Perhaps due to their social expertise and long-term development interests, CHOs are increasingly delivering projects that contribute to the physical renewal of surrounding neighbourhoods and provide a mix of programs that benefit broader communities.
MGS worked with VincentCare on the redevelopment of Ozanam House in Melbourne as an integrated housing and services facility. The proposal includes 134 units, health services and a resource centre to help those confronting homelessness access secure housing and re-establish links with society. The challenging site fronts a major road and a residential streetscape under heritage overlay. The design uses the site fall to create a striation of private terraces, open spaces and a walkway above basement parking (the sale of which will help fund the project). The domestic frontage reflects the rhythm of surrounding housing, further tied in by a heritage duplex retained by the proposal. The rear row of terraces shares a boundary wall with the ground level of Ozanam House, where striated zones continue through private resident amenity to a public "front-of- house" where a drop-in centre and cafe are open to the wider community. Formal and material treatments mediate between the low-rise fabric and eleven-storey residential tower, beginning another dialogue with a neighbouring apartment building.
Challenging the status quo
One of architecture's greatest attributes is the capacity to challenge standard practices, yet, as all four contributors emphasized, this is rarely effective without a good understanding of the policy context within which affordable housing operates. In their various experiences, architects have not generally demonstrated a strong awareness of (or sometimes interest in) relevant planning, social and economic policy settings. Situating a spatial narrative in relation to broader policies is a means of articulating design value and illustrating how less conventional development can have a positive and lasting impact on our cities.
Rob McGauran recently described affordable housing as an essential urban infrastructure6 and MGS's exploitation of urban airspace in several Melbourne projects shows what is possible when a design sensibility is used to navigate broader policy contexts. The Woodstock Rooming House proved the viability of creating affordable housing in rapidly gentrifying locations by "topping up" a council-owned carpark. The existing site function was unaffected and the development of thirty-one affordable units enabled the repair of a previously blighted site. The model was replicated in a second partnership between the City of Port Phillip and Port Phillip Housing Association to deliver twenty-seven units at Kyme Place. Here, a small proportion of carpark was given over to a foyer and shared gardens. Finally, the eight-storey development above Drill Hall demonstrates how the model can be a vehicle for repurposing heritage-listed institutions that lie in an unoccupied, dilapidated condition. Housing Choices Australia mounted a two-and-a-half-year campaign to secure the site from the City of Melbourne and the result was fifty-nine affordable dwellings and new healthcare, childcare and event facilities within a meticulously restored heritage building in central Melbourne. Such a result might not have been possible had status quo prevailed and the prized site been sold for purely commercial ends.
It was a similar ability to challenge the status quo that saw Coda win a competition for the Western Australian Department of Housing and Foundation Housing in Perth, Building for Diversity. Its proposal broke the height limits imposed by the brief to instead offer differentiation between a three-storey street perimeter, a seven-storey hostel and the courtyard between them. A built form strategy befitting an already eclectic urban area provides further mixing in the flexible dwelling designs that extend the possibilities of short- and long-term living arrangements required by different tenant groups.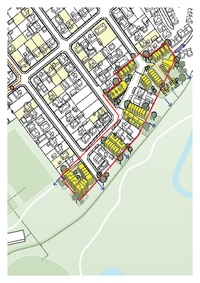 Working upstream
Wong attributes the opportunity for Coda – at the time an emerging practice – to become involved in affordable urban housing to the competition program orchestrated by Geoffrey London in his former position as government architect. This points to another important role: facilitating the procurement of intelligent architecture by government agencies and engendering affordable, diverse, well-designed housing outcomes within development briefs.7
In the context of general housing provision, Wong raised some concerns about the ambiguous confluence of design quality and differing notions of affordability. Well-designed housing can increase the quality and ongoing affordability of living for its occupants. However, that housing is not affordable if it is financially inaccessible or unable to accrue wealth for low- and medium-income earners. A related concern is that quality is frequently expressed as an aesthetic attribute. This unilateral emphasis on built outcomes doesn't readily reflect architecture's position at the bottom of the "development food chain," particularly in a project home context. After sites are nominated, planning strategies gazetted and dwelling types are fixed, architects have fewer opportunities to improve housing quality and performance.
For these reasons, Coda has sought more "invisible" architectural roles that can structurally affect general housing provision. One example is working upstream with statutory and strategic planners to embed design knowledge into regulatory instruments for various LandCorp developments. The work requires the synthesis of contextual analysis and design research to explicate how a range of housing typologies and place-specific urban strategies can be combined to deliver good quality housing over time. In addition to the urban design and dwelling models prepared for White Gum Valley in Western Australia – Australia's first One Planet Development – Coda has also taken on an ongoing role of "estate architect." Residents can elect to build a dwelling other than the models offered, which Wong concedes won't always align with his personal preferences, but he embraces the role of "estate architect" as an opportunity to get the fundamentals of sustainable housing right.
Speculative design research, exposition and demonstration
Precinct-scaled redevelopment of greyfield suburbs is a proposition being explored by Monash University. The model harnesses the piecemeal pattern of dual-occupancy infill and examines the potential advantages of coordinating lot-by-lot redevelopment as a single precinct, even if physically dispersed. There are vast amounts of ageing public housing scattered across Australia's middle suburbs and the research suggests that a strategic and spatial approach to the renewal, transfer or sale of these valuable assets could leverage considerable increases in affordable housing supply through public, private and not-for-profit partnerships.8
As the diversity and complexity of infill housing strategies increase, so too does the need to integrate architectural knowledge with context-specific policy responses, affordable finance strategies and effective development partnerships. The Melbourne Housing Expo 2015–2018, chaired by Alan Pert at Melbourne University, draws on a strong lineage of European housing expositions as a vehicle for exploring and building innovative demonstration projects. The initiative presents an opportunity to combine the expertise of government, industry and academic leaders to identify genuinely integrative and affordable housing solutions.
Continuing architectural contributions
Finally, I asked each architect what they would like to read about in the near future. Their answers each deserve dedicated attention but in the interest of continuing an important conversation, I'll conclude with their suggestions as potential beginnings for other contributions.
– What makes affordable housing successful? Demystifying the stigmas.
– A comprehensive breakdown of affordable housing finance.
– What are the motivations behind public housing asset transfers?
– Why take a design-led approach to affordable housing challenges?
1. Shane Murray, "Housing," Architecture Australia , vol 96 no 3, May/June 2007, 43–45.
2. In 2007, around 70 percent of private dwelling supply was single housing. Australian Bureau of Statistics, "8750.0 – Dwelling Unit Commencements, Australia, Preliminary, Mar 2008." For public housing trends see Lucy Groenhart and Terry Burke, with Liss Ralston, "Thirty years of public housing supply and consumption: 1981–2011," AHURI Final Report No. 231 (Melbourne: Australian Housing and Urban Research Institute, 2014).
3. In the first quarter of 2016, 45 percent of private dwelling commencements were single houses. Australian Bureau of Statistics, "8752.0 – Building Activity, Australia, Jun 2016." For community housing trends see Australian Institute of Health and Welfare, "Housing assistance in Australia 2016," June 2016, aihw.gov.au/housing- assistance/haa/2016/.
4. Brisbane Housing Company, "BHC Annual Review 2014/2015," bhcl.com.au/about-bhc/media-publications/our-annual-reviews/.
5. Shane Murray et al, "Design innovations delivered under the Nation Building Economic Stimulus Plan – Social Housing Initiative," AHURI Positioning Paper No.155 (Melbourne: Australian Housing and Urban Research Institute, 2013).
6. Rob McGauran, "Housing as essential urban infrastructure," Planning News , vol 42 no 6, Jul 2016, 14–15.
7. Leon van Schaik, Geoffrey London and Beth George, Procuring Innovative Architecture (Oxon, England; New York, NY: Routledge, 2010).
8. Shane Murray et al, "Processes for developing affordable and sustainable medium-density housing models for greyfield precincts," AHURI Final Report No. 236 (Melbourne: Australian Housing and Urban Research Institute, 2015).