Cox Rayner Architects and Aurecon have designed what they believe to be a world's first flood-resilient ferry terminal in Brisbane. The consortium, which originally also included Derlot, were commissioned following their winning entry into the Brisbane Ferry Terminal design competition in 2011.
The completed terminal at Milton is the first of many to be rolled out along the Brisbane River in 2015. The flood resilient terminal design has been inspired by the way private pontoons simply float over their piers in a flood. Michael Rayner, director of Cox Rayner, called on his own experience in the 2011 floods in designing a terminal that could also deflect debris.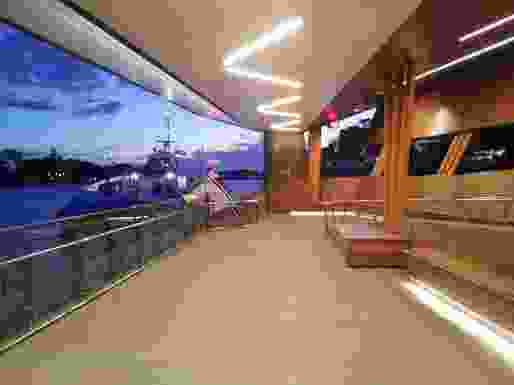 The design features a pier that provides commuters with panoramic views of the Brisbane River. Instead of a forest of piles attaching the pontoon to the pier, which would obstruct the view, the pontoon is essentially tethered to the pier via the gangway. During a flood, the gangway slides across the pier as the river rises and detaches. It then swings with the current of the flood waters, secured to the side of the pontoon, to avoid the build-up of debris. The gangway incorporates a unique floor which maintains level whatever the tide. The pontoon, which is anchored at the downstream end, features a hull-shaped base that allows flood waters to flow underneath it unhindered. So while the pier might be submerged underwater during a flood, the pontoon simply floats.
"The terminal is an impressive marriage of form and function," said Arne Nilson, project director of Aurecon. "It's been designed to achieve flood resilience and to last for 50 years."
"These new generation terminals are a fine example of how architects and engineers are working together symbiotically to evolve building typologies," said Brendan Gaffney, director of Cox Rayner. "We pushed the limits of the possibilities across every single component."