Aging mall in South Bank Parklands to be temporarily reborn as performance venue
A temporary redevelopment of the defunct Arbour View Cafés precinct in Brisbane's South Bank will see a number of colourful additions made to the aging site.
Titled Flowstate, the new, 3,000-square-metre space will open to the public in January and consists of an "immersive digital installation," a grassy "relaxation zone" and a performance pavilion.
The project has been designed by Stukel Stone, an interdisciplinary practice that deals in both architecture and performance design.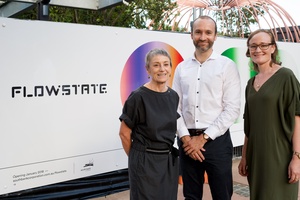 Stukel Stone directors Tobhiyah Stone Feller and Daniel Stukel Beasly said, "Flowstate blurs the distinctions between landscape and architecture, theatre and public space."
"We have provided multiple possibilities in the design for how the site can be used and [we] are very interested to see how performers, artists and audiences will respond and activate the site in unique and unexpected ways."
Flowstate will be in place for 18 months, and be accompanied by a program of free events.
South Bank Corporation chairperson and landscape architect Catherin Bull said, "Around the world, leading public precincts are constantly evolving and it is the Corporation's role to oversee, adapt and transform South Bank so it remains relevant, desirable and exciting both publicly and commercially."
The installation will mark the first redevelopment of the South Bank parklands since the 2011 River Quay project by Arkhefield and Cardno S.P.L.A.T..