Review Philip Goad
Photography Peter Hyatt, Trevor Mein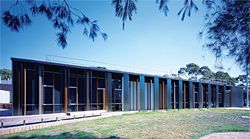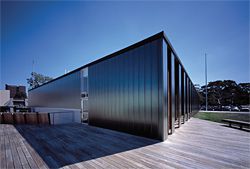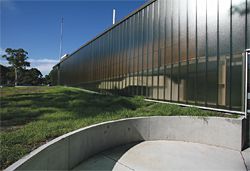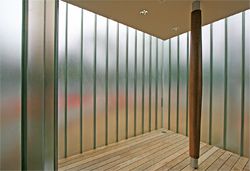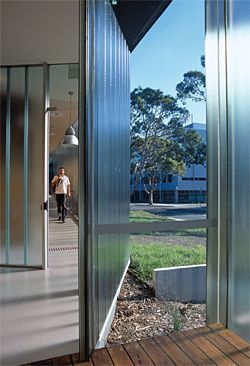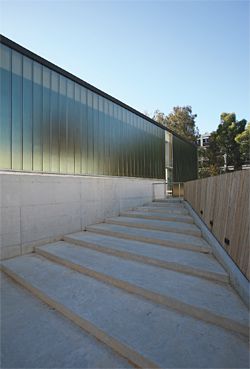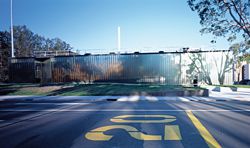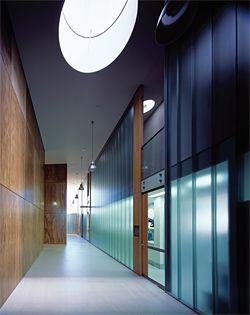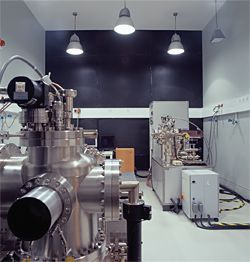 In any field, that which appears stunningly simple is often complex and difficult to achieve, sometimes difficult to comprehend. When architecture has this quality, encountering it even on paper is a stirring experience. For example, one of my favourite pieces of unbuilt architecture is the Danteum (1938) by Italian architects Giuseppe Terragni and Pietro Lingeri, an architectural translation of Dante's Divine Comedy, the journey through Hell, Purgatory and thence to Paradise. From the outside, Terragni's masterwork appears simple, a collection of relatively blank walls – albeit beautifully proportioned – that conceal a rich maze of orchestrated experience and volumetric diversity. It's a project dense with symbolism and spatial climax – a piece of pure architecture that is poetic and subtle and has quiet strength.
Strangely, and perhaps bizarrely, it was Terragni's project that came to mind when I was shown over the Monash Centre for Electron Microscopy (MCEM). Set among undistinguished 1960s laboratories, deep within the indigenous bush landscape of Monash University's Clayton campus, from the outside the building is totally unprepossessing – a series of vertical glass planks that I first thought were capped in black metal flashing. But walking around this flat, pancake-like volume, I quickly realized that each facade is very different. The flashing was not metal but a bituminous compound wrapping what must be timber. I then examined each facade. The west was blank and indicated a wedge-shaped form. The south was two-storey, alternating bands of semitranslucent glass planks and clear windows with louvres. The east was blank but the glass planks hovered above a bare concrete base, and a series of steps led up to a timber deck. The north facade was deep. Here the glass planks formed a sort of colonnade, a shallow verandah to another glass wall divided by timber verticals, glass louvres and more fixed glass. Some panels were milky white. In its formality and elemental simplicity, this was an almost classical facade.
The reasons behind this almost negative architecture do not lie in allegory, however. The determining rule for the building, cleverly designed by a team within the Melbourne office of Architectus, is its seemingly prosaic function. The building had to house nine microscopes, one of which is the highest resolution electron microscope in Australia. As such, this building is one of just a handful of such facilities in the world. The task of accommodating the four transmission electron microscopes, three scanning electron microscopes, a dual beam focused ion beam (FIB) microscope and two three-dimensional atom probes was addressed by treating each instrument as a precious object to be isolated in every sense of the word. All the microscopes perform best when there is absolutely no environmental, vibration or electromagnetic field ("stray field") interference. Each microscope is therefore housed in its own concrete-block walled room, roofed by a concrete lid and sitting on its own concrete slab. These microscopes are so sensitive that even one's voice could vibrate the atoms. The use of metal of any sort is also minimized to reduce stray field. Thus the MCEM is entirely framed in timber (including the roof, which is plywood) and constructed independently around the nine laboratories. I now understood the flexible rubber capping, the glass planks and the timber verticals on the north facade. I also understood the separate containment of each microscope in its own plywood-clad volume. All was not what it had seemed.
The microscopes themselves, though allowing us to see the most amazing patterns of particles fundamental to our being, are surprisingly dull looking – huge, lumbering cabinets hiding electric wizardry or oversized versions of what the uninitiated always thought a microscope should look like. Their anticlimactic form is a foil to the extraordinary digital images of atoms that one looks at on a computer screen next to the machine or from an adjacent anteroom. Formally, the only common theme among these mysterious objects is the cylinder or column of the microscope, which has at its basis the timeless geometry of the circle. If there is any representational allusion in this building, it is that the circle and column reappear subtly and without pretence. Indeed, their presence permeates one's experience of the building.
One enters the building at the north-west corner off a shallow verandah and from a circular concrete patio. The classical allusion quickly vanishes. The lobby/vestibule is a serene, day-lit volume, in part perfectly square in plan, with timber underfoot and with a single column whose timber casing has entasis. It's a beautiful object that you want to touch, and the only object in the building that suggests a bodily curve. Here it becomes clear that the building is zoned. Looking along a tall corridor, which slices directly through the building, there are administrative offices, a tearoom and a meeting room, all facing north. There is a sheet of clear glass looking south as the glass plank wall kinks in underneath the roof. Through a secure glazed door, one enters the laboratory proper. Every threshold is secure and reaching any of the microscopes is like peeling away the layers of an onion, or penetrating the passages of a labyrinth. It's at this point that I thought of the Danteum. Inside the main volume, at another corner of what I soon understood was a giant square in plan, there was a choice: up a ramp to a series of research staff offices running in a bank along the south side of the building, or down to choose which plywood box to enter. Everything was still – with concrete underfoot; plywood on the walls, sometimes perforated with a series of circles; and a series of circular light fittings overhead. I now realized that the volume of the building was more complex than I'd imagined. Tall passages, tall doors (three metres to accommodate the microscopes) and ramps or stairs form the perimeter circulation to the north and west. But there's another slice of corridor in the south of the building, this time double-height, separating the microscope rooms from the south-facing bank of research offices above and smaller laboratories below. A single circular skylight, centrally located, suggests geometric order more powerful than the pragmatics of function. It also denotes what could be a gathering space (and also an extremely practical space in which to turn around the huge pieces of equipment once delivered). Directly opposite, an opening in the glazed wall above acts like a gallery, allowing students and research staff some visual and auditory interaction in this carefully controlled twenty-four-hour setting for science.
The MCEM is at one level a celebration of function. At another, it is a meticulously controlled architectural exercise. There is geometry, complex ideas of frontality, asymmetrical perception and movement, spatial excitement, exquisite light and a sense of immanence architecturally. The climax of a visit is not a shrine or indeed a very beautiful object but the chance to work on a screen with atoms, the very stuff of existence in front of you. It's at once humbling and ordinary. But the architecture that gets you there is a form of deft scaffolding, a work of outstanding control. There's nothing stray here at all. I had seen atoms, a different form of Paradise.
Philip Goad is professor of architecture and director of the Melbourne School of Design at the University of Melbourne.
MONASH CENTRE FOR ELECTRON MICROSCOPY, CLAYTON

Architect
Architectus— project team Peter Slifirski, Ruth Wilson, Peter Brew, Mark Baldwin, Scott Jackman, Gernot Stick, Nick Gammaldi.

Client
Monash University.

Civic and structural engineer
JMP (John Mullen and Partners).

Electrical, mechanical and acoustic engineer
AECOM (Formerly Bassett Consulting).

Quantity surveyor
Davis Langdon.

Landscape architect
Oculus.

Building surveyor
McKenzie Group.

Contractor
Walton Constructions.

Photography
Trevor Mein
1, 2, 5, 7–9.
Peter Hyatt 3, 4, 6.