Rio Tinto Naturescape, Kings Park & Botanic Gardens by Plan (E)
Client: Botanic Gardens & Park Authority (WA)
Jury comment
An innovative response to a challenging brief, Rio Tinto Naturescape delivers not only a natural creek system as a playspace for children, but it does so in a manner that is respectful and sensitive to the existing environmental conditions and cultural systems.
The thoughtful, contemporary design elements, sculpters and hierarchy of paths also provide an educational experience and journey for adults and carers.
This responsive design sets an exemplar for the future provision of recreational and educational facilities in bushland settings located in urban environments.
Source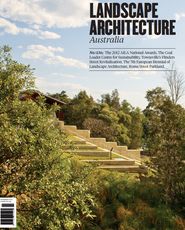 Award
Published online: 14 Aug 2012
Images: Botanic Garden & Park authority, Plan (E), Richard Gale
Issue
Landscape Architecture Australia, November 2012
Related topics