The NSW state government has approved a request to raise height limits for the Parramatta Square urban renewal project, paving the way for the Aspire Tower by Grimshaw Architects to be built to a height of 306 metres.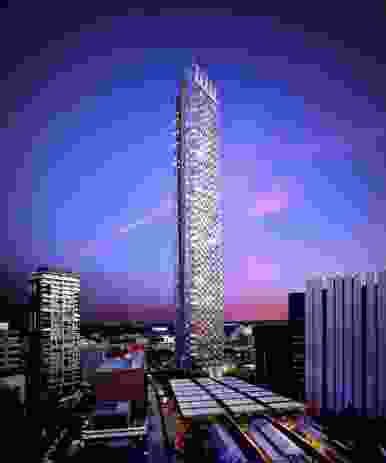 The Aspire tower, when completed, will become one of the tallest buildings in Australia.
The project at 160–182 Church Street will provide 700 residential apartments across 90 storeys. It will also facilitate 150 hotel rooms, bars, restaurants and shops, as well as a publicly accessible viewing platform.
Planning minister Rob Stokes announced the removal of the height limit after a request by Parramatta City Council.
"It will herald the creation of a modern architectural skyline, defining Parramatta's role as Western Sydney's capital," he said.
The final details about the building had remained up in the air, with a 300 metre city-wide height limit restricting plans to go ahead with the tower. In 2014, a group of aviation authorities and organizations advised Parramatta City Council to reconsider the building's height, saying it could impede take-off and landing corridors used by planes.
The Aspire Tower is an important element of the Parramatta Square urban renewal project, a three hectare mixed-used redevelopment project that will transform the city. Church, Macquarie, Smith and Darcy Streets border the area that is earmarked for rejuvenation.
The $2 billion project consists of six development phases, with at least six commercial, civic and residential buildings planned. Stage two involves the construction of the Aspire Tower.
During May 2015, the local council approved applications for the council offices and the library to be demolished, with Parramatta Lord Mayor Scott Lloyd saying the aim was to have the sites "shovel ready" to make way for stages two, five and six.
Construction has only begun on one part of the project, with work beginning on a new high-rise campus for the University of Western Sydney in February 2015.
At the moment the Eureka Tower by Fender Katsalidis in Melbourne is the tallest building in the country, reaching up to a height of 297m to the roof, however, a host of high rise giants are in consideration or under construction across the country. Melbourne's Australia 108 building, also by Fender Katsalidis, will be 317m in height to the roofline, and is due to be completed by 2019.
Related topics