Airlie Bank Apartment by Neometro with McAllister Alcock Architects
This apartment's layered facade pays homage to the site's sporting past.
Great things can happen on a tennis court. For those sweaty, sponsored professional players, it could be as historic as taking out sixteen grand slams or, somewhat more simply, it could be doing the splits in order to return an ace. But the teams at Neometro and McAllister Alcock Architects, whose top spin can't be commented on personally, have done something else incredible on a tennis court. They've created luxury living.
Tucked behind the quiet south-east corner of Melbourne's Royal Botanic Gardens, the apartment block is built on a tight 610-square-metre site that was once the tennis court of the Victoria Police college Airlie. The building is a four-storey, eight-unit design that neighbours the police college's Leadership Development Centre, one-hundred-year-old mansions and dense 1950s unit blocks.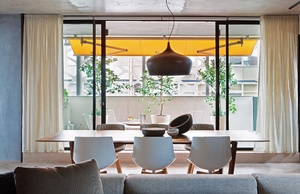 To give residents privacy as well as a leafy outlook, glass reinforced concrete (GRC) screens shield the building on the front and rear, paying homage to the old tennis court in their supersized, chain-mesh-like shape. The original tennis court fencing itself has been retained and covered in ivy and wisteria on the south side of the building. These textured facades successfully cocoon the interior from the diverse fabric of external surroundings.
Apartment seven, located on level three, has three bedrooms and measures 186 square metres. In designing the interiors, Neometro director Jeff Provan had to pre-empt what a potential buyer might wish for. "It's harder, because you have to be conscious that the people who are buying this might have conservative backgrounds," says Jeff. "When you tell them it has a concrete ceiling, they won't be receptive to it until they see it themselves in the environment." Neometro made calculated assumptions about the future buyer – in this case, that they'd be affluent, appreciative of contemporary style and enjoy spending time at home. These assumptions allow a design that's sumptuous but comfortable, enduring but functional.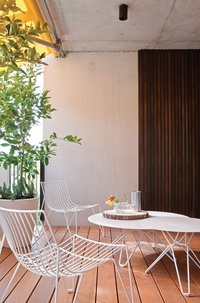 Like its layered external screening, the unit's interior embraces a multitude of textures, materials and hues – something that has become Neometro's calling card. Snippets of the same finishes are dotted throughout the apartment – from parquetry flooring to exposed concrete, marble and moss green carpet. This palette of materials might seem all-encompassing but it has been carefully curated. "If you were to lay all these materials out, it sounds like a lot going on but then it's a combination that works, that doesn't feel busy or jarring," says Jeff. "We like a rich palette that's natural or has a natural presence – if they work in nature, they work inside. Having different textures gives it warmth and doesn't feel sterile. That's our Colonel Sanders' secret herbs and spices."
To the rear of the apartment, the three bedrooms are a fine example of this cross pollination of palettes. A whitewashed cedar panelled door opens up the main bedroom and features a dish-sized door handle that was handcrafted by a family friend of Jeff's late father. In each bedroom, dark timber veneered wardrobes sport solid wood handles, while a Juliet balcony on the outside edge of each room is initiated by a raised timber platform. The balcony gives the bedroom depth, and allows open air and light to filter through the rippled glass panels. In the secondary bedrooms, moss green carpet is unexpected but delighted in.
Tucked behind the main bedroom is an ensuite, accessed through a semitranslucent door. In each of the bathrooms and in the powder room, Japanese finger tiles have been laid vertically on end, pairing nicely with the custom-designed black steel vanity that folds outwards to create a shelf.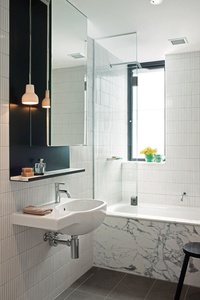 Oak parquetry flooring is used throughout the apartment, but in the open expanses of the living room it works doubly. Coupled with the concrete ceiling and timber battens of the study nook, the flooring is symbolic of the architects' subtle employing of natural finishes.
A generous kitchen lends itself to continuous turns of playing host, with a solid timber island bench standing in solitude beneath a marble benchtop. Grey porcelain floor tiles soldier on through the expected spills and splashes of dinner prep, as do the stainless steel benchtop and stone splashback. The adjoining butler's pantry is a home chef's oasis, providing ample storage for pantry goods and extraneous kitchen tools, like that overpriced avocado slicer. In all, the kitchen is as good-looking as it is functional – essential given that its locale is so open to the living room.
At nineteen square metres, the balcony is a workable space, easily accommodating a table of ten or more. Entertaining here is possible year-round with a built-in barbecue, potted lime trees and a lemon sail awning to keep out the sun or rain. It's made evident here, looking out from the balcony and seeing that court-like screen, that this is, in tennis terms, the architects' love game.