The Victorian government has announced the opening of the Albury Wodonga Regional Cancer Centre, designed by Billard Leece Partnership (BLP), in Albury on the Victoria-New South Wales border.
The $65-million, three-storey facility is located north-east of the Albury Base Hospital.
The centre has been organized around two courtyards and uses floor-to-ceiling glazed windows with green aluminium angular frames and hoods to provide large amounts of natural light.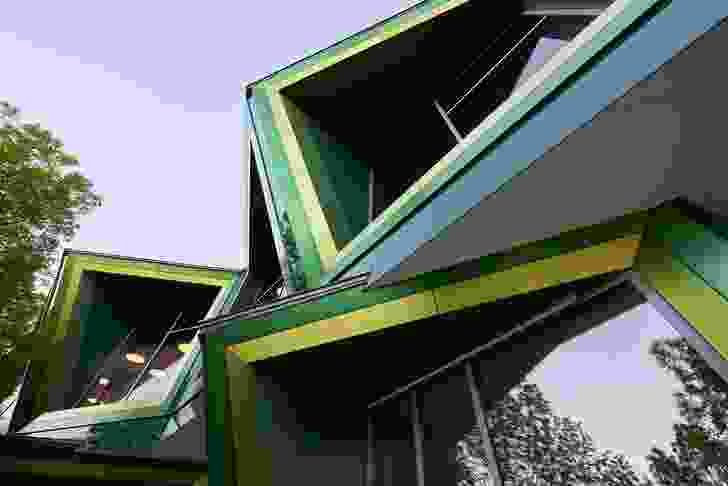 "The angularity provides some dynamics to the facade. The modulated facade also provides protection to the glazing. It goes in and out and establishes a rhythm to that facade," said Billard Leece Partnership director David Leece.
The cancer centre integrates local public and private cancer services in one building, and comprises 30 inpatient beds, 30 chemotherapy beds, three radiotherapy bunkers, consulting suites, a wellness centre and 140 car parking spaces.
The centre will also reach out across state borders through the establishment of regional information, education and research networks.
Leece said the design focus was "to create a patient-centred facility." He said the normal approach towards radiation bunkers was to "bury them in the ground" to stop the radiation leaking out. But this is "not a great outcome for people," Leece said.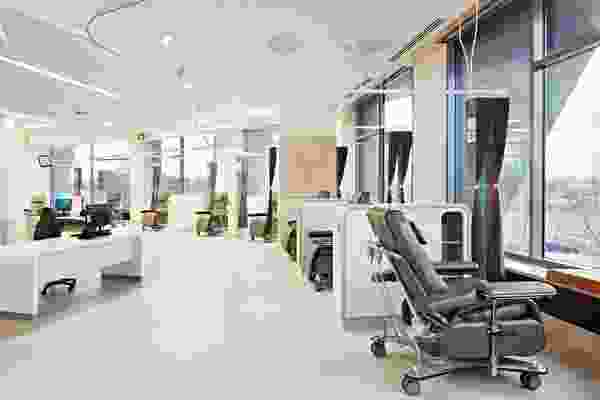 Instead, Billard Leece Partnership's design approach allowed all the waiting areas for radiation oncology to have natural light, views and access to the courtyard space. The only time you don't get natural light is when you're in the bunker itself," said Leece.
The day oncology area also makes use of the floor-to-ceiling windows, and has window seating along the base to provide outside views.
The facility has been designed in a way that anticipates growth and has the capacity to add an additional two levels if needed in the future.
A bridge, also designed by BLP, connects the cancer centre to the Albury Base Hospital.
The facility has been delivered under a private-public partnership model between the Victorian and New South Wales health departments, Albury Wodonga Health, Ramsay Health, Genesis Care, Border Medical Oncology and individual oncologists and pharmacy providers.
Related topics