Alvar Aalto believed "every house … should be a fruit of our endeavour to build an earthly paradise for people." Perth's new Alex Hotel strongly resounds this sentiment. Located in the cultural heart of the city, the hotel is designed as a home, with Perth's Spaceagency Architects and Sydney-based Arent&Pyke crafting a series of thoughtful spaces that truly nurture the human spirit.
Located on a tight, L-shaped block, Alex Hotel is situated in a complex urban condition, with dual street frontages and laneway access. The architecture is defined by a filigreed skirt of galvanized steel and Victorian-ash framing that gives way to a robust tower of precast concrete panels. A subtle undulation on the surface of these panels animates the facade with light and shadow, while the deep reveals of the hotel balconies intersperse the tower with a rhythmic banding of receding rectangles.
The mass of the hotel tower pulls westward, articulating an adjunct volume sheathed in bronze metal, pleated and perforated to give a fuzzy outline. At street level, this volume rises behind an existing 1920s heritage facade once belonging to the National Australia Bank.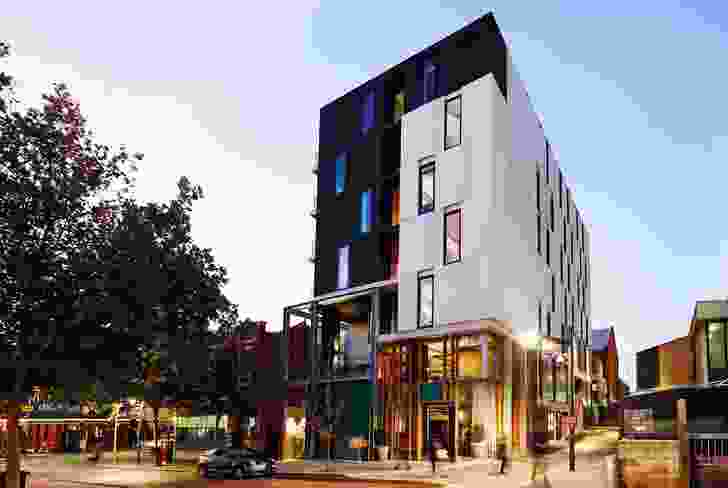 Spaceagency's use of timber and painterly, jade-green tiling adds a sense of detail and grain to the intimate hotel frontage. A narrow, internal laneway is carved into the space, framed by a steel portal and lined with duck-egg blue bicycles for guests.
Driven by the concept of "hotel as home," Spaceagency rationalized the internal layout by compressing the hotel rooms to give a sense of generosity to the communal spaces. This layout mitigates typical spatial barriers between staff and visitors, reflecting the interpersonal dynamics of domestic settings. Spaceagency's architecture is true to materials, imparting an industrial aesthetic to the interior through the use of raw concrete and steel.
Residential interior designers Arent & Pyke responded to these qualities by overlaying a soft, feminine aesthetic. The furnishings and styling were informed by the fictional character of Alex, whom the designers envisaged as a treasured friend or relative with a house full of wonderment. To reflect the richness of Alex's personality, the interior was underpinned by four key motives – the personal, the escape, the craft and the legacy – all of which play a part in nurturing hotel guests and creating a sense of intimacy and domesticity.
Upon entering the seventy-four-room hotel, the "hotel as home" concept is immediately palpable. Hotel guests arrive at Spaceagency's angular, stacked-plywood counter tucked under the stairs, an informal check-in point that connects staff and visitors. A black velvet love seat, abstract tapestry and a pink floor lamp form the first domestic assemblage indicative of the interior to follow.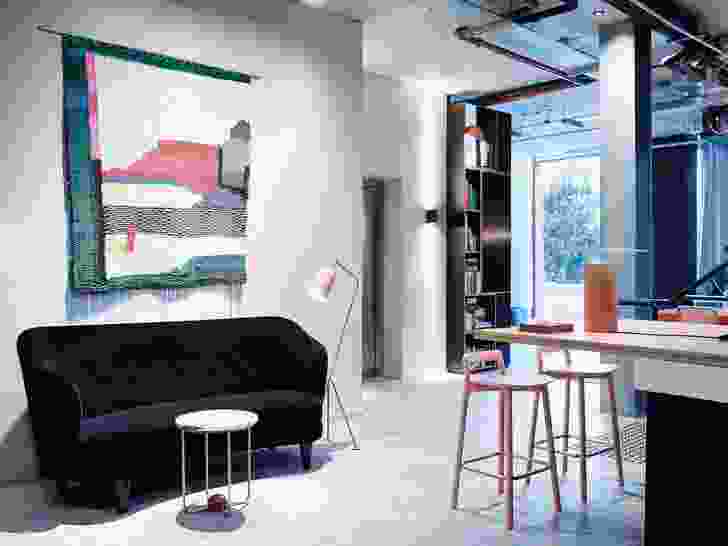 From here the lobby opens to a tranquil lounge space, where a red-trimmed communal table and rattan chairs sit casually on a muted Turkish rug, while pendants float gently overhead. This space appears borrowed from the home of a well-travelled friend, its furnishings adding warmth to the concrete slab soffit and grey stone tiles that frame the space laterally. The porosity of the facade creates an active public interface, summoning passers-by to enter the comfortable, light-filled interior and linger.
A steel and blackbutt staircase leads hotel guests to the mezzanine lounge, perched above the lobby. An assortment of delicate pendants hangs like a charm bracelet from the slab above the generous open landing.
Modelled as a living room, the mezzanine lounge offers sheltered nooks of seating, transitioning to open spaces that are communal and warmly lit. Knotted rugs, patterned textiles, hand-poured terrazzo tables and velvety sofas define this sophisticated space, celebrating tactility, craft and craftsmanship.
Dividing the space are ladder-like shelves adorned with curated collections of treasured objects, artworks, books, magazines and records, allowing visitors to connect with the identity of Alex. The overall composition of these artefacts, furnishings, soft hues and textures is compelling. Each element is enriched by the context that surrounds it, creating a harmonic and layered aesthetic that is thoughtfully considered yet not contrived.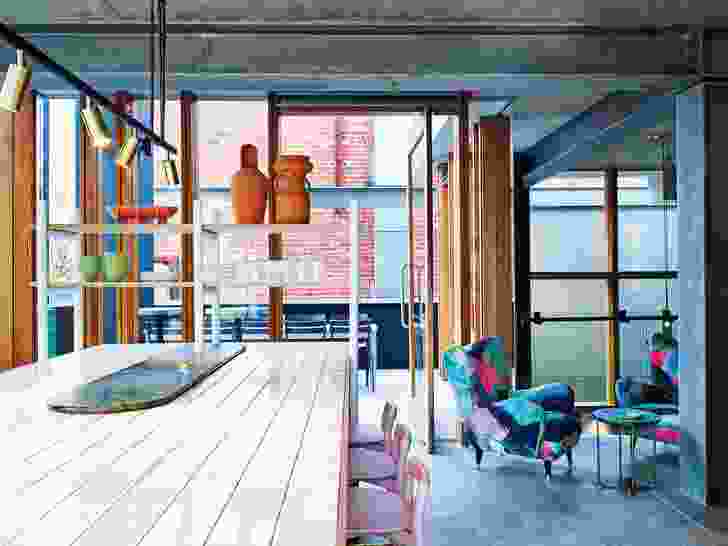 The floor plate pulls back to allow an airy void between the mezzanine and lobby lounge. With views across the bustling arts precinct, a tiled breakfast bar with raspberry-coloured grout, birch plywood facings and dusty pink stools provides an energetic space in which to work or dine. A self-serve kitchenette and an honour-system bar have been placed in the lounge rather than in each room, encouraging guests to interact. The lounge spills out onto a double-height terrace, making it a perfect spot to socialize over a drink.
A distinct change in scale occurs as guests ascend to the hotel rooms above. Utilitarian corridors offering views to the CBD give way to bedroom retreats, richly painted in rosy pink, lilac, sage green, ginger and steel-blue charcoal. The colour palette of the loose furniture items, upholstery, trims, linen and curtain fabric flex in response to these leading wall colours. The rich combinations produce varied effects across the rooms, from serene to energetic and playful.
Arent & Pyke has designed a large package of bespoke furniture, produced by New Zealand-based Douglas and Bec. The birch plywood and quilted bedheads have a textured, minimalist aesthetic, flanked by perforated steel wall sconces that produce a soft up/down glow. A practical and attractive addition to each room is the storage units, which integrate a curved-edge mirror, clothes hook and a plywood box with a drawer and upholstered seat.
By allowing entry doors to open directly into the bedrooms, Spaceagency has optimized the guest rooms and eliminated wasteful corridor areas. Atypically, the bathrooms are located on the outside perimeter of the building, allowing for the neighbouring private balconies to supply fresh air, natural light and scenic city views into these spaces. The hotel rooms are designed for sleeping, encouraging guests to venture into the communal areas.
The sixth floor of the hotel provides a light-filled boardroom, opening to a private roof terrace that affords commanding views across Perth CBD and Northbridge. The terrace features checkerboard tiling, oversized pot plants and playful wire armchairs; a garden space for the hotel and an enticing environment to read, lounge or delight in the hustle and bustle of the urban landscape.
Bold and iconic, Alex Hotel is a welcome addition to an area in the midst of significant urban renewal. The hotel has an independent spirit that contributes to the evolving identity of Perth, energizing its prominent site. Spaceagency and Arent & Pyke have created a place that resonates with guests, feeding their appetite for privacy and interaction, just like a home. Alex Hotel presents an earthly paradise for guests to delight in, a place to find freedom, solace, respite and comfort.
Alex Hotel received the award for Hospitality Design at the 2016 Australian Interior Design Awards.
Products and materials
Walls and ceilings

Cemento tiles in Verde 3 from Myaree Ceramics. Fiandre tiles in Pepper Matt from Artedomus. Precast off-form concrete in off-white, grey and charcoal from Perth Precast. Perforated anodized facade panels from Perfmet Engineering. Internal walls and ceiling are Knauf plasterboard with Dulux and Resene paint coatings.
Windows

Facade consists of Viridian Satinlite and Vanceva Golden Light Coloured Frit Glass Panels and full-height aluminium tilt and turn windows.
Flooring

Provenza mixed concrete in Malta Grey Naturale from Odin Ceramics. Tretford Roll Dappled carpet in 'Grey' from Tim Stacey Agencies. On ground floor: Custom-made patchwork Turkish kilim rug. On mezzanine level: Vintage Moroccan rugs; and Tisca Nodo Vigor wool rug from Tappetti.
Lighting

On ground floor: Flos Jasper Morrison Glo Ball from Euroluce; Nemo Lighting Lampe de Marseille and Applique de Marseille from Cult; Rubn Lektor floor lamp and Miller floor lamp from Fred International; Ladies & Gentleman Studio custom Shape Up pendant by Douglas and Bec; Santa & Cole Cesta lamp from ECC Lighting and Furniture. On mezzanine level: Vitra Noguchi Akari pendant from Space Furniture; Rubn Long John light and Rubn Vox table lamp from Fred International; Wastberg Semp é clamp lamp from Euroluce. All levels: Zero Lens pendants from Great Dane. In guest rooms: Tour bedside wall lamp from Atelier de Troupe; and Flos Jasper Morrison Glo Ball from Euroluce.
Furniture

All custom-made and bespoke furniture maunfactured by Douglas and Bec. On ground floor: Hoffman No 811 armchair and side chair from Thonet; Mattiazzi Branca stool in grey wash from District; Pipo cork stools from Dam; and Ercol 425 stool in black from Temperature Design. On mezzanine level: Mattiazzi Branca stool in pink from District; Fermob Luxembourg dining chair in 'Plum' and high stool in 'Honey' from Cotswold Furniture Collection; Objekto Paulistano canvas armchair in 'Olive Grey' canvas from Hub Furniture; Ercol Chairmakers chair in black from Temperature Design; Mattiazzi Fionda dining chair in black finish from District; Artek 66 chair in birch and Artek Tea Trolley bar cart from Anibou; Clementine drawer console from Jardan; Egg cup stool from Mark Tuckey; Tolix G dining table; Discipline Last stool from Stylecraft. In meeting room: Tom Dixon Peg chair from Dedece. On roof terrace: Boracay circle chair in white/yellow weave from Globe West; Daniel Barbera Uccio side table and Uccio lounger chair powdercoated in Dulux 'Claypot Satin' from Catapult; Blade Folding table from Stylecraft; and custom-made daybed from Robert Plumb, In hotel rooms: birch ply benchseat, steel hanging rail, linen and leather bag and mirror, timber bedside table and bedhead, all designed by Arent & Pyke and made by Douglas & Bec.
Other

Commissioned weaving in hotel entrance by Ben Baretto. Artworks leased from Artbank. Jardan Bel mirror on mezzanine level. Big O wall hooks on ground level from Interia.
Credits
Design practice - interior design

Arent&Pyke
Sydney, NSW, Australia
Project Team

Sarah-Jane Pyke, Juliette Arent, Dominique Brammah, Genevieve Hromas (Arent & Pyke), Michael Patroni, Dimmity Walker, Clayton Edwards, Ryan Dunham (Spaceagency)
Design practice - architecture

Spaceagency Architects
Fremantle, WA, Australia
Consultants

Acoustic engineer Wood & Grieve Engineers
Builder Built
ESD Wood & Grieve Engineers
Electrical & hydraulic engineer Wood & Grieve Engineers
Heritage consultant Palassis Architects
Lighting Flynn Talbot, Wood & Grieve Engineers
Project manager Aria Projects
Structural engineer Robert Bird Group
Thermal engineer Wood & Grieve Engineers

Site Details

Location Perth, WA, Australia

Project Details

Status Built
Completion date 2015
Design, documentation 36 months
Construction 9 months
Category Hospitality, Interiors
Type Hotels / accommodation

Source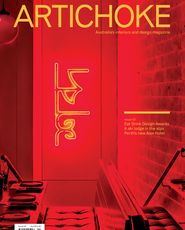 Issue
Artichoke, December 2015
Related topics