Alexander Calder's birthday
American sculptor and artist Alexander Calder (1898–1976) is famous for defining the mobile as part of modern sculpture, and for his monumental public works in metal. The Google doodle for 22 July 2011 – what would have been Calder's 131st birthday – memorializes the artist with an interactive logo.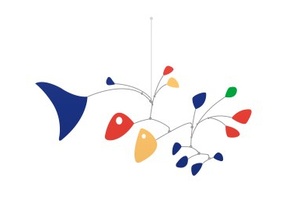 Highly visible works by Alexander Calder in Australia include La Bobine, 1970, in the National Gallery of Australia; and Crossed Blades, 1967, which stands below the Australia Square Tower Building in Sydney, designed by Harry Seidler and Associates.
He came from an artist family. His father created many public installations and his mother was a professional portrait painter. Calder's grandfather, Alexander Milne Calder, was the sculptor responsible for the statue of William Penn on top of Philadelphia's City Hall tower and Calder's sister was instrumental in developing the UC Berkeley Art Museum.
Born in the United States in 1898, Calder moved to Paris in 1926 where he created Cirque Calder – a miniature circus fashioned from sire, string, rubber, cloth and other found objects. He designed some of the circus characters to perform suspended from a thread, but it was his experiments to develop purely abstract sculpture that lead him to his first truly kinetic sculptures. In 1931 he moved to more delicate sculpture which used air currents in the room. These were his first true mobiles.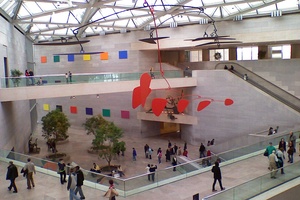 He also worked with Martha Graham, designing stage sets for her ballets, and created a moving stage construction to accompany Eric Satie's Socrate.
Calder was one of 250 sculptors who exhibited in the 3rd Sculpture International held at the Philadelphia Museum of Art in 1949. His International Mobile was the centerpiece of the exhibition. The sculptor also created the first public artwork to be funded by public monies in the United State and one of his works, WTC Stabile, was installed at the entrance of the World Trade Center in 1971. It was destroyed along with the building in September 2001.