Perched high above the sea on a south-facing limestone outcrop, the Alila Villas in Uluwatu, Bali, Indonesia, comprise a fifty-suite hotel and thirty-five residential villas. In the dry savannah landscape of the Bukit Peninsula, the resort addresses two contemporary architectural concerns.
The first is the way architecture might contribute to the development of an emerging luxury hotel genre. Hotels like the Alila Villas cater to design-savvy travellers seeking an ecologically sustainable, socially responsible holiday experience. The significant sustainability initiatives of this project embrace the passive and the active, the material and the social – including large overhangs and cross-ventilation, sewage treatment and sewage water recycling in a grey water system, and locally sourced materials and furnishings created by craftspeople from Java and Bali.
The second concern is for the creation of an architecture that is both vernacular and modernist. Alila Villas has the atmosphere of traditional Balinese pavilion architecture and a reassuring internationalism that derives from a broad church of architectural references.
– Jury citation
Source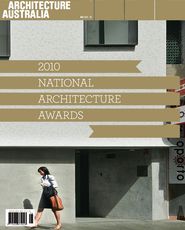 Issue
Architecture Australia, November 2010
Related topics